Pioneer DJ DJM-S7 - 2-Kanal Performance DJ-Mixer im Scratch-Style!
Dieser neue 2-Kanal-Battle-Mixer gibt dir die Freiheit, dein Setup anzupassen und jede deiner Performances mit deinem eigenen einzigartigen Stil zu prägen. Das Gerät ermöglicht die kostenlose Nutzung von Serato DJ Pro und ist gleichzeitig ein Hardware-Unlock-Gerät für rekordbox, so dass du die Performance-Funktionen von beiden Anwendungen verwenden kannst.
Magvel Fader Pro
Pioneer DJ hat das Feeling des Magvel Fader Pro verbessert und die Stabilität der Knopfachse in vertikaler Richtung um 30 Prozent gesteigert, damit du noch ungehemmter scratchen kannst.
Große Performance-Pads
Die 8 großen Performance-Pads auf jedem Kanal sind leicht zu treffen, wenn du Hot Cues und Samples schnell abfeuern möchtest. Dank der unabhängigen Pad-Modi kannst du 2 verschiedene Funktionen gleichzeitig verwenden – eine auf jedem Kanal-Set.
Große Effekthebel
Manipuliere Sounds in Echtzeit durch das Hinzufügen von Effekten mit den großen Hebeln. Der DJM-S7 enthält alle 22 integrierten Beat FX aus dem DJM-S11, damit du kreativ arbeiten kannst, und außerdem Software-Effekte in Serato DJ Pro und rekordbox. Die 6 Effekte, die den FX Select Tasten zugewiesen sind, lassen sich ganz einfach ändern, und du kannst den Namen und den Beat-Wert des aktiven Effekts auf dem OLED-Display im Auge behalten.
Bluetooth-Eingang: Erweitere deine Performances mit kabellosem Audio von deinem Handy
Koppele dein Handy einfach per Bluetooth mit dem DJM-S7 und du kannst Tracks direkt in deinem Set abspielen. Du kannst Loops zum Scratch Over oder eine Musik-App verwenden, um einen Wunschtitel von jemandem im Publikum aufzulegen. Oder nutze dein Handy einfach Backup, falls dein Laptop mal streikt. Du kannst den Ton direkt über den Master-Ausgang oder einen der Kanäle wiedergeben.
Loop-MIDI: Automatisierte Steuerung der DJ-Software-Funktionen mit den Effekthebeln
Diese Funktion im Effektbereich des DJM-S7 kann verschiedene Funktionen deiner DJ-Software steuern, indem sie wiederholt ein MIDI-Signal an die Software in einem festgelegten Beat-Zyklus sendet. Funktionen wie Hot Cue, Sampler und Key Shift sind auf den FX Select-Tasten vorbelegt, sodass du Loop-MIDI sofort verwenden kannst, ohne vorher Funktionen zuweisen zu müssen.
Loop MIDI: Pattern A
Du kannst einen Aufbau erzeugen, indem du den Beat-Zyklus eines geloopten Snare-Samples schrittweise verkürzt.
Loop MIDI: Pattern B
Du kannst auch die Tonart des Tracks auf Deck 1 oder 2 anheben oder absenken, Sampler Slot 1 oder Hot Cue 1 / A aktivieren oder das Deck stumm schalten.
Weitere Features
Integrierter USB-Hub
Schließe deinen DJ-Controller und andere Geräte ­- einschließlich ausgewählter Geräte anderer Marken - an die beiden USB-A-Anschlüsse an.
MIDI-Controller
Dieses Gerät ist per USB vollständig MIDI-fähig. Sende Steuerinformationen an externe Geräte und verwende den Mixer als MIDI-Controller.
Serato DJ Pro
Schließe deinen PC/Mac an, um Serato DJ Pro zu verwenden (der Mixer entsperrt die Software kostenlos). Verwende spezielle Schaltflächen für Effekte und erweiterte Serato-Funktionen wie Beat Jump, Slip-Modus und Quantize (Quantisierung).
Serato DVS
Verwende Serato DVS zum Steuern und Scratchen mit CDJs oder Plattenspielern.
Pitch 'n Time DJ
Der Gutschein für das Serato DJ Pro Expansion-Pack "Pitch 'n Time DJ" ist enthalten. Verwend Pitch Play, Key Shift und weitere Funktionen. Der Mixer ist auch voll MIDI-mappbar.
rekordbox
Schließe deinen PC/Mac an, um den Performance-Modus von rekordbox kostenlos freizuschalten, und verwende den DVS-Modus mit dem speziellen, separat erhältlichen Control-Vinyl.
Performe Präzise und bringe Deine Individualität zum Ausdruck!
Reviews
Questions about product
No questions have yet been asked about this article.
Your question about the article Pioneer DJ DJM-S7
Your question will be forwarded directly to the department and answered as soon as possible.
Variants
Alternatives
Accessories
Product Video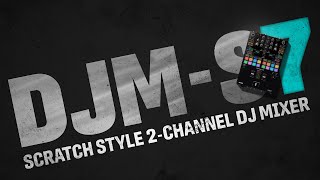 Your contact persons
Our specialists will be happy to advise you.
| | | |
| --- | --- | --- |
| Thursday | 09:30 - 18:00 | |
| Friday | 09:30 - 18:00 | |
| Saturday | 09:30 - 13:30 | |
| Monday | 09:30 - 18:00 | |
| Tuesday | 09:30 - 18:00 | |
| Wednesday | 09:30 - 18:00 | |