Get personal advice now!
Our specialists from the drum department are looking forward to your call.
Classy live gigs and quiet lessons ...
... The DD-530 is conceivable for the diverse needs exactly right drum set. The DD-530 is loud for your, powerful stage performance as well as suitable for silent practicing at home. As a set of drums for the beginner, the the DD-530 will inspire by it's learning functions. Beginners and advanced drummers are guaranteed 400 quality drum sounds, 45 drum kits and numerous other features ensuring maximum flexibility for any style.
• Stereo drum pads with mesh heads
• 45 drumkits
• 400 drum sounds
• Learning mode
• Segment LCD panel with backlight
• Headphone input, USB, MIDI IN, MIDI OUT
Velocity-sensitive pads
Like an acoustic drum, digital drums respond to different playing techniques and the velocity of the drummer. All pads of the DD-530 are velocity sensitive. Both the Ride and the Crash cymbals have a "cymbal choke" function: You can check the sound after stopping a cymbal directly by hand.
Mesh Heads
The specially fabricated skins are ideal for drums and offer a extremely authentic response. In comparison to conventional rubber pads, mesh heads provide an incomparable feel and a realistic rebound. The trigger signal is transmitted optimally to the sound module and provides a nuanced, accented game. With the XDrum DD-530, two 8 inch and two 10 inch drum pads with mesh heads are available.
Included in the SET are a comfortable drumming stool
as well as a high-quality headphones!
Suitable accessories (Not included in the delivery.)
Specification
| | |
| --- | --- |
| Product number | 00038255 |
| HiHat Controller | L- Control |
| Mesh Head Pads | Yes |
| Little floor space required | no |
| Outputs | 6.3 mm jack |
| upgradable through optional pads | Yes |
| Tom pads size | 8 Zoll and 10 Zoll |
| sampling function | No |
| Crash cymbal pad | Dual Zone |
| Crash cymbal with stop function | Yes |
| Tom pads | Dual Zone |
| LCD Display | Yes |
| MP3 Input | Yes |
| Accessories included | Yes |
| Snare pad size | 10 Zoll |
| Direct Outputs | No |
| USB to Host | Yes |
| Crash cymbal pad size | 12 Zoll |
| Snare pad | Dual Zone |
| Kick/Bass Drum Pad | Pad 8 Zoll |
| Midi in/out | Yes |
| Suited for Double Bass | yes |
| Ride cymbal pad size | 12 Zoll |
| Social media support | No |
| USB in | Yes |
| Colour | Black |
| Ride cymbal pad | Dual Zone |
Reviews
| | | |
| --- | --- | --- |
| 5 Stars | | 37 |
| 4 Stars | | 5 |
| 3 Stars | | 1 |
| 2 Stars | | 0 |
| 1 Star | | 0 |
A verification of the ratings has taken place as follows: Only customers who are registered in our online store and have actually purchased the product from us can submit a rating for the item in the customer account.
This product is highly recommended
Review from
Michael
on 19.07.2017
verified purchase
This is my second time buying this digital drum set, its a very unique device. I received it within 2 days. I can't stop loving it. Highly recommended
XDrum DD-530
Review from
ANGELO
on 10.04.2022
This rating has been translated automatically. Original language
verified purchase
The order arrived on time and perfectly packed. The assembly is not difficult, but not easy either, since there are no instructions in Italian.
Overall, to date, a week after assembly, I am satisfied with the purchase, but I would like to have the manual in Italian to take advantage of all the features of the battery.
I would like to receive the above manual or have the possibility to download it in Italian, since the sale only talks about the course (beginner's manual) in German.
For this reason the rating, to date, 3 stars because overall not bad but not good to be an electronic model with a mixture enabled.
Batterie
Review from
Yves
on 11.05.2021
This rating has been translated automatically. Original language
verified purchase
Extra for a first experience with the drums, it has all the ingredients for a great
Congratulations to the staff who are very professional
I recommend this address
YT
super battery... j'adore
Review from
Claude
on 26.12.2020
This rating has been translated automatically. Original language
verified purchase
Hello,
I just made my first steps with the battery DD 530, it is a very good product with a very good sound. nothing to say for delivery ... fast, efficient and respect for the material delivered. very good protection against shocks.

I will buy options for this battery as I go, and faster if there are discounts.
I'm having a lot of fun and I recommend it to everyone.
Claude Fauvel
Excellent
Review from
Pavia
on 26.11.2020
This rating has been translated automatically. Original language
verified purchase
Product quality price far beyond expectations, would recommend to anyone.
Questions about product
Abito in un condominio chiedo se è molto rumorosa grazie
Question by Daniela Brasca on 13.11.2020
Answer by Michael Karle - Musikhaus Kirstein
Questo set di tamburi può essere usato bene in un condominio.
Guten Tag liebes Kirstein-Team!

Zwei Fragen
1.) Ich bin Linkshänder - ist es ein Problem (Kabelsalat etc.) das ganze Set einfach spiegelverkehrt aufzubauen?
2.) Gibt es eine Möglichkeit das Highhat - Pedal quasi als zweites Bass-Pedal zu nutzen? Bzw. wenn das nicht funktioniert, welches zusätzliche Pedal ist für eine Doublebass-Nutzung hier am besten geeignet?

Liebe Grüße
Question by Kevin K. on 03.04.2020
Answer by Michael - Musikhaus Kirstein
Das Schlagzeug kann ohne Probleme spiegelverkehrt aufgebaut werden.
Der Hi-Hat Fußcontroller ist mit einem Bassdrum Sound belegbar, alternativ kann aber auch jede Doppelfußmaschine am XDrum DD-530 verwendet werden.
Guten Tag. Die mitgelieferten Drumsticks sind der absolute Hit, die sind für mich perfekt, liegen super in den Händen. Leider finde ich in der Produktbeschreibung absolut keine Angaben zu diesen Sticks (Holzart, Zahl, Buchstabe etc.). Wisst ihr die Details dazu? Habt ihr die identischen Drumsticks in Eurem Sortiment zum Nachbestellen? Besten Dank für Eure Antwort. Liebe Grüsse, Jolanda
Question by Jolanda K. on 28.04.2019
Answer by Michael Karle - Musikhaus Kirstein
Die Stärke ist 5a. Die Sticks sind aus Ahorn gefertigt.
Gibt es ein hihat wie beim Akustik Schlagzeug? Vielen Dank.
Question by PeterLongardt on 19.11.2017
Answer by Fabian - Musikhaus Kirstein
Im Preis beinhaltet ist ein HiHat Pad, welches wie eine normale akustische HiHat angeschlagen wird. Mit dem mitgelieferten Fußcontroller lässt sich das Öffnen bzw. Schließen der HiHat simulieren während man spielt.
Welche Leistung müssen Boxen haben die hier angeschlossen werden können???
Danke
Question by bernd szamlewski on 08.01.2020
Answer by Michael - Musikhaus Kirstein
Je ne vois pas trop y a t il une pédale Charley merci pour votre réponse
Question by Coste on 14.10.2019
Answer by Lukas - Musikhaus Kirstein
Le XDrum DD-530 est livré avec une pédale XDrum standard. Les moulins à pied d autres marques doivent être achetés séparément.
Buongiorno,
Vorrei sapere se questa batteria va bene anche per Mancini.
Grazie
Question by Francesco zoni on 28.03.2021
Answer by Michael Karle - Musikhaus Kirstein
Questa batteria è adatta anche ai mancini. Per questo deve essere costruito specularmente alle nostre foto del prodotto.
bonjour
est ce qu'il y a une notice en français avec la batterie ?
Je ne vois pas de bouton de réglage de volume pour l'aux in ? il faut régler sur le matériel (smartphone ou autre) ?
merci
Question by Bosseaux on 13.04.2020
Answer by Michael - Musikhaus Kirstein
Le manuel est uniquement disponible en allemand et en anglais. Le volume de l Aux-In doit être contrôlé directement à la source audio externe.
Your question about the article XDrum DD-530 Mesh Heads Electronic Drum Set with Stool and Headphones
Your question will be forwarded directly to the department and answered as soon as possible.
Alternatives
Accessories
Customers also bought
Product Video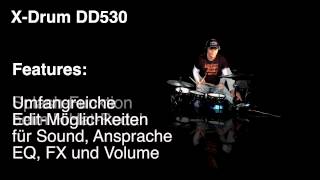 Sound Examples
Your contact persons
Our specialists will be happy to advise you.
| | | |
| --- | --- | --- |
| Wednesday | 09:30 - 18:00 | |
| Thursday | 09:30 - 18:00 | |
| Friday | 09:30 - 18:00 | |
| Saturday | 09:30 - 13:30 | |
| Monday | 09:30 - 18:00 | |
| Tuesday | 09:30 - 18:00 | |