Classy live gigs and quiet practice sessions!
The DD-530 offers both class and quiet for diverse environments, making it exactly the right drum set loud, powerful stage performances as well as quiet practice sessions at home. Drumming beginners will be enthusiastic about the learning functions of the DD-530. Beginners and more advanced drummers are guaranteed to enjoy the 400 high-quality drum sounds, 45 drum kits and numerous other features for maximum flexibility in nearly every style.
Stereo drum pads with mesh heads
45 drum kits
400 drum sounds
Learn mode
Backlit segment LCD
Headphone input, USB, MIDI IN, MIDI OUT
Touch-sensitive pads
Like an acoustic drum kit, the digital drums react to different playing techniques and velocity. All pads of the DD-530 are touch-sensitive. Both the ride and the crash cymbals have a "cymbal choke" function: after hitting, you can stop the sound directly with your hand.
Mesh heads
The special fabric skins are ideal for e-drums and offer an extremely authentic response. Compared to conventional rubber pads, mesh heads offer an unparalleled feel and realistic rebound. The trigger signal is optimally transmitted to the sound module and provides nuanced, accentuated playing. With the XDrum DD-530, you are equipped with two 8-inch and two 10-inch drum pads with mesh heads.
The set also includes a comfortable drum stool as well as high-quality headphones!
Specification
| | |
| --- | --- |
| Snare pad size | 10 Zoll |
| USB to Host | Yes |
| Snare pad | Dual Zone |
| Crash cymbal pad size | 12 Zoll |
| Little floor space required | no |
| Kick/Bass Drum Pad | Pad 8 Zoll |
| Direct Outputs | No |
| Midi in/out | Yes |
| Colour | Black |
| Ride cymbal pad size | 12 Zoll |
| USB in | Yes |
| Ride cymbal pad | Dual Zone |
| Suited for Double Bass | yes |
| HiHat Controller | L- Control |
| Social media support | No |
| Mesh Head Pads | Yes |
| sampling function | No |
| Outputs | 6.3 mm jack |
| Tom pads size | 8 Zoll and 10 Zoll |
| Crash cymbal pad | Dual Zone |
| Tom pads | Dual Zone |
| Crash cymbal with stop function | Yes |
| Accessories included | Yes |
| LCD Display | Yes |
| upgradable through optional pads | No |
| MP3 Input | Yes |
Reviews
| | | |
| --- | --- | --- |
| 5 Stars | | 3 |
| 4 Stars | | 1 |
| 3 Stars | | 0 |
| 2 Stars | | 0 |
| 1 Star | | 0 |
Good product
Review from
Anonymus
on 06.03.2020
This rating has been translated automatically. Original language
verified purchase
Hello I put 4 stars because if you want to compare it with a Rolland, it's obvious the sounds are not as good, not bad anyway.
But, uh... I just got out of an old Rolland TD3KV which has done its time to find me behind this DD 530 Mesh.
The first super nice contact with the mesh skins, (that I had to tighten to improve them) The cymbals like all electronic drums the bounce is correct but the knock-knock is still there. On the other hand I really liked the sound of the cymbals.
The hi-hat sounds good and quite loud, you have to put your foot up high enough to start the opening, it's a question of habit.
Good to know for potential buyers
I had a problem with the mesh skin on the bass drum. I learnt that you have to put the pad of the bat on the plastic side and not on the felt side, over the days the rubbing destroys the mesh skin, but this is not indicated on the manual.
This one was adjusted very quickly with a very efficient after-sales service, thank you.
Conclusion: I have not yet been able to try it in concert but this drum set meets my needs, allows me to rehearse at home as well as with the Rolland at a price defying all competition.
For the settings although the docs are not in French I had no difficulty in finding their workings.
And we can really adjust everything on each Tom or cymbals, the sound, the volume, the stereo etc...
I can help those who can't do it.
I've read that some people have difficulty with headphones that sound very low. Indeed on some headphones little sound. I bought the one they sell with the drums and there no problem with the clear and precise sound. I also have the Shure SE 215 CL in-ear headphones, so no problem.
I've had it for a month and a half now and I play it almost 1 to 2 hours a day on it, for me it's a very good buy for the moment and it's good to see it in use!
R.Poms
good buy
Review from
josep
on 14.12.2019
This rating has been translated automatically. Original language
verified purchase
Good value for money.
complete set with many combination possibilities
good sound

I would miss:
Bluetooth for headphones
clearer instructions or in English (in my case)
Super drums for beginners
Review from
Mathias
on 16.10.2019
This rating has been translated automatically. Original language
verified purchase
The delivery was fast and uncomplicated.
The construction was also simple & has been well explained.
The foot machine is not the roar, as described elsewhere more often. For me as a beginner but perfectly adequate.
I will get me another connection for the headphones, because the supplied is only a one-ear headphones for DJs. I want to be able to hear with both ears without disturbing the neighbors :D
Other than that, it's a great piece with lots of adjustment options.
So happy playing :D

Greetings M. J.
Too bad there is no manual in english
Review from
Jean sebastien
on 28.06.2019
This rating has been translated automatically. Original language
verified purchase
Hello
I am satisfied with the product
But the big problem is that the module's instructions are not in english and that's very annoying.
Can we get it in English
Maj.
Questions about product
salve .. ho acquistato la dd530 e volevo sapere se in cuffia si possono sentire midi e batteria ? SE SI
come devo collegarli e con quali spinotti o jack..
grazie
Question by salvatore vespo on 25.05.2020
Answer by Michael - Musikhaus Kirstein
Hola!.... querría este modelo con el pedal de doble bombo de la marca....¿se puede comprar el kit con doble pedal directamente y así ahorrarme el coste del pedal simple?
Question by David Campillo Rodríguez on 23.02.2021
Answer by Stephan Echtlerss - Musikhaus Kirstein
Lamentablemente, no podemos sacar la máquina de un solo pie del conjunto. La batería ya está embalada y lista para su envío.
Hello! I have 2 questions:
I am tall 186cm, can this drum fit for me?
Does the ride have the bell zone ?
thanks!
Question by Contri on 18.06.2020
Answer by stephan.echtler - Musikhaus Kirstein
Hallo kann man bei dem Set auch andere Toms nutzen zB von Roland?
Question by Andre Volks on 13.08.2019
Answer by Michael - Musikhaus Kirstein
Ja, es ist möglich, Pads von Roland am XDrum DD-530 zu nutzen, vorausgesetzt es handelt sich hierbei um doppelzonige Pads.
Il bordo del rullante è funzionante?
Question by Graziano Solinas on 22.02.2020
Answer by Maximilian Bauer - Musikhaus Kirstein
Sì, anche il bordo della batteria è un trigger e può essere assegnato un suono a scelta.
Salve , tutte le vostre batterie elettroniche sono complete di cavi ?
Question by Tarara on 21.04.2020
Answer by Maximilian Bauer - Musikhaus Kirstein
La batteria viene fornita con tutti i cavi necessari.
Your question about the article XDrum DD-530 Mesh Heads E-Drum MAXI KIT with stool and headphone
Your question will be forwarded directly to the department and answered as soon as possible.
Customers also bought
Product Video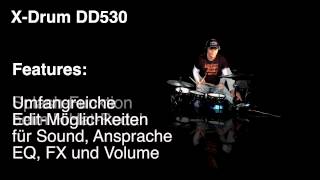 Sound Examples
Your contact persons
The hotline is currently not manned. You can reach us again on Friday, 21.01.2022 at 09:30.
| | | |
| --- | --- | --- |
| Thursday | 09:30 - 18:00 | |
| Friday | 09:30 - 18:00 | |
| Saturday | 09:30 - 13:30 | |
| Monday | 09:30 - 18:00 | |
| Tuesday | 09:30 - 18:00 | |
| Wednesday | 09:30 - 18:00 | |