Complete kit including electronics - make your own custom shop!
With the Rocktile "Do-it-yourself" you'll build your own custom shop. Search out your favorite shape and build your individual instrument, of which there will be no other. In this kit you can find all the parts that you need, you'll only have to bring a few tools and to have some degree of technical skill. All wooden parts are pre-milled and non colored. So you have a lot of creative freedom in the design: natural with satin finish, metallic finish or high-gloss, colorful, black / white or vintage overly processed...just as you wish.
Your style - your design - your instrument!
Suitable accessories (Not included in the delivery.)
Specification
| | |
| --- | --- |
| Colour | Natural |
| Body shape | Single Cut |
| Body | Mahogany |
| Pickups | HH |
| Handedness | Right-handed |
| Gigbag / Case included | No |
| Neck | Mahogany |
| Fretboard | Blackwood |
| Scale | Standard 24.75 - 25.5 Zoll |
| Finish | Untreated |
| Nut width | 42 mm |
| Top | None |
| Bridge/Tailpiece | Hard tail |
Reviews
| | | |
| --- | --- | --- |
| 5 Stars | | 101 |
| 4 Stars | | 36 |
| 3 Stars | | 17 |
| 2 Stars | | 5 |
| 1 Star | | 6 |
Surprise Amazon purchase
Review from
Danny
on 18.10.2020
verified purchase
Wow, is this good!
Hight quality materials and finish.
Engineering is excellent
Highly recommended purchase for the hobby builder.
Enjoy!!!
The Paul Style
Review from
Svenja
on 06.04.2021
This rating has been translated automatically. Original language
verified purchase
When I saw that there are such kits, it was clear to me that I would like to assemble one.
So far I had extremely little experience with wood, at most I had built a mobile once.
My wood had a nice grain and no obvious defects.
Apart from the holes in the end socket, all the holes were pre-drilled to fit. Unfortunately, the neck didn't quite fit in the pocket and I had to re-sand. Due to lack of experience I probably sanded away 1 mm too much wood, so that the neck sits a bit too far in the pocket. In the end, the scale length or the area after the 12th fret is a bit too short, so that I can't tune the guitar completely octave-clean, because I can't set the riders further back.
I'm sure this is still correctable somehow though.
The instructions are not very detailed and also not model specific, however the videos on Youtube, which are available for every kit, help here.
The representation of the wiring is poor, but this was not so tragic, because a part was already pre-soldered. The cables in the kit are shielded, so other than shielding paint and copper foil in the compartments, I didn't have to do anything.
I have no problem with noise and I personally like the sound of the humbuckers quite a bit, I expected worse.
The top of the guitar could be a little thicker, you have to be careful. The wood could be stained well.

Conclusion
Overall, I had a lot of fun assembling and designing the kit and visually I am very happy with the result.
With almost no previous experience I was able to assemble this kit as a beginner and learned a lot about guitars and their electronics.
The "Paula" gets 4 stars from me and next I will try a Tele.
2 x kit = 2 x poor quality wooden parts
Review from
Christian
on 09.12.2020
This rating has been translated automatically. Original language
verified purchase
I wanted to get a cheap kit as a craft project. After some research and a lot of friendly and helpful feedback from the Kirstein team, I decided on this kit from Rocktile. That you can expect little of electronics and mechanics for this price was clear. It was important to me that especially the main parts of the guitar (body / neck) were well or accurately processed. The positive comments so far had at least given me justified hope.
Unfortunately, the first kit had a deep crack on the back of the body, so it went back as a complaint.
The second kit had dark discolorations on the top (a no-go, because I didn't want to paint it, but just oil it), also two holes on the bridge were eroded and the neck was crooked. So also back again, too bad. I didn't want another, third kit because of the experience I had.
Returns / purchase price refunds ran quite quickly and smoothly and the service from Kirstein overall was good. However, since the product "kit" is to be evaluated here, I can only give one star based on my experience.
Great kit for nice weekend project
Review from
Martin
on 19.11.2020
This rating has been translated automatically. Original language
verified purchase
I bought the kit because I still had special paint in "copper style" and matching design elements left over from another hobby project and had been thinking about getting an electric guitar in LP design for a while.
After gluing the body and neck with fake screws, nuts and rivets and painting them in the said color, I finally painted over both parts with auto-clear lacquer from the spray can.
The following assembly went really smoothly, body and neck could be screwed together perfectly and also all other drillings were fitting exactly. The electronics were also easy to install, only two to three soldering I had to do myself, otherwise the cable set was already well prepared.
All materials are appropriate for the price: No high-end products, but work perfectly. Only the tailpiece on the bridge (I think it's called stop bar) was too thick on one side and I had to file it down a bit so it could be slid into the holder.
After adjusting the neck and the string position I had to push a few frets a little deeper into the fretboard with a piece of wood and a hammer, because e.g. the G-string was resting on the 15th fret when I reached the 14th fret.
In summary, I had a lot of fun putting this very personal instrument together in a single weekend. It plays well and looks really awesome with my special design!
I recommend watching the corresponding videos about the guitar once, there you can see what to expect.
Spectacular
Review from
Luca
on 01.09.2020
This rating has been translated automatically. Original language
verified purchase
Excellent quality at a good price. Complete kit with everything to make your own guitar.
Questions about product
No questions have yet been asked about this article.
Your question about the article Rocktile Electric Guitar Kit Single Cut Style
Your question will be forwarded directly to the department and answered as soon as possible.
B-Stock Bargains.
This product is also available as b-stock:
B-Stock Bargains.
Variants
Accessories
Customers also bought
Product Video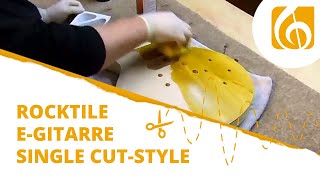 Your contact persons
The hotline is currently not manned. You can reach us again on Tuesday, 20.04.2021 at 09:00.
| | | |
| --- | --- | --- |
| Monday | 09:00 - 18:00 | |
| Tuesday | 09:00 - 18:00 | |
| Wednesday | 09:00 - 18:00 | |
| Thursday | 09:00 - 18:00 | |
| Friday | 09:00 - 18:00 | |
| Saturday | 09:30 - 13:30 | |