Complete kit including electronics - be your own custom shop!
With the Rocktile "Do-it-yourself"-kit you'll be your own custom shop. Search out your favorite shape and build your individual instrument, as there won't be no other. In this kit you can find all the parts that you need, only a few tools and some degree of technical skill are needed. All wooden parts are pre-milled and non-colored. So you have a lot of creative freedom in the design: natural with satin finish, metallic high-polish, colored, black / white or vintage overly processed... just as you desire.
Your style - your design - your instrument!
Suitable accessories (Not included in the delivery.)
Specification
Product number

00024360

Gigbag / Case included

No

Body shape

ST

Top

-

Bridge/Tailpiece

Tremolo

Colour

Natural

Neck

Maple

Body

Paulownia

Pickups

SSS

Handedness

Right-handed

Finish

Untreated

Nut width

42 mm

Fretboard

Blackwood

Scale

Standard 24.75 - 25.5 Zoll
Reviews
| | | |
| --- | --- | --- |
| 5 Stars | | 125 |
| 4 Stars | | 42 |
| 3 Stars | | 22 |
| 2 Stars | | 9 |
| 1 Star | | 8 |
A verification of the ratings has taken place as follows: Only customers who are registered in our online store and have actually purchased the product from us can submit a rating for the item in the customer account.
What fun
Review from
Christian
on 28.03.2022
This rating has been translated automatically. Original language
verified purchase
How many guitars do you actually need? X = n + 1, where n is the number of guitars you already have. So, I ordered the kit and got to work! In the box was everything you need to assemble the Strat. Thus, the actual main task is concentrated on the treatment of the wood, there are also three explanatory videos at Kirstein on the website, easy as pie, anyone can, including me. I stained mine blue and then painted with spray paint. The result is my very personal, individual Strat, which of course can not compete with the original, a PRS or an Ibanez qualitatively, but it is self-built! And where is the catch? These are the pickups, in my opinion, they do not go at all, after I replaced them with the original Fender Stratocaster TexMex, the self-built guitar also sounds like it should. And next? X = n + 1, maybe a bass...
Maximum satisfaction!
Review from
Friedrich
on 04.11.2020
This rating has been translated automatically. Original language
verified purchase
Since such a kit is not assembled in a day with all the grinding that you have to do, the evaluation took a few days. But now it is finished and I am thrilled. Everything fit perfectly, right down to the last pre-drilled hole, the neck fit "snugly" into the milled pocket, the neck itself straight, the playability acceptably good even at the first test, before any adjustments were made. The sound: Well, is just not a 1000 € guitar.
For the price an absolute hammer.
Nice kit
Review from
Benjamin
on 04.07.2020
This rating has been translated automatically. Original language
verified purchase
Got the kit and at first glance everything looks pretty good to me. The frets are quite well finished and not sharp-edged as with some others. The saddle I will change, however, just like the pickguard and the pickups. How it behaves with the surface treatment and the sealing, remains to be seen. Shellac will be used on my project.

What I like very much is that no tropical wood is used for the kit. The music industry in particular is unfortunately also a big contributor to climate change....
Amazingly good
Review from
Anonymus
on 15.08.2016
This rating has been translated automatically. Original language
verified purchase
I have the guitar now for about three months and am satisfied. The assembly was completely problem-free. Everything fit perfectly. Here and there were still a few wood chips to remove but that was it. The neck and body are unfinished and get dirty very quickly. So the surfaces need to be sanded and sealed immediately. A clean workspace and thin cloth gloves are recommended during assembly. Even if you can hardly wait to play on it - take your time. Several coats of varnish and intermediate sanding are required for an absolutely smooth surface, patience will pay off.
The tuning stability was comparatively bad in the beginning. In the meantime it is acceptable. The sound is ok. Last but not least, the guitar building was just fun - is also worth something.
Strat kit also for inexperienced
Review from
Johannes
on 03.08.2020
This rating has been translated automatically. Original language
verified purchase
I am not particularly gifted in terms of playing technique or craftsmanship. For me, the kit was more for learning. The kit arrived on time and included all parts, assembly instructions and a wiring diagram. The wood is very light and very bright, also quite roughly finished. First I sanded the body and stained it dark brown. There were 2 spots that didn't take the stain, but that could be fixed with a bit of filing. Afterwards shellac was applied in several layers. The wood structure remains, but it gives a very nice shine. The neck is already very smooth, but I also sanded it down. The headstock was easy to cut. Neck and headstock also lightly treated with shellac, which gave a pretty smooth and slightly shiny finish. 3 solder joints for the ground to the vibrato and 2 for the output jack were necessary, the rest is all wired on the plate. The neck fits perfectly into the body and screwed together without any problems. The machine heads and the rest of the small stuff were also fine. The cover to the vibrato didn't quite fit the pre-drilled holes, but since the wood isn't very hard, the screws went in easily.
Sound: not bad. A bit thin compared to my Squire Telecaster but quite usable.
On the whole, the investment was worth it. The tinkering was fun and now I have a Strat to boot. Next year maybe a Jazzmaster or Les Paul? Metallic finish or granite finish??.. This probably wasn't my last kit and you can't have enough guitars anyway.
No questions have yet been asked about this article.
Product Video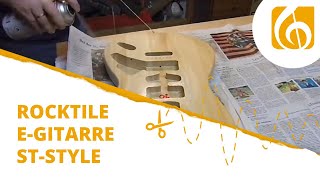 Sound Examples
Hörbeispiel von Kundenbausatz
Your contact persons
The hotline is currently not manned. You can reach us again on Thursday, 07.12.2023 at 09:30.
| | | |
| --- | --- | --- |
| Thursday | 09:30 - 18:00 | |
| Friday | 09:30 - 18:00 | |
| Saturday | 09:30 - 16:00 | |
| Monday | 09:30 - 18:00 | |
| Tuesday | 09:30 - 18:00 | |
| Wednesday | 09:30 - 18:00 | |