Your shape - your design - your instrument!
With the Rocktile Do-it-yourself kits, you can become your own custom shop. Search and pick your favorite shape and build your own individual one-of-a-kind instrument. In this kit, you will find all the components you need - all you need are a few tools and a few assembly skills. All wooden parts are pre-milled and are not color treated. This gives you a lot of creative freedom in the design - choose natural with a satin finish or metallic high gloss, colorful, black and white or vintage with hammer-and-file editing. Your bass guitar, your way!
Suitable accessories (Not included in the delivery.)
Specification
Product number

00038314

Colour

Natural
Reviews
| | | |
| --- | --- | --- |
| 5 Stars | | 29 |
| 4 Stars | | 10 |
| 3 Stars | | 4 |
| 2 Stars | | 2 |
| 1 Star | | 0 |
A verification of the ratings has taken place as follows: Only customers who are registered in our online store and have actually purchased the product from us can submit a rating for the item in the customer account.
RockTile Bass Gitarre
Review from
Arthur
on 29.11.2020
verified purchase
Was fun to assemble, electrics were all ready soidered/ stained with Mahogoney/ wood etched by pro/ Christian Cross on back, Lion on front.
sebastian.pink@hotmail.de He did the wood -art ,on the Bass-gitarre ! Made it personnel !
Bei dem Tonabnehmer war ein gratis Bass dabei!
Review from
Anonymus
on 01.07.2019
verified purchase
der Preis ist echt unschlagbar. gleich nochmal einen bestellt ;)
amazingly good
Review from
ANDREAS
on 21.06.2022
This rating has been translated automatically. Original language
verified purchase
i am very amazed at how well everything fit. Super to edit. The result is great. I was also surprised that the bass sounds really good. I play more the rock track and there he has decent lows, but also enough "crispness" in the upper mids, which gives out a nice attack presence. As already written, I was and am surprised.
A small drawback is that the body is quite light, making the bass a bit top-heavy.
Conclusion: for little money an entertaining tinkering pastime and in the end a super instrument.
nice kit
Review from
Jörg
on 14.12.2021
This rating has been translated automatically. Original language
verified purchase
I got the kit of the electric bass spontaneously as a Black Friday offer. Within 2 days I had the kit.
All parts were available and the untreated body had a great grain,
So I just waxed/oiled the wood parts.
Everything fit beautifully and nothing had to be refinished. For my purposes, it sounds great. The string adjustments were easy to do.
Nothing shrieks.
It was really worth the purchase.
Thank you Kirstein.
You can't complain about that
Review from
Gerd
on 11.12.2021
This rating has been translated automatically. Original language
verified purchase
Having already built a jazz bass years ago after a jazz guitar, I now wanted to mount a precision bass. As a guitarist, I was missing a bass in my collection.
The description foreshadowed that it would be a lightweight due to the wood used for the body, but as a retiree that suited me just fine. I sanded all parts several times, the neck less than the body, because it was very rough, especially at the curves. The headstock got the familiar shape. For coloring I used hardwood oil, the neck remained natural and was only matt varnished. I also gave the body two coats of varnish after more than a week to make the surface a little less sensitive. After assembling all the parts and adding an "ashtray" to the bridge, my bass was as I had envisioned it. I play it through an old Vox Tonelab into the PC and am taken with the tonal variety with this unit. Absolutely recommended purchase for fans who can't afford or don't want an original and enjoy DIY. Unfortunately, you can not insert a picture here, but I have created a great unique with the harmonious wood grain.
Question by Fabrizio De Santis on 12.02.2020
Is there also a maple fretboard neck?
Thanks
Answer by Musikhaus Kirstein:
The handle is made of maple wood.
Product Video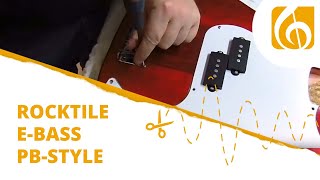 Your contact persons
The hotline is currently not manned. You can reach us again on Monday, 04.12.2023 at 09:30.
| | | |
| --- | --- | --- |
| Saturday | 09:30 - 16:00 | |
| Monday | 09:30 - 18:00 | |
| Tuesday | 09:30 - 18:00 | |
| Wednesday | 09:30 - 18:00 | |
| Thursday | 09:30 - 18:00 | |
| Friday | 09:30 - 18:00 | |