Stimmgerät speziell für Gitarre/Bass mit einem edlen Design!
Die Stimmgeräte der GA-Serie erfreuen sich bei Gitarristen und Bassisten großer Beliebtheit. Das neue Modell sieht nicht nur noch edler aus, sondern bietet außerdem weitere Vorzüge. Während viele Aspekte, darunter der Bedienkomfort und das satte Funktionsangebot, unverändert übernommen wurden, haben wir das Display für die Anzeige des Noten- und Saitennamens im Sinne einer maximalen Leserlichkeit entscheidend vergrößert. Dank mehrerer Gitarren- und Bassmodi eignet sich dieser Tuner sowohl für Einsteiger als auch für erfahrene Musiker. Das GA-2 glänzt mit der Präzision, der Stabilität und dem Bedienkomfort, die Sie zu Recht von Stimmgeräten aus dem Hause KORG erwarten. Sowohl im Studio als auch im Live-Betrieb ist es einfach unverzichtbar.
Stimmungsanzeige mit Nadelsimulation sowie großer Notennamen- und Saitenanzeige
KORGs Meternadel zeigt die erkannte Tonhöhe schnell und zuverlässig an. Zusätzliche Hilfestellung leistet das ungefähr vier Mal größere Display für die perfekt leserliche Anzeige des Noten- und Saitennamens. Hinzu kommen rote und grüne LEDs, die auf etwaige Abweichungen bzw. eine richtige Stimmung hinweisen.
Kompaktes und leichtgewichtiges Gehäuse
Das GA-2 ist ungefähr so groß wie eine Kreditkarte - man kann und sollte es folglich immer dabei haben. Das abgerundete Gehäuse liegt gut in der Hand und sieht dank der Akzentuierung des Batteriefachs richtig schick aus. Ein neuer Mechanismus erlaubt das Auswechseln der Batterien, indem man das gesamte Gehäuse verschiebt - endlich kann es nicht mehr vorkommen, dass der Batteriefachdeckel plötzlich unauffindbar ist.
Gitarren- und Bassmodus
Als Stimmhilfe für Gitarristen und Bassisten bietet das GA-2 einen separaten Gitarren- und Bassmodus mit automatischer Notenerkennung. Im Gitarrenmodus werden auch 7-Saiter-Gitarren (7B bis 1E) unterstützt. Der Bassmodus eignet sich u.a. für 6-Saiter-Bässe (tiefes H, hohes C). Selbst ein erfreulich empfindliches Mikrofon zum Stimmen akustischer Gitarren ist an Bord.
Quinta Flat-Modus
Der Quinta Flat-Modus des GA-2 ist für die Heavy-Fraktion gedacht, die ihre Instrumente prinzipiell so tief wie möglich stimmt. Das GA-2 erlaubt einen Versatz von bis zu 5 Halbtönen nach unten und eignet sich somit für Gitarren, die mit 5 zusätzlichen Bünden ausgestattet sind.
Einstellbare Kammertonfrequenz
Da der Kalibrierungswert von 430~450Hz im Meter angezeigt wird, ist man beim Stimmen frei in der Wahl der Kammertonfrequenz.
Sound Out-Modus für die Ausgabe von Referenztönen über den internen Lautsprecher
Obwohl sich viele Musiker mittlerweile an die Arbeit mit einer Meteranzeige gewöhnt haben, bietet dieser Tuner weiterhin einen Sound Out-Modus, in dem man seine Gitarre bzw. seinen Bass nach Gehör stimmen kann.
±200 Stunden Stimmung Non-Stop
Dank eines hocheffizienten Aufbaus verfügen Sie mit zwei AAA-Batterien über eine Laufzeit von 100 (Zink-Kohlenstoff) bzw. 200 Stunden (Alkalibatterien) - im Dauerbetrieb.
Maximaler Bedienkomfort & große Anzeige des Noten- und Saitennamens!
Reviews
5.0
/
5.0
Based On 3 ratings
| | | |
| --- | --- | --- |
| 5 Stars | | 2 |
| 4 Stars | | 1 |
| 3 Stars | | 0 |
| 2 Stars | | 0 |
| 1 Star | | 0 |
zufrieden
Review from
Anke
on 31.12.2019
verified purchase
Lieferung ging schnell und unkompliziert.
Mein Kind konnte das Stimmgerät mit 9 Jahren schnell allein anwenden.
Erwartungen voll erfüllt. Gern wieder,
Funktioniert gut.
Review from
Dr.
on 25.02.2019
verified purchase
Einfach zu bedienen, mehr oder weniger selbst erklärend. Für einen Wenig-Gitarrenspieler wie mich auf jeden Fall empfehlenswert. Ich hab es zwar erst seit ca 2 wochen, bislang aber nichts auszusetzen.
Tolles preis-leistungsverhältnis
Review from
Anja
on 30.08.2017
verified purchase
Tolles preis-leistungsverhältnis
Einfache handhabung
Super Größe, daher toll für unterwegs
Questions about product
No questions have yet been asked about this article.
Your question about the article Korg GA-2
Your question will be forwarded directly to the department and answered as soon as possible.
Variants
Customers also bought
Product Video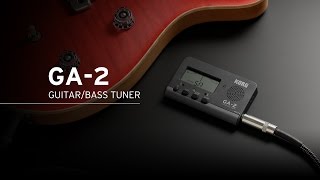 Your contact persons
Our specialists will be happy to advise you.
| | | |
| --- | --- | --- |
| Tuesday | 09:00 - 18:00 | |
| Wednesday | 09:00 - 18:00 | |
| Thursday | 09:00 - 18:00 | |
| Friday | 09:00 - 18:00 | |
| Saturday | 09:30 - 13:30 | |
| Monday | 09:00 - 18:00 | |