Get personal advice now!
Our specialists from the keyboard department look forward to your call.
Digital Piano mit 88 Full-Size-Tasten - Spiele überall, lerne mit deinem Smartphone!
Beim Klavier lernen können 88 Tasten einen großen Unterschied machen. Obwohl Modelle mit 61 oder 76 Tasten leichter zu transportieren und insbesondere für jüngere Spieler einfacher zu beherrschen sind, hilft dir ein 88-Tasten-Piano beim Erlernen der korrekten Technik und beim Herausbilden eines individuellen Ausdrucks. Die meisten Pianos stellen dich vor die Wahl: Performance oder Mobilität. Das Roland GO:PIANO88 macht keine Kompromisse.
Leicht und robust, mit optionalem Batteriebetrieb und Kopfhöreranschluss überzeugt das GO:PIANO88 als mobiles Instrument mit 88 Tasten und Sounds aus den besten Digital Pianos von Roland. Auf diese Weise spielst du immer mit der richtigen Technik und vollem Ausdruck und bist auch für klassische Musik und komplexe Stücke gewappnet. Darüber hinaus verfügt das GO:PIANO88 über integrierte, hochwertige Bluetooth-Lautsprecher, die in Verbindung mit deinem Smartphone zur unkomplizierten und kompakten Übungslösung werden.
Einmal verbunden, hast du Zugriff auf eine unbegrenzte Anzahl kostenloser Online-Inhalte, die das Lernen erleichtern und dazu auch noch Spaß machen, wie zum Beispiel Online-Unterricht, Karaoke und Tutorial-Videos zu deinen Lieblingssongs. Oder du streamst einfach ein paar Songs von deiner Playlist und jammst dazu. Finde einen Platz, greife zu deinem Smartphone und starte noch heute deine musikalische Reise mit dem GO:PIANO88.
Erlebe das klassische Klavier-Spielgefühl mit 88 Full-Size-Tasten
Das GO:PIANO88 verfügt über 88 Full-Size-Tasten für ein authentisches Spielgefühl und einen ausdrucksstarken Anschlag - inspiriert von der Tastatur eines akustischen Flügels. Indem dir der komplette Notenumfang zur Verfügung steht kannst du nicht nur anspruchsvolle Klavierwerke spielen. Gleichzeitig helfen dir die 88 Tasten, eine saubere Technik für beide Hände auszubilden. Weiterhin fällt dir der mögliche spätere Umstieg auf eine Tastatur mit Hammermechanik wesentlich einfacher. Und solltest du irgendwann in ein Premium-Piano investieren, bietet sich das GO:PIANO88 als ideales Instrument für unterwegs an, das sich komfortabel in einem Gigbag zu Bandproben, spontanen Sessions und Live-Shows transportieren lässt.
Kabelloser Smartphone-Anschluss, Zugang zu Online-Inhalten und schnelleres Lernen
Das GO:PIANO88 lässt sich mit deinem Smartphone verbinden, damit Üben noch mehr Spaß macht. Über die Bluetooth-Funktion kannst du das Instrument kabellos mit deinem Smartphone oder Tablet verbinden und auf Songs aus deiner Musiksammlung oder kostenlose Online-Unterrichtseinheiten zugreifen. Du hast die Wahl: Spiele zum Audio-Stream über die hochwertigen integrierten Lautsprecher oder einen angeschlossenen Kopfhörer. Für tiefergehenden Klavierunterricht gibt es zahlreiche exzellente Apps und Tutorial-Videos, mit denen du schnell beachtliche Erfolge erzielst, bevor du mit einem Klavierlehrer arbeitest.
Genieße authentische Piano-Performances im kompakten, platzsparenden Format
Nicht jedes Zuhause bietet ausreichend Platz für ein akustisches Klavier. Dank des kompakten Designs des GO:PIANO88 kannst du in jeder Umgebung spielen, ohne auf die Vorteile einer 88-Tasten-Klaviatur verzichten zu müssen. Hinsetzen, einschalten und schon kannst du die volle dynamische Bandbreite des GO:PIANO88 erleben - ganz ohne Einrichtungsstress und Kabelsalat. Um sicherzustellen, dass du jederzeit üben kannst, ohne deine Mitmenschen zu stören, verfügt das GO:PIANO88 zudem über einen Kopfhöreranschluss.
Spiele unterwegs dank Batteriebetrieb und kabelloser Smartphone-Verbindung
Mit einem akustischen Klavier bist du an einen Ort gebunden, während dich portable Keyboards aufgrund ihrer reduzierten Tastenanzahl stilistisch einschränken. Mit dem GO:PIANO88 und deinem Smartphone bist du bereit, wenn dich die Inspiration überkommt. Das kompakte Instrument wiegt gerade einmal 7,0 kg und lässt sich über Batterien betreiben. Zudem kannst du sowohl über die integrierten Lautsprecher performen als auch leise über Kopfhörer üben. Darüber hinaus lässt sich das GO:PIANO88 kabellos mit deinem Smartphone verbinden, so dass du jederzeit und überall an deinen Fähigkeiten arbeiten kannst. Die Vollausstattung mit 88 Tasten sorgt dafür, dass sich deine Spieltechnik ungehindert entfalten kann.
Lass dich von den ausdrucksstarken Roland Piano-Sounds inspirieren
Neben den 88 Full-Size-Tasten wird dich das GO:PIANO88 auch mit seiner hochwertigen Auswahl an Sounds aus den renommierten Roland Premium-Pianos inspirieren. Spiele eine Taste und höre einen Ton mit eigenständigem Charakter, der sich nahtlos an deinen Anschlag anpasst - genau wie bei einem hochwertigen akustischen Klavier. Zusätzlich zur ausdrucksstarken Tastatur reproduziert das GO:PIANO88 jede dynamische Nuance deines Spiels und motiviert dich so, immer besser zu werden. Darüber hinaus enthält das GO:PIANO88 weitere Sounds für unterschiedliche Musikstile, darunter E-Pianos, Orgeln und mehr.
Mit den internen Lernfunktionen erzielst du beim Üben maximale Erfolge
Das GO:PIANO88 verfügt über integrierte Tools zum täglichen Üben, die dir dabei helfen, dich voll aufs Spielen zu konzentrieren. Verwende das Metronom, um dein Timing zu verbessern oder experimentiere, indem du die Tastatur in eine andere Tonart transponierst. Verbinde dein Smartphone mit dem GO:PIANO88 und erkunde eine nahezu endlose Welt an Apps und Tutorial-Videos. Die kostenlose Roland Piano Partner 2 App ist ein idealer Begleiter und bietet unterhaltsame Lernfunktionen sowie eine Aufnahmefunktion, mit der du deine Performance aufzeichnen und deinen Fortschritt beurteilen kannst.
Erzeuge hochwertige Videos mit deinem Smartphone und dem GO:MIXER PRO
Dank der 88-Tasten-Klaviatur und der vielfältigen Unterrichtsfunktionen wirst du schon bald besser spielen als jemals zuvor, so dass du deine Fortschritte mit der Welt teilen möchtest. Mit einem Smartphone lassen sich schnell und einfach Videos erstellen, doch die Qualität des internen Mikrofons lässt oftmals zu wünschen übrig.
Durch das Anschließen deines Smartphones und des GO:PIANO88 an den Roland GO:MIXER PRO kannst du herausragenden Sound zu deinem Video unmittelbar während des Drehs aufnehmen. Zudem lassen sich weitere Quellen mit den GO:MIXER PRO verbinden, etwa ein Mikrofon oder ein zusätzliches Keyboard. Es gibt keinen einfacheren Weg, professionelle Videos für deine Social Media-Kanäle zu produzieren als die Kombination aus deinem Smartphone, GO:PIANO88 und GO:MIXER PRO.
Authentische Piano-Performances im kompakten, platzsparenden Format - ideal für Zuhause & unterwegs!
Suitable accessories (Not included in the delivery.)
Specification
Product number

00059456

max. polyphony

128

Number of Keys

88

Amplifier power RMS (Watts)

20

Recording function

Yes

Speakers

Yes

Wooden keys

No

Integrated speakers

Yes

Number of pedals

0

Keyboard cover

No

USB to host

Yes

Auto accompaniment

No

Finish

Satin

Headphones out

Yes

Colour

Black

Midi interface

No

Number of styles

0

USB to device

No

Number of voices

4

Display

No

Console

No

Accessories included

No

Lesson function

No
Reviews
| | | |
| --- | --- | --- |
| 5 Stars | | 4 |
| 4 Stars | | 0 |
| 3 Stars | | 0 |
| 2 Stars | | 0 |
| 1 Star | | 0 |
A verification of the ratings has taken place as follows: Only customers who are registered in our online store and have actually purchased the product from us can submit a rating for the item in the customer account.
Roland GO:Piano 88 Digitalpiano
Review from
Vasile
on 27.03.2022
This rating has been translated automatically. Original language
verified purchase
Hello,
I'm a beginner in the field as far as equipment and music, but I really like the piano. Am now retired and have resolved to learn piano.
Have ordered from Kirstein, has gone super fast, thanks for that. The piano arrived with me without damage, has been very well packaged!

Vasile Pop
Very satisfied
Review from
Miriam
on 01.02.2022
This rating has been translated automatically. Original language
verified purchase
Bought the Roland GO as a supplement and must say I am very satisfied with the product. Especially the "Go" has appealed to me, so I can make music in the garden on the lawn in the summer. Also the ordering process, shipping, etc. were absolutely top!
Pedal does not work
Review from
Jürgen
on 29.11.2020
This rating has been translated automatically. Original language
verified purchase
Pedal does not work
Piano 88 Digital
Review from
Elfriede
on 17.10.2020
This rating has been translated automatically. Original language
verified purchase
Delivery was made immediately. The device was tested and is absolutely ok. A certainly successful gift.
Question by elie Gavory on 24.02.2021
ce piano possede t il un echantillon de rythmes ?
Answer by Musikhaus Kirstein:
No, the piano does not have styles/rhythms.
B-Stock Bargains.
This product is also available in the following condition:
Also available as set!
Roland GO:PIANO 88 Digitalpiano Set
| | | |
| --- | --- | --- |
| 1 x | Roland GO:PIANO 88 Digitalpiano | 497,00 € |
| 1 x | Classic Cantabile X-Keyboard stand double braced | 34,99 € |
| 1 x | Classic Cantabile KH-238 Headphones | 31,50 € |
| 1 x | Michael Christoph "Aller Anfang ist leicht" Vol. 2 Piano School + Playback Downloads (German) | 15,65 € |
instead of individually
579,14 €
You save (33,5 %)
194,14 €
Your price

Free shipping (DE) inkl. VAT.

385,00 €
| | |
| --- | --- |
| In stock - immediately available | |
Product Video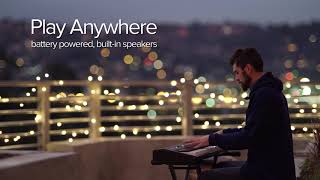 Your contact persons
Our specialists will be happy to advise you.
| | | |
| --- | --- | --- |
| Saturday | 09:30 - 13:30 | |
| Monday | 09:30 - 18:00 | |
| Tuesday | 09:30 - 18:00 | |
| Wednesday | 09:30 - 18:00 | |
| Thursday | 09:30 - 18:00 | |
| Friday | 09:30 - 18:00 | |