AKG K-52 - Geschlossener Kopfhörer für Musiker und Home-Recording!
Ihre Musik rockt - mit dem AKG K52 Over-Ear-Kopfhörer sorgen Sie dafür, dass Sie jedes Detail hören. Professionelle 40-mm-Treiber zeigen selbst die feinsten Nuancen, sodass Sie sicher sein können, dass Ihr Mix auf jedem System präzise übersetzt wird. Egal, ob Sie Gesang oder eine Basslinie verfolgen, der selbstregulierende Kopfbügel und das leichte Design sorgen für stundenlangen Komfort. Der robuste K52-Kopfhörer wurde von der Firma entworfen, deren Mikrofone und Kopfhörer dazu beigetragen haben, einige der berühmtesten Aufnahmen der Welt zu erstellen. Er bietet einen großartigen Klang, egal wo Ihre Musik Sie hinführt.
Professionelle Treiber - klarer Sound im Studio und darüber hinaus
AKG's K52-Kopfhörer liefern einen autoritativen, erweiterten Tieftonbereich, der Kick-Drums und Bassgitarren definiert. Gleichzeitig offenbart der detailgetreue und dennoch präzise ausbalancierte Hochtonbereich die Nuancen von Gesang, Gitarren und akustischen Instrumenten.
Der großzügige 40-mm-Treiber bieten eine hohe Empfindlichkeit für kraftvolle Ausgangsleistung und einen erweiterten Frequenzgang, der jedes Detail offenbart. Die K52 zeichnen sich außerdem durch ein niederohmiges Design aus, das die Kompatibilität mit einer Vielzahl von Wiedergabegeräten gewährleistet, von professionellen Studiogeräten bis hin zu tragbaren Musik-Playern.
Geschlossenes Design - Lassen Sie sich von Ihrem Sound davontreiben
Das geschlossene Design des K52-Kopfhörers eliminiert das Austreten von Ton, sodass nur Ihre Ohren den Ton wahrnehmen. Sie werden nicht hören, wie der Schlagzeuger mitten im Tracking seine Sticks fallen lässt - und das Mikrofon nimmt den Klang der Click-Spur in Ihren Kopfhörern nicht auf.
Dieses außergewöhnliche Maß an Audio-Isolation wird durch eine neue Akustikkammer erreicht, die sich zwischen der Ohrmuschel und dem Scharnier befindet, das mit dem Kopfband verbunden ist. Unser innovatives Design gibt Ihnen die Freiheit, Ihren Kopf in jede Richtung zu bewegen, ohne den Klang ein- oder austreten zu lassen. Mit dem K52 genießen Sie einen privaten Arbeitsbereich, ganz gleich, wo Sie sich gerade befinden.
Der Stil, der zu allen passt - komfortables Hören
Perfektion bedeutet manchmal, den gleichen Teil stundenlang zu verfolgen - und genau da kommt es auf Komfort an. Wir haben unser einzigartiges, selbstregulierendes Kopfband entwickelt, um automatisch die perfekte Passform für jedes Bandmitglied zu schaffen. Es ist nicht nötig, sich mit empfindlichen Größeneinstellungsmechanismen zu beschäftigen, die im Laufe der Zeit zerbrechen können.
Durch das freiliegende Kopfbügel-Design bleibt der K52-Kopfhörer angenehm leicht, ohne dabei die Größe des Treibers zu beeinträchtigen. Atmungsaktive, leichte Ohrpolster umschließen Ihre Ohren, anstatt zu drücken. Und ein einseitiges Kabel gibt Ihnen Bewegungsfreiheit. Zusammenfassend lässt sich sagen, dass diese leistungsstarken Kopfhörer hervorragend klingen, sich gut anfühlen und gut aussehen.
Professioneller Kopfhörer für alle, die Musik lieben!
Specification
| | |
| --- | --- |
| Product number | 00044879 |
| Colour | Black |
| detachable cable | No |
| System | closed back |
| Cable | Straight |
Reviews
| | | |
| --- | --- | --- |
| 5 Stars | | 8 |
| 4 Stars | | 0 |
| 3 Stars | | 0 |
| 2 Stars | | 0 |
| 1 Star | | 0 |
A verification of the ratings has taken place as follows: Only customers who are registered in our online store and have actually purchased the product from us can submit a rating for the item in the customer account.
This makes music fun!
Review from
Steven
on 20.08.2022
This rating has been translated automatically. Original language
verified purchase
Super comfortable headphones, with great quality! Perfectly suited for recording and mixing. Very good grip! Highly recommended!
Price - performance is right
Review from
Heinz
on 06.07.2022
This rating has been translated automatically. Original language
verified purchase
Cable is long enough, headphones sit neatly, sound quality for monitor control more than good, who is looking for better must invest more money
AKG K-52: empfehlenswert
Review from
Fabian
on 26.11.2016
This rating has been translated automatically. Original language
verified purchase
The AKG K-52 was chosen as a replacement for an old Sennheiser, whose numerous cable breaks that could no longer be repaired heralded the end. I had no previous experience with AKG products, but AKG has a good reputation as a manufacturer of high-quality microphones and headphones. The search was on for a not too expensive pair of headphones with a closed, circumaural design that would reproduce a wide frequency range without overemphasizing the bass. With their visually appealing appearance, the "little one" from the K line fits this requirement profile perfectly. According to AKG, it was actually developed for recording, mixing in the studio or for the rehearsal room, but the qualities of the K-52 are also evident on the home stereo system and, surprisingly, on the smartphone. Music is reproduced in detail and cleanly - sometimes too cleanly with MP3 from the smartphone, here you can hear the quality losses of compression better than with the old Sennheiser. On the other hand, it gets an astonishing amount out of the device, even at lower volumes - without disturbing the person sitting next to it. The closed design effectively absorbs noise emissions. The low weight, the self-adjusting headband and the airy ear pads ensure comfortable wearing, even for those who wear glasses. Conclusion: Exactly what we were looking for at a very fair price of 35,- EUR.
Great price performance ratio
Review from
Stephan
on 06.04.2021
Variant
AKG K-92
This rating has been translated automatically. Original language
verified purchase
For the price surprisingly good sound quality and pleasant wearing comfort
Good sound
Review from
Lilli
on 11.03.2021
Variant
AKG K-92
This rating has been translated automatically. Original language
verified purchase
I use the headphones to practice bass and am very satisfied.
The low tones are very well reproduced.
Questions about product
No questions have yet been asked about this article.
Your question about the article AKG K-52
Your question will be forwarded directly to the department and answered as soon as possible.
Variants
Accessories
Customers also bought
Product Video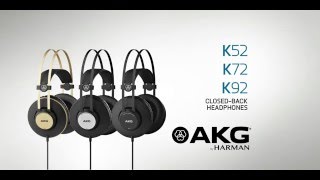 Your contact persons
The hotline is currently not manned. You can reach us again on Monday, 06.02.2023 at 09:30.
| | | |
| --- | --- | --- |
| Saturday | 09:30 - 13:30 | |
| Monday | 09:30 - 18:00 | |
| Tuesday | 09:30 - 18:00 | |
| Wednesday | 09:30 - 18:00 | |
| Thursday | 09:30 - 18:00 | |
| Friday | 09:30 - 18:00 | |