StudioLive 16.0.2 USB - Digital-Mischpult mit USB Audiointerface!
Wenn Sie ein Live-Event mischen oder einen Künstler im Studio haben, muss es einfach schnell gehen. Die vertraute und einfach zu bedienende Benutzeroberfläche des StudioLive 16.0.2 USB hält alle kritischen Steuerelemente sichtbar und zugänglich - nicht in Menüs oder Ebenen verborgen. Unsere Design-Philosophie ist einfach: Ein Fader für jeden Mono- oder Stereokanal, ein Ausgang für jeden Bus. Neu sind die leicht zugänglichen, farbcodierten Funktionstasten, Drehtrimmsteuerungen und klar beschriftete, individuelle Regler für EQ- und Dynamikbearbeitung. Die Aux-Sends haben ihre eigenen physischen Steuerelemente. Jeder Kanal hat eine große, helle Anzeige. Das analoge Gefühl täuscht: Das StudioLive 16.0.2 USB bietet das gesamte digital Paket.
Größe ist nicht alles
Mit weniger als 2 Quadratfuß (0,19 Quadratmeter) bietet das kompakte 16-Kanal-StudioLive 16.0.2 USB 8 Mono-Eingangskanäle, 4 Stereokanäle und 4 Aux-Busse, mit jeweils einer hohen Qualität von 60 mm Fader. Sie erhalten großzügige analoge I / O, 12 XMAX Class A-Mikrofonvorverstärker, einen Talkback-Eingang mit Class-A-Mikrofonvorverstärker, umfangreiche Signalverarbeitung mit physischen Steuerelementen, MIDI-Steuerung, genaue Messung und eine integrierte Mehrkanal-Aufnahme-Schnittstelle. Wie bei allen StudioLive-Mischpulten ist der 16.0.2 USB mit einer Reihe von integrierten Aufzeichnungs-, Steuerungs- und Audioanalyse-Software ausgestattet. Dabei ist es so leicht und kompakt, dass Sie es locker in einer Hand halten und unter Ihrem Arm verstauen können.
Keine Kompromisse
StudioLive 16.0.2 USB-Mixer bieten reichlich DSP-Leistung, ohne Einschränkungen, keine gemeinsamen Ressourcen, keine Analyse, welche Verarbeitung wo verfügbar ist. Sie haben alle Prozesse jederzeit verfügbar, ohne Kompromisse oder Vorbehalte.
Der einzigartige Fat Channel bietet einen Kompressor, Limiter, Expander und einen 3-Band semiparametrischen EQ für jeden Kanal und Bus, ein Hochpassfilter auf jedem Kanal, Phasenumkehr für die Kanal-Mikrofon-Vorverstärker, eine Bibliothek professionell gestalteter Presets und die Möglichkeit, Prozessoreinstellungen zu speichern und selektiv aufzurufen. Ein Stereo-31-Band-Grafik-EQ sitzt auf dem Hauptbus. Und um das Ganze abzurunden, erhalten Sie zwei 32-Bit-Delay / Reverb-Effektprozessoren, jeder mit seinem eigenen dedizierten Mix-Bus und einer Bibliothek nützlicher Effekt-Presets.
Satter Sound
Einfach anschließen und sofort hören Sie unglaubliche Details und Klarheit. Der StudioLive-Mixer arbeiten mit bis zu 48 kHz, für hochauflösendes Mischen und Aufnehmen. Qualitativ hochwertige Burr-Brown-Wandler an jedem Ein- und Ausgang bieten einen erstklassigen Dynamikbereich von 118 dB, so dass Sie mit hoher Genauigkeit und ohne hörbare Verzerrungen alle Höhen und Tiefen erfassen können. Der XMAX-Mikrofonvorverstärker liefert zusätzlich eine unglaublich hohen Headroom, tiefe Tiefen, sanfte Höhen und einen satten Gesamtklang.
Die perfekte Verbindung
Das integrierte 18x16-Multitrack-Aufnahme-Interface des StudioLive 16.0.2 USB ist eng mit dem Rest des Mixers verbunden - kein nachträglicher Einfall. Alle 16 Kanäle und der Hauptmix strömen kontinuierlich zu Ihrem USB-verbundenen Mac oder Windows PC. Jeder Kanal kann unabhängig von seinem Computer auf seinen analogen Eingang oder seinen dedizierten digitalen Ausgang zugreifen.
Mit dem StudioLive-Mischer ist die Aufnahme einfach: Starten Sie die mitgelieferte, vorkonfigurierte Capture -Software, für die Ein-Klick-Aufnahme aller Kanaleingänge und Ihres Hauptmix. Oder nehmen Sie mit der mitgelieferten Studio One Artist DAW oder einer anderen Aufnahmesoftware, die ASIO oder Core Audio unterstützt, auf. Jetzt können Sie mit Leichtigkeit im Studio oder auf der Bühne aufnehmen.
Anschlüsse satt
Auf der Rückseite des StudioLive 16.0.2 USB-Mixers sind alle Anschlüsse finden, die man von einem analogen Mixer erwarten: symmetrische Mikrofoneingänge auf jedem der 8 Monokanäle, 8 symmetrische ¼-Zoll-Line-Eingänge, 4 unsymmetrische Cinch-Line-Eingänge und dedizierte symmetrische Ausgänge für jeden der 4 Aux-Busse und den Haupt-Stereo-Bus. Jeder Eingangskanal und Bus-Send hat seine eigene dedizierte Buchse - kein Teilen, keine Kompromisse - so wissen Sie immer, was von jedem Ausgang fließt.
Ein Digital-Mischpult fürs Studio und Live-Anwendungen!
Suitable accessories (Not included in the delivery.)
Specification
| | |
| --- | --- |
| Colour | Silver |
| WiFi | No |
| Expansion Slot | No |
| Labelable channel strip | No |
Reviews
| | | |
| --- | --- | --- |
| 5 Stars | | 1 |
| 4 Stars | | 0 |
| 3 Stars | | 0 |
| 2 Stars | | 0 |
| 1 Star | | 0 |
Small Big Digital Mixer for little money
Review from
Ron
on 01.02.2020
This rating has been translated automatically. Original language
verified purchase
Since 2 weeks we own the StudioLive 16.0.2 Usb.
We use it in our Homestudio for recording and rehearsing.

Very user friendly interface and manual. In no-time you have the basic settings for multitrack recording set up and saved. For me the 1st time working with a digital mixer in the studio, previously only audio interface, and after a small day I quickly mastered the principles. This underlines the fact that Presonus thinks with and about the customer.

The mixer feels solid and is very clearly arranged so that unnecessary searching becomes unnecessary. Due to its compact size it is not a space eater and it fits even in very small spaces.

The faders feel a bit "cheaper", but that's to be expected with a mixer in this price range, something has to be cut back on. It doesn't bother me, it's just a matter of getting used to it.

The sound quality is superb. With rehearsals a good sound through the P.A. but also through the in - ears. Everything can be adjusted to perfection.

The manuals can be downloaded from the Presonus site where you can also create an account and be kept very well informed about all sorts of things, here you can also register your purchase.

The included DAW software and free plugins (after registration) is great. I always worked with Cubase and now I have the Studio One Artist 4 version installed and I'm convinced, the switch to the Pro version of Studio One is imminent.


Highly recommended for people who do not want to spend too much money on more expensive versions but still want a multifunctional mixer for on-stage or (home) studio.


Greetings,

Ron van der Straten
KCLD Homestudio
Apeldoorn ( The Netherlands )
Questions about product
No questions have yet been asked about this article.
Your question about the article PreSonus StudioLive 16.0.2 USB
Your question will be forwarded directly to the department and answered as soon as possible.
Accessories
Customers also bought
Product Video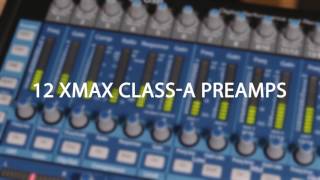 Your contact persons
The hotline is currently not manned. You can reach us again on Monday, 02.08.2021 at 09:30.
| | | |
| --- | --- | --- |
| Monday | 09:30 - 18:00 | |
| Tuesday | 09:30 - 18:00 | |
| Wednesday | 09:30 - 18:00 | |
| Thursday | 09:30 - 18:00 | |
| Friday | 09:30 - 18:00 | |
| Saturday | 09:30 - 13:30 | |