Ein kompakter 4-Kanal Multifunktionsmixer - Volca Mix!
Volca mix ist der lang erwartete Mixer für die volca-Serie. Mit diesem analogen 4-Kanal Performance Mixer kann man mühelos ein Live Setup aus mehreren volca-Geräten aufbauen.
Leichtgängige Fader, knackige LO/HI CUT-Filter und eine Master Chain für radikale Soundtransformationen bieten neue, kreative Möglichkeiten. Zusätzlich zu der bei allen volcas vorhandenen Sync-Funktion gibt es DC-Ausgänge, die bis zu drei weitere volca-Modelle mit Spannung versorgen können. Eine Vielzahl von Funktionen, die volca Bühnen-Performances erleichtern, sind wie bei einem High-End DJ Mixer in einem robusten Gehäuse aus hochwertigem Aluminium untergebracht. Der volca mix setzt das gesamte Potenzial der volca-Serie frei.
Analogmixer für Performances
Der volca mix ist ein 4-Kanal Analogmixer mit intuitiver Bedienoberfläche und hoher Konnektivität. Seine beiden Mono-Eingänge und sein Stereo-Eingang sind perfekt auf den Anschluss von drei volca-Geräten ausgelegt. Die Minibuchsen lassen sich über einzelne Stereo-Minikabel mit den Kopfhörerausgängen externer volca-Geräte verbinden.
Die vertikalen Fader erlauben eine präzise Steuerung der Kanallautstärken. Regelbares Gain zum Einstellen der Mix-Balance und Mute-Tasten sind ebenfalls verfügbar. Mit den LO/HI CUT-Filtern der Kanäle lassen sich die tiefen und hohen Frequenzbereiche mit nur einem Regler anpassen. Die makellosen, natürlich klingenden Filter sind eine besondere Stärke analoger Geräte und erlauben vollständige Kontrolle über den Klangcharakter.
Master- und Monitor-Ausgänge & Stereo-Lautsprecher
Die Ausgangssektion sorgt mit Stereo-Cinchbuchsen für stabile Signalverbindungen. Ein Master Volume-Regler mit LED VU-Anzeige zum Einstellen des Ausgangspegels und ein parallel zum Line-Ausgang nutzbarer Kopfhörer-Ausgang ermöglichen auf der Bühne eine zuverlässige Monitoring-Umgebung.
Die integrierten Stereo-Lautsprecher machen den volca mix grenzenlos mobil. Sie sind auf beiden Seiten des Bedienfelds angeordnet und liefern trotz ihres kompakten Formats Lautstärken, die die anderer volca-Geräte deutlich übertreffen.
Hochwertige Effekte und intuitive Bedienung
Mächtige Master Chain
Die Master-Effekte des volca mix basieren komplett auf analogen Schaltungen. Zusätzlich zu einem Expander, der Mono-Quellen zu einem Stereo-Klangbild erweitert, findet man einen Dynamic Range Compressor, der den Höhenbereich relativ zu Pegeländerungen im Bassbereich komprimiert, sowie einen für Dance Music unverzichtbaren Side Chain-Effekt. Mit diesen Funktionen kann man den Mix dynamisch variieren und Live Performances mit dem volca beeindruckend professionell gestalten.
Externe Effektgeräte für noch mehr Abwechslung
Beim volca mix sind pro Kanal auch Stereo Send Out-Minibuchsen und AUX In-Buchsen sowie Send Level-Regler verfügbar. Dies erlaubt den Einsatz externer Effektgeräte in einer Send/Return-Verbindung. Nutzen Sie Geräte wie das mini kaoss pad 2S, um Ihre Live Performances mit Reverb, Delay, Filter, Break und anderen Standard-Effekten zu veredeln. Die AUX In-Buchse ist auch als Stereo-Eingangskanal für ein viertes volca-Modell, ein Smartphone oder jedes andere Instrument oder jede andere Audioquelle nutzbar.
Master eines volca Live Setups
Der volca mix verfügt außerdem über eine analoge Sync Out-Buchse, die man zur Tempo-Synchronisation mit vielen anderen KORG-Produkten verbinden kann, sowie eine Play-Taste und einen Tempo-Regler zur Steuerung des Sync-Signals. Mit dem volca mix als Sync Master-Gerät eines Live Setups lassen sich die Sequenzen mehrerer synchronisierter Geräte gleichzeitig abspielen und durch kombinierte Mute- und Lautstärkesteuerung innovative Performances kreieren, die die Besonderheiten der volca-Serie richtig in Szene setzen.
Die perfekte Ergänzung für jedes volca Setup!
Suitable accessories (Not included in the delivery.)
Specification
| | |
| --- | --- |
| Outputs | 1/8 Zoll jack (stereo) |
| Colour | Black |
Reviews
| | | |
| --- | --- | --- |
| 5 Stars | | 2 |
| 4 Stars | | 0 |
| 3 Stars | | 0 |
| 2 Stars | | 0 |
| 1 Star | | 0 |
Volca Mix
Review from
Manfred
on 22.03.2020
This rating has been translated automatically. Original language
verified purchase
super device in conjunction with other Volcas. You also save batteries because he supplies the other with
Finally a mini mixer for the Volca series!
Review from
Edgar
on 30.10.2018
This rating has been translated automatically. Original language
verified purchase
Excellent for sampling with the Volcas due to built-in speakers. Same housing size. Best to order 2 if you own all Volcas (you save the individual power supplies). 4-channel mixer with some effects. You can adjust the volume of the single Volcas very well. A must for Volca owners!
Questions about product
No questions have yet been asked about this article.
Your question about the article Korg Volca Mix 4-Kanal Analog-Mixer
Your question will be forwarded directly to the department and answered as soon as possible.
Accessories
Customers also bought
Product Video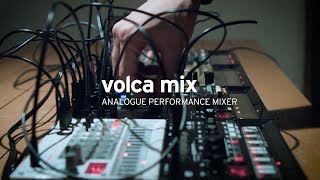 Your contact persons
The hotline is currently not manned. You can reach us again on Saturday, 25.09.2021 at 09:30.
| | | |
| --- | --- | --- |
| Saturday | 09:30 - 13:30 | |
| Monday | 09:30 - 18:00 | |
| Tuesday | 09:30 - 18:00 | |
| Wednesday | 09:30 - 18:00 | |
| Thursday | 09:30 - 18:00 | |
| Friday | 09:30 - 18:00 | |