Shure SM58 - eine Legende, die sich durchsetzt!
Durch den charakteristischen Sound, die druckvolle Präsenz, hohe Rückkopplungssicherheit sowie die Shure-typische Zuverlässigkeit ist das SM58 seit Jahrzehnten die Nummer 1 auf Live-Bühnen in aller Welt. Musiktrends und Bands kommen und gehen - das SM58 wird von jeder Generation neu entdeckt.
Für wen ist das SM58 das richtige Mikrofon?
Das SM58 ist sowohl für den anspruchsvollen Anfänger als auch den Profi. Es wird auf allen Bühnengrößen eingesetzt - vom Clubgig bis zur großen Open Air Bühne. Dieses extrem belastbare Mikro liefert seit über 40 Jahren auf der Bühne und im Studio eine zuverlässige Performance.
Warum ist das SM58 so beliebt?
Zum einen ist der einzigartige Sound: er ist außergewöhnlich druckvoll und klar. Der Frequenzgang ist so optimiert, dass sich die Stimme ohne Eingriffe am Mischpult-EQ bereits hervorragend im Bandmix durchsetzt. Die konsistente Nierencharakteristik isoliert es sehr gut vor Nebengeräuschen und macht es rückkopplungssicher, auch auf lauten Bühnen. Zum anderen die außergewöhnliche Robustheit: ein SM58 macht so gut wie alles mit und übersteht auch härteste Bühneneinsätze.
Woher kommt der Legendenstatus?
Eingeführt 1966, wurde das SM58 schnell zum weltweiten Standard unter den Gesangsmikrofonen. Mehr als 40 Jahre später ist es immer noch das meist verkaufte professionelle Gesangsmikrofon. Jeder Tontechniker und Musiker hat mit großer Wahrscheinlichkeit schon einmal mit einem SM58 gearbeitet.
Auch im Studio oder für das Homerecording?
Das SM58 wird nicht nur auf der Bühne eingesetzt, auch viele professionelle Studioalben wurden mit dem SM58 besungen. Fürs Homerecording am PC oder Mac empfehlen wir das SM58+X2u Digital Bundle.
SM58LC, SM58LCE, SM58S?
Die genaue Artikelbezeichnung des in Europa angebotenen SM58 lautet SM58LCE (Less Cable Europe). Europe bedeutet, dass der 5/8" auf 3/8" Gewindeadapter für Mikrofonstative im Lieferumfang enthalten ist. Die SM58LC Variante (ohne den Gewindeadapter) ist in Europa nicht erhältlich. Häufig wird jedoch das "E" bei der Artikelbezeichnung vernachlässigt.
Das SM58SE hat einen An-/Aus-Schalter und beinhaltet ebenso den 5/8" auf 3/8" Gewindeadapter.
Alles dabei für den großen Auftritt!
Robustes Stativ für Bühne, Studio und Proberaum
Mit dem Pronomic Mikrofonstativ treffen Sie die richtige Wahl, wenn Sie robuste Verarbeitung, stabilen Stand und durchdachte Features zum kleinen Preis suchen. Das MS-116 besitzt einen stabilen, dreibeinigen Fuß mit schwerem Sockel für einen soliden, ruhigen Stand. Die schweren, geriffelten Gummifüße sorgen zudem für sicheren Halt ohne lästiges Verrutschen.
XLR-Kabel mit hochwertigen Steckern
Das Stage Pro-Line ist ein professionelles, symmetrisches Audiokabel, welches sich vor allem als Mikrofonkabel oder für andere XLR-Verbindungen empfiehlt. Zudem ist es auch bestens für die Verkabelung von Homestudios geeignet.
Die Legende unter den Gesangsmikrofonen!
Suitable accessories (Not included in the delivery.)
Specification
Product number

00032675

Colour

Silver
Reviews
| | | |
| --- | --- | --- |
| 5 Stars | | 22 |
| 4 Stars | | 1 |
| 3 Stars | | 0 |
| 2 Stars | | 0 |
| 1 Star | | 0 |
A verification of the ratings has taken place as follows: Only customers who are registered in our online store and have actually purchased the product from us can submit a rating for the item in the customer account.
Top
Review from
Ingolf
on 26.09.2021
This rating has been translated automatically. Original language
verified purchase
Legendary quality - super service from Kirstein; Thank you ; 5 stars
Super microphone
Review from
Faton
on 20.01.2021
This rating has been translated automatically. Original language
verified purchase
The microphone very legendary and gives exactly what you want!
Fast delivery super service from Kirstein No.1!

Chapeau!!
Uncomplicated and powerful
Review from
Leslie
on 13.08.2020
This rating has been translated automatically. Original language
verified purchase
I chose this product because it was already known to me through a friend and was also recommended to me! The price-performance ratio is top. Very uncomplicated - with one order almost everything you need and you can start singing right away.
evergreen and good service
Review from
Jörg
on 11.03.2019
This rating has been translated automatically. Original language
verified purchase
It was (is) important to me that the microphone has a good sound reproduction and
by the easily adjustable microphone stand a quick fixed positioning is possible.
The Klippst for the cable fixation work perfectly.
The delivery was timely and without complaints.
I am very satisfied. Many thanks for this!
Excellent
Review from
Associazione Culturale
on 12.06.2018
This rating has been translated automatically. Original language
verified purchase
Excellent combination, microphone of undoubted fame and efficiency, quality rod and cable. Prompt and accurate service.
No questions have yet been asked about this article.
Product Video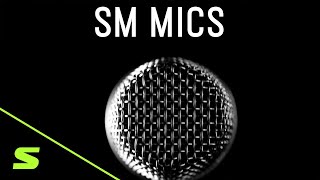 Your contact persons
Our specialists will be happy to advise you.
| | | |
| --- | --- | --- |
| Tuesday | 09:30 - 18:00 | |
| Wednesday | 09:30 - 18:00 | |
| Thursday | Closed | |
| Friday | 09:30 - 18:00 | |
| Saturday | 09:30 - 13:30 | |
| Monday | 09:30 - 18:00 | |