Hail to the King, Baby!
Stagecaptain opens up new frontiers with the MovieKing, which is perfect for home theaters, theater and bar operators, as well as events such as weddings, presentations and lectures. The Movieking is a faithful companion, which offers you a real cinema feeling and a comfortable seat for hours on end.
Timeless design
The Movieking was deliberately designed to fit perfectly into any ambiance. Whether in the living room or home theater, the bar or waiting areas, the soft seat cushions ensure comfort, even for extended time periods. The fabric cover is durable mesh for long-term use. The width is suitable for both children and adults.
2 folding armrests with drink holder
For additional convenience, the two folding armrests are each equipped with a 9.5 cm drink holder. Even during long movie nights, you can enjoy drinks and store your beverage safely during quiet moments. The drink holders are made of water- and dirt-repellent PVC, which is easy to clean with a damp cloth. The bottom of the drink holder has a half-closed design, making cleaning of crumbs and small spills easy.
Foldable seat cushion
In order to ensure a real movie theater feeling, the home cinema chair has a seat cushion that automatically folds up into its original position when not in use. This creates additional space in small rooms and narrow aisles.
Base for free standing
The seat can either be screwed directly into the floor or can be free-standing with the fabric-covered base. The seats can be used together for the theater or left free-standing for a comfortable reading chair or recliner.
Full scalability
The CS-600 Theater Seat has a sophisticated modular design, allowing you to add additional seats at your convenience. The line also includes additional parts such as armrests and seat cushions to accommodate all your seating needs.
Suitable accessories (Not included in the delivery.)
Reviews
| | | |
| --- | --- | --- |
| 5 Stars | | 8 |
| 4 Stars | | 4 |
| 3 Stars | | 4 |
| 2 Stars | | 0 |
| 1 Star | | 3 |
Catastrophic delivery in 250 individual parts
Review from
Niels
on 13.03.2020
This rating has been translated automatically. Original language
verified purchase
I have not even bought something like this at Ikea.
1. disastrous assembly instructions
2. bad screws
3. holes and assembly do not fit together.
4. assembly time per chair approx. 2-3 hours and considerable stress
5. well thought out assembly system - I laugh me kaputt
5. absolutely no recommendation for anyone
Finally a cono chair
Review from
Maria
on 04.01.2020
This rating has been translated automatically. Original language
verified purchase
I've always wanted one. Got away from buying one or 2 old discarded ones. Fortunately. The Stagecaptain looks great and is also great - at a fair price. As the package was slightly damaged, a few small parts were missing, which were replaced promptly and without red tape. Very satisfied. If a small deduction, then for the craft instructions, which for my taste could be at least a little more detailed. But in the end it went. Another tip: the supplied base plate should be additionally attached to the floor or wall.
Great cinema chair with a few design weaknesses
Review from
Sven
on 25.09.2019
This rating has been translated automatically. Original language
verified purchase
As for the seat itself: I, with 130 kg at 182 cm not the narrowest, can sit comfortably in the chairs and they make no signs of collapsing soon. The functions seat up folding are flawless. For the armrests, however, it required some WD40, despite the sliding discs, so that the cinema flair is not replaced by Muckibudenflair. Here one notices Chinese measure tolerances and must know to help itself. One also notices after folding up the armrests: The distance to the seat shell is not always uniform, which is sometimes due to slightly bent mounting forks of the armrests, through which the pivot thread is pushed. Can all be corrected with appropriate tools, if you have it.

The assembly is no problem for craftsmen. But for people who can only work according to instructions, it becomes frustrating: The picture allocation is not clean, the small parts on the too roughly rastered black.white pictures are not always clearly recognizable and the sketches are altogether too small. Who does not bring "so it can work" creativity, will labor at the first chair for a while.

But once you're through with it, you're faced with a visually appealing cinema chair that is space-saving when folded up, comfortable when seated, and exudes a certain new-car smell.

I myself ordered 5 armchairs and the optional connector armrests. Again, weaknesses in the concept become apparent as the base plate becomes useless with these connectors. If one would provide insertion openings at the standard base plate and deliver the connectors with a shortened plate, which would have suitable insertion profiles on both sides to plug into each other, the base plate of every second seat could be further used.
Alternatively, the seat shell, matching base plates and matching connector and outer armrests could also be offered in modular form, which would help to save material. In turn, perhaps then improve dimensional tolerances in manufacturing.
Fact: I have 5 armchairs for a row of 2 and a row of 3, so only need 2 of the 5 pairs of outer armrests supplied (the rest are in the corner along with 5 base plates). Good, I could be on the lookout for 3 of the same office chairs and DIY myself another 3 seats. Improved logistics with a modular system and optimized dimensional tolerances would help to get the 5th star.

Some might think that this review deserves only 3 stars, but that would not do justice to the final product, because the actual chair is really great.
Very good product! ... but delivery?!!
Review from
remy
on 10.09.2019
This rating has been translated automatically. Original language
verified purchase
Very good product, very good value for money, easy to order on your site, the assembly instructions are not very well explained but by deduction we still manage to understand quite easily, you must take your time for the first one. Conclusion, I am very satisfied.
On the other hand, if you could have it delivered by a company other than DPD... If I hadn't stayed and watched for the delivery man, who had no means of unloading (devil etc.), he would have left without trying to find out whether I was there or not and I would have been obliged, as every time I had to deal with them, to go and get these parcels from their depot. I've already had this recurring problem with them for different deliveries. They're probably cheaper, but it's a very bad delivery company. I think many of them would rather share in the costs than have to deal with their services.
Best regards. Rémy Pointurier
Good value for money
Review from
Gérard
on 07.09.2019
This rating has been translated automatically. Original language
verified purchase
This chair is delivered in kit, the assembly is quite easy but the instructions are difficult to decipher. The seat still looks good, it is solid and requires 72 cm of room width. Several seats can be fixed together by buying a common armrest instead of a left or right armrest. In this case, you save 10 cm per seat. Even if the seating comfort does not reach a commercial room seat, you are still sitting comfortably. I tested on a 2-hour film, short. You won't find cheaper elsewhere for this type of product.
Questions about product
Wie viel kilo hält der Stuhl aus ?
Question by Melvin schüngel on 24.09.2018
Answer by - Musikhaus Kirstein
Die Maximalbelastung ist auf 150 Kg ausgelegt.
Wie lange dauert der Versand?
Question by Nieb on 30.06.2019
Answer by Julia Vogt - Musikhaus Kirstein
Guten Tag,
vielen Dank für Ihre Anfrage. Die Lieferzeit beträgt nach Zahlungseingang i.d.R. 1-2 Werktage.
mit freundlichen Grüßen,
Julia Vogt
Bonsoir,

Peut-on raccorder les fauteuils entre eux, en enlevant un accoudoir par exemple ou bien doivent-ils être installés individuellement ?
Merci.
Cordialement.
Pascal.
Question by PascalBERROCAL on 20.05.2018
Answer by - Musikhaus Kirstein
Les sièges doivent être montés individuellement.
Können die Getränkehalter auch weggelassen werden ?
Bitte offerieren Sie mir 15 Sitze geliefert nach CH-8266 Steckborn (grenznahe Konstanz 20km). Falls nicht möglich, Industriegebiet in Konstanz.
Question by RenéLabhart on 13.01.2019
Answer by Rainer Bösel - Musikhaus Kirstein
Gibt es eine Lieferanschrift? Dann mache ich Ihnen gerne ein gutes Angebot.
Your question about the article Stagecaptain CS-600R MovieKing theater seat, red
Your question will be forwarded directly to the department and answered as soon as possible.
Variants
Accessories
Customers also bought
Product Video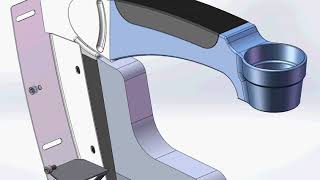 Your contact persons
The hotline is currently not manned. You can reach us again on Wednesday, 21.04.2021 at 09:00.
| | | |
| --- | --- | --- |
| Tuesday | 09:00 - 18:00 | |
| Wednesday | 09:00 - 18:00 | |
| Thursday | 09:00 - 18:00 | |
| Friday | 09:00 - 18:00 | |
| Saturday | 09:30 - 13:30 | |
| Monday | 09:00 - 18:00 | |