Get personal advice now!
The hotline is currently not manned. You can reach us again on Friday, 09.06.2023 at 09:30.
Korg Pitchclip 2 - Noch leserlicher & noch genauer!
Als Weiterentwicklung des erfolgreichen Pitchclip präsentiert sich der KORG Pitchclip 2 mit einem noch kompakteren Gehäuse und einer intuitiven Bedienung, mit der man im Handumdrehen zum guten Ton zurückfindet. Einfach an die Kopfplatte des Instruments anstecken, einschalten, eine Note spielen - und schon wird die erkannte Stimmung haarfein angezeigt.
Der Pitchclip 2 orientiert sich an der Perspektive des Musikers, bietet eine beneidenswerte Genauigkeit und Leserlichkeit und enthält einen erneut verbesserten Clip, der noch besser hält. Dank der Umkehrmöglichkeit eignet er sich ferner für Linkshänder. Der neue Pitchclip 2 für alle Anwendungen. Auf diesen Tuner ist in jeder Hinsicht Verlass!
Noch kompakteres und formschöneres Design
Im Vergleich zum Pitchclip stellt der Pitchclip 2 ganz klar die nächste Handlichkeitsstufe dar: Das Display ist noch dünner, das Design noch schlichter und entsprechend eleganter. Da das Display außerdem größer geworden ist, kann man es trotz der kompakten Maße noch besser lesen. Die Neigung ist in einem Winkel von 120° einstellbar, damit sich kein/e Musiker/in mehr zu verrenken braucht, um die Stimmung zu überprüfen.
Klare und perfekt leserliche LED-Anzeige
Der Notenname und die Meternadel werden mithilfe einer LED angezeigt. Dank der hellen Beleuchtung lassen sich selbst feinste Nadelausschläge problemlos verfolgen. Wenn die Stimmung perfekt ist, blinken die linke, rechte und mittlere Diode unisono. Dank dieses neuen Ansatzes weiß man beim Pitchclip 2 viel schneller, wann das Instrument richtig gestimmt ist. Ganz gleich, ob man in einem hellen Zimmer daheim übt oder das Instrument auf einer dunklen Bühne nachstimmt - dieser Tuner lässt einen nie im Stich.
Clip mit gesteigerter Haltekraft und Gummibelag zum Schutz der Lackierung
Der Clip-Mechanismus des Pitchclip 2 wurde entscheidend verbessert. In zahlreichen Versuchen mit unterschiedlichen Detailvarianten kristallisierte sich ein System heraus, dessen Haltekraft 140% über jener des Vorgängermodells liegt. Dieses Stimmgerät fällt daher selbst in wilden Momenten nicht zu Boden und kann die Stimmung außerdem weitaus genauer messen. Der gesamte Clip ist mit einem Gummibelag versehen, um Lackschäden am Instrument zu vermeiden. Ob Ukulele oder elektrische Gitarre - dieser Tuner gehorcht dem "Einer für alle"-Prinzip.
Verbesserte Erkennungsgenauigkeit im Bassbereich
Auch die Platzierung des Piezo-Sensors im Clip-Bereich des Pitchclip 2 wurde von KORG überdacht, um die Erkennung tiefer Noten zu verbessern. Erstmals eignet sich dieser Tuner daher auch für 5- und 6-Saiter-Bässe, mit denen die Vorgängermodelle ihre liebe Mühe hatten!
Drei Tempo-Einstellungsmöglichkeiten
Das Tempo kann auf drei Arten eingestellt werden: Mit "Pendulum Step" wird das Tempo in den Schritten eines herkömmlichen mechanischen Metronoms erhöht. "Full Step" bedeutet, dass das Tempo im Bereich 30~252 in BPM-Schritten geändert werden kann. Und "Tap Tempo" erlaubt die Verwendung des TAP-Tasters zum "Einzählen".
Vertikale Umhkehrmöglichkeit der Meteranzeige
Wenn der Tuner an der Rückseite der Kopfplatte befestigt wird, lässt sich die Anzeige von vorne nur schwer ablesen. Auch Linkshänder haben mit der Standardausrichtung Probleme. Dafür gibt es jetzt eine Lösung: Schalten Sie den Tuner aus und halten Sie den Taster eine Weile gedrückt, um die Meteranzeige umzukehren. Endlich ist man frei in der Wahl der Platzierung.
Batterielaufzeit von 24 Stunden & automatische Ausschaltfunktion
Mit nur einer handelsüblichen CR2032-Batterie läuft dieses Stimmgerät ungefähr 24 Stunden im Dauerbetrieb. Außerdem enthält es eine Funktion, die es automatisch ausschaltet, wenn länger als drei Minuten kein Signal erkannt wird. Die Batterie wird also nur angesprochen, wenn das Gerät tatsächlich benutzt wird.
Der neue Pitchclip 2 - ein unkompliziertes & effizientes Stimmgerät!
Specification
Product number

00056580

Colour

Black
Reviews
| | | |
| --- | --- | --- |
| 5 Stars | | 5 |
| 4 Stars | | 1 |
| 3 Stars | | 0 |
| 2 Stars | | 0 |
| 1 Star | | 0 |
A verification of the ratings has taken place as follows: Only customers who are registered in our online store and have actually purchased the product from us can submit a rating for the item in the customer account.
No questions have yet been asked about this article.
B-Stock Bargains.
This product is also available in the following condition:
Product Video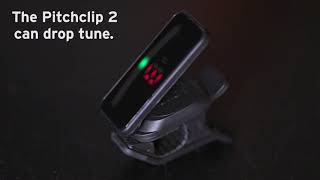 Your contact persons
The hotline is currently not manned. You can reach us again on Friday, 09.06.2023 at 09:30.
| | | |
| --- | --- | --- |
| Friday | 09:30 - 18:00 | |
| Saturday | 09:30 - 13:30 | |
| Monday | 09:30 - 18:00 | |
| Tuesday | 09:30 - 18:00 | |
| Wednesday | 09:30 - 18:00 | |
| Thursday | 09:30 - 18:00 | |