Get personal advice now!
The hotline is currently not manned. You can reach us again on Wednesday, 31.05.2023 at 09:30.
PitchCrow AW-4G Clip-on Tuner
Der PitchCrow ist der kompakteste aller voll ausgestatteten Clip-on Tuner. Sein optimiertes Design umfasst alles, was man zum schnellen Stimmen braucht. Er ist etwa 20% kleiner und leichter als die vorherigen Modelle von KORG. Der PitchCrow verfügt über ein lebendiges Farb- LCD Display, sowie die Möglichkeit zwischen Gitarren und Bass Stimmmodi zu wechseln. Eine neue hochpräzise Feintuning Funktion ermöglicht genauestes Stimmen bis zu einem Wert von ± 0,1 Cent.
Die Batterielaufzeit ist dreimal länger als bei den vorherigen Geräten. Auf diese Weise sind ca. 24 Stunden Dauerbetrieb möglich. Vierzig Jahre nachdem das weltweit erste Stimmgerät mit Nadel- Anzeige entwickelt wurde, ist KORG stolz, den neuen Standard in Sachen Genauigkeit und Zuverlässigkeit bei "Clip-on" Tunern zu setzen: Der PitchCrow AW-4G.
Kompakter und leichter "Clip-On" Tuner im praktischen und einfachen Design
Der PitchCrow AW-4G bietet maximale Funktionalität bei minimaler Größe. Einen kleinen, schicken und genauen Clip-on Tuner zu entwerfen, der im Einklang mit KORGs Tuner-Philosophie steht, war das ultimative Ziel bei der Gestaltung des PitchCrow AW4G. Die wichtigste Änderung war die Größe des Displays. Ohne die Größe des Anzeigebereichs zu verändern, haben wir den ungenutzten Rand verkleinert, was zu einem kompakteren Tuner geführt hat. Auch die Dicke wurde deutlich verringert. Beide Faktoren reduzieren das Gewicht des PitchCrow AW4G deutlich.
Der neue Clip, welcher effizienter und vereinfacht gestaltet wurde, führt zu einer verbesserten Festigkeit und Zuverlässigkeit. Es versteht sich von selbst, dass das neue Design kompromisslose Haltekraft auf jeder Art von Kopfplatte bietet. Dazu kommt die maximale Flexibilität durch das einzigartige Kugelgelenk. Klein, aber gut sichtbar, leicht und trotzdem stark. Der Pitch Crow AW4G sorgt für Spaß beim Stimmen, bei allen anspruchsvollen Gitarristen und Bassisten.
Helles und farbenfrohes LCD Display
Das LCD-Farbdisplay ist bei jeder der verschiedenen Einstellungen immer gut sichtbar. Die extrem helle Hintergrundbeleuchtung und die LCD-Anzeige bieten einen hohen Kontrast und einen weiten Betrachtungswinkel.
Gitarre / Bass Modus
Zusätzlich zum herkömmlichen Modus gibt es einen extra Gitarren und Bass Modi. In jedem Modus wird die Saitenzahl neben dem Notennamen angezeigt, so dass auch Anfänger mit Leichtigkeit stimmen können. Standard- und Kapodastereinstellungen werden ebenfalls angeboten, damit Sie den Tuner in einer Vielzahl von Situationen verwenden können.
Warnung vor Überwicklung der hohen E- Saite
Im Gitarrenmodus erscheint eine "E-Saiten-Überwicklungswarnung" im Display um ein Reißen der hohen E-Saite bei zu hoher Wicklung zu verhindern.
Hochpräzises Stimmen mit einer Genauigkeit von bis zu ± 0,1 Cent
KORG Tuner sind für ihre hohe Genauigkeit und Sensibilität bekannt. Der PitchCrow AW-4G macht da keine Ausnahme. Beim Üben zu Hause, oder in einer ungezwungenen Spielumgebung ist der übliche ± 1 cent Präzisionsmodus für schnelles und reibungsloses Stimmen einstellbar. Wenn Sie aber in einem professionellen Tonstudio oder auf der Bühne sind, ermöglicht der Feintuning Modus hochpräzises Stimmen mit einer Genauigkeit von ± 0,1 Prozent und einer Anzeige, die schon die geringste Tonhöhenabweichung angibt, so dass Ihr Instrument perfekt gestimmt werden kann.
24-Stunden Batteriebetrieb
Der PitchCrow AW4G ist für einen extrem niedrigen Stromverbrauch ausgelegt. Durch die sorgfältige Neugestaltung, haben wir eine Akkulaufzeit erreicht, die etwa dreimal länger als die der bisherigen Tuner ist, so dass etwa 24 Betriebsstunden erreicht werden. Es gibt auch eine automatische Abschaltfunktion, die den Tuner abschaltet, wenn er eine Zeit lang nicht benutzt wurde. So werden Sie sich nicht über eine leere Batterie ärgern müssen wenn Sie ihr Instrument in die Hand nehmen und stimmen möchten. Der Pitch Crow-G ist immer bereit.
Specification
Product number

00041085

Colour

Black
Reviews
| | | |
| --- | --- | --- |
| 5 Stars | | 2 |
| 4 Stars | | 1 |
| 3 Stars | | 0 |
| 2 Stars | | 0 |
| 1 Star | | 0 |
A verification of the ratings has taken place as follows: Only customers who are registered in our online store and have actually purchased the product from us can submit a rating for the item in the customer account.
Top part
Review from
Sven
on 14.08.2020
This rating has been translated automatically. Original language
verified purchase
For the new electric guitar of my son got. Unpacked, battery pure and Ruck zuck was the guitar tuned. Recommendable!
tut was es soll
Review from
Norbert
on 14.04.2018
This rating has been translated automatically. Original language
verified purchase
the display is clearly visible and easy to read. The control buttons on the
are unfortunately very small and close together. At least the power button
button could have been made a bit bigger - there would have been room for it.
available
Tuner
Review from
Kurt
on 24.03.2016
This rating has been translated automatically. Original language
verified purchase
Very good readable and easy to use tuner.
No questions have yet been asked about this article.
Product Video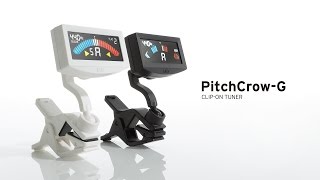 Your contact persons
The hotline is currently not manned. You can reach us again on Wednesday, 31.05.2023 at 09:30.
| | | |
| --- | --- | --- |
| Wednesday | 09:30 - 18:00 | |
| Thursday | 09:30 - 18:00 | |
| Friday | 09:30 - 18:00 | |
| Saturday | 09:30 - 13:30 | |
| Monday | 09:30 - 18:00 | |
| Tuesday | 09:30 - 18:00 | |