M-Audio BX8 D3 - Klarheit, Präzision, Vertrauen!
Ob Sie nun aufnehmen, mischen oder mastern - Ihre Studiomonitore sind immer die erste Bezugsquelle. Die Studiomonitore der BX-Reihe von M-Audio bauen auf einer legendären Historie auf. Bereits im Jahr 2009 gehörten Sie zu den meistgekauften Monitor-Lautsprechern. Auch in der D3 Generation sorgt M-Audio für einzigartige Funktionen für Musiker und professionelle Aufnahmestudios.
Spezielle Analogverstärker liefern überdurchschnittliche Dynamik und Klanggenauigkeit über das gesamte Frequenzspektrum, während die Kevlar-Membran-Tieftöner und Seidenkalotten mit überarbeiteten Waveguide-Technologie für vollen, definierten Sound sorgen.
Maximale Leistung - Präziser Sound
Eine leistungsstarke 150 Watt Class A/B Endstufe liefert einen Schallpegel von bis zu 110 dB, so steht selbst für den lautesten und dynamischsten Mix noch genügend Headroom zur Verfügung. Erleben Sie, dank des neuen optimierten Waveguide, ein weites und außergewöhnliches Klangbild für noch lebendigeren Sound.
Eine neue Raumkorrektur-Schaltung auf der Rückseite ermöglicht es nun, den Einfluss von störenden Bassfrequenzen zu minimieren - vom Keller bis zum professionellen Studio - ohne Kompromisse bei der Klangqualität oder Stereoabbildung einzugehen.
Hochwertige Komponenten
Bei der Entwicklung des BX8 D3 wurde ein besonderes Augenmerk auf erstklassige Teile gelegt. Hochwertige Komponenten sorgen für einen ultra-weiten, linearen Frequenzgang mit minimalen Verzerrungen und geringstem Eigenrauschen. Dank seinem 8"-Kevlar-Tieftöner (20,3 cm), der einen kräftigen Tiefbass bis 37 Hz bietet, ist dem BX8 D3 Monitor eine extrem lange Lebensdauer garantiert. Kevlar ist aufgrund seiner Festigkeit und Temperaturresistenz ein besonders geeignetes Material für Lautsprechermembranen.
Die Hochtönermembran ist aus echter Seide gefertigt, was ihnen einen weichen Klang gibt - ganz im Gegenteil zu vielen Metallmembranen anderer Monitore, die oftmals von schlechter Qualität sind. Um die Verzerrung auf ein Minimum zu beschränken, ist der Hochtöner komplett vom restlichen Gehäuse getrennt und sorgt für einen ausgeglichenen Frequenzgang bis zu 22 kHz.
Die integrierte Endstufe arbeitet nach dem Bi-Amping-Konzept, verstärkt Hoch- und Tieftöner jeweils getrennt. In Verbindung mit einer fein abgestimmten Frequenzweiche wird so garantiert, dass sowohl im Hoch- als auch im Tieftonbereich nur jene Frequenzen gesendet werden, die optimal wiedergegeben werden können. Die tiefe Frequenzabtrennung bei 1900 Hz sorgt für eine weitreichende, fast verzerrungsfreie Signalausgabe innerhalb der kritischen Mittenfrequenzen.
Als Ergebnis erhalten Sie mit BX8 D3 Klanggenauigkeit auch bei komplexen Sounds über das gesamte Frequenzspektrum.
Innovatives Gehäusedesign
Das Design des BX8 D3-Gehäuses ist mehr als einfach nur ein Gehäuse. Es ist mit all seinen Komponenten auf eine ausgezeichnete Klangwiedergabe ausgerichtet - seine abgerundeten Ecken reduzieren Kantenreflexionen und bieten bestmögliche Klangabbildung. Die spezielle, computer-berechnete Bassreflexöffnung auf der Rückseite des Monitors wurde für die Minimierung von Strömungsgeräuschen und daraus resultierende Verzerrungen entwickelt und sorgt zusätzlich für einen erweiterten Tieffrequenzbereich.
Ein vollständig neu entwickelter Custom Waveguide um den Hochtöner sorgt für ein breites und akkurates Klangbild, welches frei von unerwünschten Zerstreuungen ist. Beim Abhören ist die ideale, mittige Position (der sogenannte Sweet Spot) zwischen den beiden Lautsprechern besonders wichtig - dort ist die Stereoabbildung am besten. BX8 D3 ist mit einer LED ausgestattet, damit Sie den Sweet Spot ganz einfach ermitteln können. Sie befinden sich in der optimalen Abhörposition, wenn die LEDs am hellsten leuchten.
Zusätzlich sorgt das legendäre Front-Design des BX8 D3 - M-Audio's berühmtes "Schlüsselloch"-Design - für mehr als nur einen attraktiven Look: Dieses spezielle schraubenlose Design stellt sicher, dass keine Interferenzen oder Resonanzen im Lautsprecher entstehen.
Für Profis entwickelt - und für Anfänger
Unzählige Profis benutzen M-Audio-Studiomonitore zum Produzieren und Mixen - so entstehen Musik und Sounds, wie wir sie tagtäglich hören. Mit derselben Design-Philosophie und Technologie kann jetzt jeder seine Leidenschaft für großartigen Sound ausleben - die BX D3-Reihe macht es möglich. Mit BX8 D3 wissen Sie ganz genau, was in Ihrem Mix vor sich geht, und können so bessere Entscheidungen hinsichtlich der Übertragung auf verschiedene andere Systeme treffen - ob MP3-Ohrhörer, Auto-Stereoanlage oder HiFi-Anlage.
Praktische Monitorstative inklusive
Der Pronomic Lautsprecherständer lässt sich in 6 Stufen zwischen 80 cm und 130 cm in der Höhe verstellen. Gegen ungewolltes Abrutschen des Oberteils verfügt das Stativ über einen Sicherungssplint. Um mögliche Bodenunebenheiten auszugleichen, kann man die Gummifüße des Ständers in der Höhe justieren. Alternativ können auch die drei im Lieferumfang enthaltenen Dornenfüße verwendet werden. Diese Spikes sorgen für noch besseren Stand bei Teppichen und durch die geringere Auflagefläche für eine höhere Entkoppelung der Lautsprecher von Bodenschwingungen.
Die Rückkehr einer Studio Legende!
Specification
| | |
| --- | --- |
| Product number | 00071850 |
| Powered / Passive | Powered |
| System | two-way |
| Woofer size | 8 Zoll |
| Inputs | 6.3mm Klinke, XLR |
| Power RMS (Watts) | 150 |
| Colour | Black |
Reviews
| | | |
| --- | --- | --- |
| 5 Stars | | 2 |
| 4 Stars | | 1 |
| 3 Stars | | 0 |
| 2 Stars | | 0 |
| 1 Star | | 0 |
A verification of the ratings has taken place as follows: Only customers who are registered in our online store and have actually purchased the product from us can submit a rating for the item in the customer account.
Boxes Super! Tripods Okay
Review from
Sebastian
on 12.12.2022
This rating has been translated automatically. Original language
verified purchase
I've been using quite small near-field monitors at home for a while now, and so far they've been sufficient. Now I'm building a small recording studio in the basement and I was looking for monitors with a little more bass.

About the speakers:

They can loud and they bring nen clear sound!!! In fact, I had to regulate the bass then but something down, because it was for my quite small studio room but something to much. This can be done directly on the speakers via a small toggle switch on the back. Or, so I did it, via the EQ of my Tascam Model 24.

So here from me a clear buy recommendation. For the price, there are good near-field monitors here.

About the tripods:

They are okay. The plate for the speakers could be a little larger. For the monitors from this bundle in my view almost too small. It is nice that you can choose between two different feet. Either plastic feet or metal spikes. All in all, it would certainly be even more stable, but for my small home studio in any case suitable.
Very good sound
Review from
Leon
on 13.01.2021
This rating has been translated automatically. Original language
verified purchase
I started mixing tracks about 3-4 months ago and wanted speakers that had a very good (not outstanding) sound. These speakers have at least met my expectations, if not exceeded them for the price!
Excellent
Review from
Luigi
on 18.12.2022
Variant
M-Audio BX5 D3 Studiomonitor Stativ Set
This rating has been translated automatically. Original language
verified purchase
Very good products
Questions about product
No questions have yet been asked about this article.
Your question about the article M-Audio BX8 D3 Studiomonitor Stativ Set
Your question will be forwarded directly to the department and answered as soon as possible.
Product Video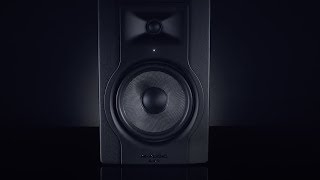 Your contact persons
The hotline is currently not manned. You can reach us again on Thursday, 30.03.2023 at 09:30.
| | | |
| --- | --- | --- |
| Thursday | 09:30 - 18:00 | |
| Friday | 09:30 - 18:00 | |
| Saturday | 09:30 - 13:30 | |
| Monday | 09:30 - 18:00 | |
| Tuesday | 09:30 - 18:00 | |
| Wednesday | 09:30 - 18:00 | |