Bose L1 Pro8 Portable Line Array System - Auftritt? Auf geht's!
Als das portabelste L1 Pro System ist das L1 Pro8 Portable PA-System jederzeit und überall einsatzbereit. Mit der bemerkenswerten Klangqualität eines C-förmigen Articulated Line Array mit acht Treibern sorgt es für eine breite horizontale Klangabdeckung von 180°, die das L1 Pro8 zum idealen Begleiter für Auftritte an kleinen Veranstaltungsorten wie Cafés macht. Dank der breiten horizontalen Abstrahlcharakteristik können alle Zuhörer praktisch dasselbe hören, unabhängig von ihrem Sitzplatz.
Das L1 Pro8 istmit seinem geringen Gewicht von nur 16Kilogramm ganz auf die optimale Mobilität abgestimmt. Das System lässt sich in wenige, leicht zu transportierende Teile zerlegen, die das Ein-und Ausladen zusätzlich beschleunigen. Sie können das Unterteil in einer Hand tragen und das Line Array in der mitgelieferten praktischen Tragetasche bequem über die Schulter hängen, und dann haben Sie immer noch eine Hand für Ihr Instrument frei.
Bass in kompakter Form
Der integrierte Subwoofer mit dem einzigartigen RaceTrack-Treiberdesign liefert kraftvolle Bässe in platzsparender Form mit optimiertem Schwerpunkt. Der schlanke 7"×13"-Treiber hält mit der Leistung eines herkömmlichen 12-Zoll-Woofers mit, jedoch ohne die unhandliche Größe. So gewinnen Sie mehr Raum im Fahrzeug und auf der Bühne, und der Transport-ins Auto und vom Fahrzeug zum Veranstaltungsort-wird bedeutend einfacher.
Mischpult gleich dabei... und auf dem Smartphone
Die L1 Pro Systeme sind mit einem integrierten Mischpult ausgestattet, sodass Sie schnell und einfach verschiedene Instrumente, Mikrofone und andere Audioquellen anschließen können. Es stehen zwei 6,35mm-XLR-Eingänge mit Phantomspeisung, 6,35mm-und 3,5mm-AUX-Eingänge sowie Bluetooth®-Streaming zur Verfügung. Mithilfe der beleuchteten Drehregler legen Sie die Lautstärke, den Ton und den Halleffekt pro Kanal fest.
Wählen Sie unter optimierten System-EQ-Presets für Livemusik, Musikaufzeichnungen und vielem mehr. Über den dedizierten ToneMatch Anschluss können Sie weitere Instrumente und andere Audioquellen anschließen; die Stromversorgung und die digitale Audioübertragung zwischen dem System und einemBose T4S oder T8S Mischpult (optional) erfolgen dabei über ein einziges Kabel.
Und mit der intuitiven L1 Mix App erhalten Sie per Smartphone die uneingeschränkte kabellose Kontrolle über das Mischpult.
Intuitive, direkte kabellose Kontrolle
Mit der L1 Mix App können Sie die Mischpulteinstellungen direkt über das Smartphone anpassen oder einfach durch den Raum laufen, den abgemischten Klang anhören und eine Feinabstimmung vornehmen. Wenn Sie die Lautstärke-und Toneinstellungen in der App ändern, bewegt sich der LED-Regler am L1 Pro mit-das Mischpult und die App sind also ständig und in Echtzeit synchronisiert.
Außerdem steht Ihnen die gesamte ToneMatch Bibliothek mit benutzerdefinierten EQ-Presets zur Verfügung. Mit der L1 Mix App haben Sie die Anschlussmöglichkeiten für Ihren Auftritt voll im Griff, sodass Sie auch spontane Verbesserungen flexibel über intuitive, direkte Steuerelemente vornehmen können.
Alles für diesen einen Moment
Premium-Klangqualität auf der Bühne. Praktische Mobilität in allen anderen Situationen. Vom Parkplatz zum Auftritt, vom Setup bis zur Setlist-mit einem L1 Pro8 schaffen Sie das mit nur einem Gang und in Minutenschnelle. Das L1 Pro8 ermöglicht sowohl eine einfache Einrichtung als auch überragende Klarheit für Singer/Songwriter und DJs-optimaler Klang bei jedem Auftritt.
Ankommen, einrichten, auftreten - so einfach geht das mit dem portabelsten L1 Pro System!
Suitable accessories (Not included in the delivery.)
Reviews
Questions about product
No questions have yet been asked about this article.
Your question about the article Bose L1 Pro8 Portable Line Array System
Your question will be forwarded directly to the department and answered as soon as possible.
B-Stock Bargains.
This product is also available as b-stock:
Alternatives
Accessories
Customers also bought
Product Video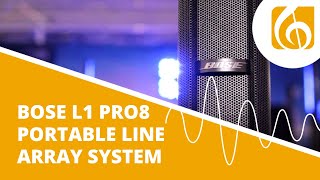 Your contact persons
Our specialists will be happy to advise you.
| | | |
| --- | --- | --- |
| Monday | 09:30 - 18:00 | |
| Tuesday | 09:30 - 18:00 | |
| Wednesday | 09:30 - 18:00 | |
| Thursday | 09:30 - 18:00 | |
| Friday | 09:30 - 18:00 | |
| Saturday | 09:30 - 13:30 | |