Elegant design meets exquisite sound and extensive features!
The UP-1 from Classic Cantabile is a fine digital piano with extensive features and a quality keyboard. At the same time, it is affordable and gives power to the ambitious beginner. The UP-1 is revolutionary in the world of the digital piano!
40 high quality sounds with multi-sampling
With a total of 40 sounds, which all feature multi-sampling, the discerning pianist has a wide range of sounds and voices to experiment with. From piano to strings to the organ and the harpsichord: The UP-1will inspire your creativity with its endless possibilities. The multi-sampling technology ensures that every piano key has several different samples, setting the UP-1 Upright Piano as a new standard in piano sound.
Weighted hammer keyboard with simulation and synthetic ivory surface
The weighted keyboard has pressure simulation and a 3-way sensor that makes the UP-1 feel just like a traditional piano. The ivory-touch surface of the keys also provides the look you expect from a piano. With the touch-response dynamics, you can play this digital piano like a classic piano or concert grand piano. The keyboard dynamics can be adjusted to five different levels with the touch-response function. The UP-1 can simultaneously render up to 256 tones. The Twinova function was created for teachers and students - allowing the keyboard and pedals to be divided into two halves.
An upscale piano at an entry-level price!
Specification
| | |
| --- | --- |
| Lesson function | No |
| USB to device | Yes |
| Auto accompaniment | No |
| Colour | White |
| Display | Yes |
| Integrated speakers | Yes |
| Keyboard cover | Yes |
| Accessories included | No |
| Recording function | Yes |
| Headphones out | Yes |
| Midi interface | No |
| USB to host | Yes |
| Wooden keys | No |
| Finish | Satin |
| Console | Yes |
Reviews
| | | |
| --- | --- | --- |
| 5 Stars | | 13 |
| 4 Stars | | 1 |
| 3 Stars | | 3 |
| 2 Stars | | 0 |
| 1 Star | | 0 |
Klavier Classic Cantabile
Review from
Olivier
on 30.04.2021
This rating has been translated automatically. Original language
verified purchase
Good product
Very satisfied
I am very happy
Review from
Michael
on 11.04.2021
This rating has been translated automatically. Original language
verified purchase
I have only recently started playing the piano. In the beginning I borrowed a keybord to practice on it and I already had some successes. Since I have noticed that an instrument is played more regularly when it is not neatly stored in the closet, but is attractively set up in a living room, I looked around for a pretty piano and thus became aware of the Up-1 in white matt. Apart from its looks, it also had good reviews and a lot of features to offer. I also liked the fact that the connections, e.g. for the headphones, are at the front so that I don't have to climb behind the instrument. The delivery lasted, as announced, unfortunately, several weeks I could hardly hold out in anticipation.

However, the wait was completely worth it. The piano came in a box that had to be carried by two people just from its dimensions. The DHL courier was kind enough to lend a hand and so we carried the package up the stairs. (I live on the ground floor). Assembly was a breeze for me as an Ikea customer. The technology was delivered in a block and then only had to be put on and screwed tight.
One review said the pedals and lower base would bend when playing or something like that. There is a set screw for this, similar to a garden table, which quickly fixes this problem in an invisible way.
Playing on this wonderful instrument sounds really great and the adjustments are honestly intuitive.
I sit in my living room every day and admire our beautiful new piece of furniture.
As a thank you for this purchase, I received a beginner's course from an online music school which I am diligently taking. Everything is explained well and thanks to the pause function in the video I can learn at my own pace.
I would buy this piano again anytime.
Great in itself - pedals a weakness in the costruction?
Review from
Matthias
on 25.04.2019
This rating has been translated automatically. Original language
verified purchase
In itself, the piano makes a high-quality and solid impression.
The sound is so far great, the keyboard feel quite authentic and also the 40 modes are entertaining.
Only the construction of the foot pedals does not open up to me. So the pedals hang together with the crossbar a good piece in the air, whereby the flexible pressed wood is but badly stressed and also partly gives to hear from. Ultimately, either a bar is missing, which supports the floor, or the cross brace should be placed further down. In any case, I find it inappropriate for a piano in this price segment. You can also guess the gap on the product image - yes the distance to the floor is a whole 3.5cm high.
A good choice
Review from
Karina
on 18.12.2018
This rating has been translated automatically. Original language
verified purchase
At first I had considered two other digital pianos, but after a very nice and informative phone conversation with a staff member, I decided on the Classic Cantabile UP1.
Set up was super easy. Since I'm a beginner, I can't really say anything about the sound quality. But the first impression is great. It looks great, has great features and feels good.
I could choose the delivery date, everything went smoothly.
I would buy from Kirstein again at any time.
ottimo pianoforte digitale - Excellent digital piano
Review from
alfredo
on 20.03.2018
This rating has been translated automatically. Original language
verified purchase
Prodotto solido e di gradevole aspetto; suono alquanto simile a quello di un pianoforte acustico; tastiera di ottima qualità e sensibilità; ideale per imparare senza spendere troppo.

Solid product with a pleasant appearance; sounds similar to that of an acoustic piano; keyboard of excellent quality and sensitivity; ideal for learning without spending too much.
Questions about product
No questions have yet been asked about this article.
Your question about the article Classic Cantabile UP-1 WM Upright E-Piano White Matte
Your question will be forwarded directly to the department and answered as soon as possible.
Variants
Also available as set!
Classic Cantabile UP-1 SH Upright E-Piano White Matte Deluxe Set
| | | |
| --- | --- | --- |
| 1 x | Classic Cantabile UP-1 WM Upright E-Piano White Matte | 935,00 € |
| 1 x | Steinmayer Piano bench Mat White | 91,40 € |
| 1 x | Pronomic KH-900 Comfort Headphones | 46,99 € |
| 1 x | Michael Christoph "Aller Anfang ist leicht" Vol. 2 Piano School + Playback Downloads (German) | 14,90 € |
instead of individually
1.081,10 €
You save (8,0 %)
86,10 €
Your price

Free shipping (DE) inkl. VAT.

995,00 €
| | |
| --- | --- |
| In stock - immediately available | |
Customers also bought
Product Video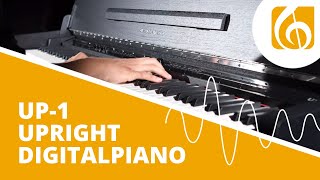 Sound Examples
Your contact persons
The hotline is currently not manned. You can reach us again on Saturday, 25.09.2021 at 09:30.
| | | |
| --- | --- | --- |
| Saturday | 09:30 - 13:30 | |
| Monday | 09:30 - 18:00 | |
| Tuesday | 09:30 - 18:00 | |
| Wednesday | 09:30 - 18:00 | |
| Thursday | 09:30 - 18:00 | |
| Friday | 09:30 - 18:00 | |