Get personal advice now!
Our specialists from the keyboard department look forward to your call.
Affordable Beginner Model With Strong Features!
With the DP-A 410, Classic Cantabile brings you an affordable electronic keyboard that doesn't compromise on quality. Beginners will benefit from the easy-to-use features. Experienced players, who want to deepen their skills, are excited about this new Classic Cantabile digital piano because of its many functions and its multifunctional LCD display. This piano is a lot of fun for any player!
600 different sounds
The extensive collection of 600 high-quality voices makes it possible to try many different sounds with each melody and generate many different voices when playing. The pianist will have fun experimenting. The Classic Cantabile digital piano has voices for every taste - guitar, wind, brass and percussion sounds.
Automatic accompaniment with 230 styles
To ensure that you are never bored while playing the DP-A 410, a full-scale band or complete orchestra is ready to accompany the pianist. Just activate the automatic accompaniment function, and the ensemble will follow the chords played in the left hand. In total, the Classic Cantabile digital piano holds 230 different styles to give you a variety of musical genres to choose from.
Weighted hammer keys with adjustable touch sensitivity
The DP-A 410's 88-key keyboard has real hammer action that simulates the playing feel of a traditional acoustic piano.
Specification
| | |
| --- | --- |
| Product number | 00041801 |
| Lesson function | No |
| USB to device | Yes |
| Auto accompaniment | Yes |
| Colour | Black |
| Display | Yes |
| Integrated speakers | Yes |
| Keyboard cover | Yes |
| Accessories included | Yes |
| Recording function | Yes |
| Headphones out | Yes |
| Midi interface | Yes |
| USB to host | Yes |
| Wooden keys | No |
| Finish | Satin |
| Console | No |
Reviews
| | | |
| --- | --- | --- |
| 5 Stars | | 89 |
| 4 Stars | | 16 |
| 3 Stars | | 4 |
| 2 Stars | | 2 |
| 1 Star | | 1 |
A verification of the ratings has taken place as follows: Only customers who are registered in our online store and have actually purchased the product from us can submit a rating for the item in the customer account.
The piano is good, but the customer support is non-existent.
Review from
Laurent
on 15.10.2021
This rating has been translated automatically. Original language
verified purchase
The positives:
- Fast delivery and solid packaging (fortunately, because the shoe marks on the box of the piano prove that someone did not hesitate to climb on it).
- The instrument is well made and pleasant to play.
The negative:
- After removing the beautiful packaging, I discovered a piano covered in large, greasy fingerprints, making it very difficult to remove. This spoiled my enjoyment of receiving this beautiful item.
- The surfaces of some of the parts are, I believe, heat bonded, but they have been overheated and therefore there are "holes" in the black matte foil of the piano (fortunately not visible because underneath the instrument). At the moment it is nothing serious, but I fear that the case will peel off in time! To be continued...
- One of the legs of the stool has a badly fitted insert. It comes loose from the housing when you try to tighten the leg. As a result, the 4th leg of the seat cannot be installed. The stool is unusable!
All of these shortcomings, which were initially perceived as minimal, are starting to become real dissatisfaction, as for over a week now my 3 or 4 emails to customer service (to at least 2 different @kirstein addresses and also via the Amazon website (which I used to pay for my purchase)) have all gone without any response.
This is very annoying and does not bode well for the quality of customer service. With a quick response and at least the sending of a replacement stool leg, my rating and judgment would have been much more conciliatory.
Super Floor
Review from
Elfriede
on 11.03.2021
This rating has been translated automatically. Original language
verified purchase
I am thrilled with this piano. Now that I want to play the piano again in my retirement, I purchased this instrument. It was the best decision.
It has so many possibilities and a very nice sound in all variations.
The delivery went really well and the assembly is so easy that you can start playing right away. I also like that you can order the matching set right away.
I can only recommend it to everyone.
Plan
Review from
Sven
on 13.01.2021
This rating has been translated automatically. Original language
verified purchase
I am very happy with the piano the sounds are good and the rich variety of tones also convinces me, but what was still best the very fast delivery that arrived even a day earlier than stated.
Epiano - Super article, shipping and handling very good!!!!!
Review from
PATRICIA
on 21.10.2020
This rating has been translated automatically. Original language
verified purchase
We are very satisfied with the delivery and with the electric piano. Everything worked out fine and the piano was delivered very quickly!!!!
Endless possibilities!
Review from
Maud
on 26.05.2020
This rating has been translated automatically. Original language
verified purchase
Heavy to get into the apartment, but easy to install!
This piano offers infinite possibilities, with its large number of voices and its midi plug.
We are very happy with our purchase!
Only regret: the stool handles, which take up a lot of space!
Questions about product
Das DP-A 310 und das DP-A 410 scheinen mir beinahe identisch.
Das DP-A 410 soll 100 Voices mehr im Petto haben.

Gibt es eine Auflistung für beide Digital-Pianos welche Sounds das genau sind?
Welche Sounds hat das DP-A 410, welche das 310er Modell nicht hat?
Question by Florian on 29.10.2019
Answer by Amelie Sänger - Musikhaus Kirstein
NON RIESCO A TROVARE LE MISURE DI INGOMBRO DEL PIANO DIGITALE DPA 410 CLASSIC CANTABILE .
ME LE POTETE INVIARE ? GRAZIE
Question by ugo alessandro cerri on 27.12.2019
Answer by Amelie Sänger - Musikhaus Kirstein
Le dimensioni sono 137 cm di larghezza, 52 cm di profondità e 90 cm di altezza.
Is the power supply 100-240 Volts?
Question by Jones on 21.01.2020
Answer by Til - Musikhaus Kirstein
The power supply is AC 220-240 V, 50 Hz.
Hat das Piano einen Mikrofonanschluss?
Question by Lu on 20.02.2022
Answer by Vanessa Stroh - Musikhaus Kirstein
Dieses Piano hat keinen Mikrofonanschluss.
Your question about the article Classic Cantabile DP-A 410 SM Digital Piano Black Matt Set with Bench and Headphone
Your question will be forwarded directly to the department and answered as soon as possible.
Variants
Alternatives
Customers also bought
Product Video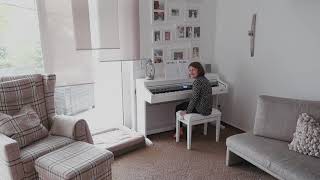 Sound Examples
Your contact persons
Our specialists will be happy to advise you.
| | | |
| --- | --- | --- |
| Monday | 09:30 - 18:00 | |
| Tuesday | 09:30 - 18:00 | |
| Wednesday | 09:30 - 18:00 | |
| Thursday | 09:30 - 18:00 | |
| Friday | 09:30 - 18:00 | |
| Saturday | 09:30 - 13:30 | |