Get personal advice now!
Our specialists from the guitar department are looking forward to your call.
Digitech TRIO+ Band Creator - "Begleitband" und Looper!
Die einzigartige Begleitband im Hosentaschenformat. Das Trio+ bietet Schlagzeug- und Bass-Spur Begleitung in professioneller Qualität und inkl. Looping Funktion an. Einfach per Saitenanschlag die Zählzeit vorgeben und schon geht es los!
Das TRIO + ist ein einfach zu verwendendes Gitarrenpedal, das auf Ihre Spielweise hört und automatisch Bass- und Drum-Parts generiert, die zu Ihrem Song passen. Schließen Sie einfach Ihre Gitarre an das TRIO + an, drücken Sie den Band-Fußschalter, um dem TRIO + Akkorde und Rhythmus beizubringen, und drücken Sie den Band-Fußschalter erneut, um mit Ihrer eigenen Band zu spielen! Bass- und Drum-Pegel können mit den Bass- und Drum-Reglern des TRIO + für den perfekten Mix eingestellt werden. Das TRIO + verfügt auch über eine Simple-Bass-Taste, mit der Sie zwischen 3 Bass-Line-Modi für Besetzt- oder einfache Bass-Lines wählen können.
Wenn Sie das Band Creator -Paradigma weiterentwickeln, können Sie mit dem TRIO + auch Ihre geloopten Gitarrenparts per Loop abspielen und nach Belieben sortieren, um sofort vollständige Songs zu erstellen. Drücken Sie den Looper-Fußschalter des TRIO +, um einen Loop mit einer unbegrenzten Anzahl von Overdubs aufzunehmen.
Der Loop-Pegel kann mit dem Loop-Regler des TRIO + individuell eingestellt werden. Loops können einzeln oder zusammen mit der Band aufgenommen werden. Sie können auch integrierte Effekte auf Ihr Gitarrensignal anwenden, indem Sie die Guitar FX-Taste des TRIO + aktivieren, oder Ihre bevorzugten Effekte an die FX Send- und FX Return-Buchsen des TRIO + anschließen.
Das TRIO + bietet 12 Musikgenres zur Auswahl: Blues, R & B, Rock, Alternative Rock, Metal, Pop, elektronischer Pop, Hip-Hop, Country, Folk, Latin und Jazz. Für jedes Genre stehen 12 Song-Styles zur Verfügung, die mit dem Style-Encoder des TRIO + ausgewählt werden können, einschließlich der Auswahl zwischen 3/4 und 4/4 Taktarten. Mehrfarbige LEDs am Style-Encoder des TRIO + zeigen an, welche Styles am besten zu Ihrem Song passen.
Das TRIO + kann bis zu 5 verschiedene Songparts lernen, die sich perfekt zum Erstellen eines Intro, Vers, Chorus, Bridge und Outro eignen. Song-Parts können während der Wiedergabe des Songs direkt abgerufen oder als Sequenz für die automatische Wiedergabe vorprogrammiert werden. Ein optionaler DigiTech FS3X-Fußschalter kann an die Control In-Buchse des TRIO + angeschlossen werden, um eine zusätzliche Freisprechsteuerung mit drei Betriebsmodi zu ermöglichen.
Auf der Micro-SD-Karte des TRIO + (im Lieferumfang enthalten) können bis zu 12 Songs zusammen mit Loops gespeichert werden. Müssen Sie mehr Songs erstellen? Kein Problem. Legen Sie einfach eine neue SD-Karte ein und schon können Sie der Band Ihre neuen Songs beibringen. Um alle Ihre Songs und Loops auf einem Computer zu verwalten, laden Sie die kostenlose Librarian Manager-Software von digitech.com herunter, die für Windows und Mac verfügbar ist.
Das TRIO + bietet unabhängige Regler für Tempo, Genre, Style, Loop-Pegel, Bass-Pegel, Schlagzeug-Pegel und Kopfhörer-Ausgangspegel. Gitarren-, FX-Return- und Steuereingänge, Verstärker-, Mixer-, FX-Send- und Kopfhörerausgänge; Eingebaute Gitarreneffekte (relativ zum Musikgenre); einen Soft Click Fußschalter und einen 9V DC Adapter.
FS3X 3-fach Footswitch
Der DigiTech FS3X ist eine willkommene Ergänzung zu mehreren DigiTech-Produkten. Die Jimi Hendrix Experience, The JamMan und Expression Factory, um nur einige zu nennen.
Der FS3X bietet erweiterte Funktionen und komfortable Hands-free -Kontrolle über die Auswahl der Modelle nach OBEN / UNTEN, Moduswechsel, Schleifenauswahl, automatische START / STOPP-Vorgänge und die automatische Aufnahme der Arme, sofern zutreffend. Kompakt und tragbar.
Der kleine Platzbedarf auf der Bühne oder in Ihrer Gigbag ist sehr gering. Robuste 3-Knopf-Metallchassis-Konstruktion. Ein 10-Zoll-Stereo-Klinkenkabel ist im Lieferumfang jeder Einheit enthalten. Holen Sie das Beste aus Ihren DIGITECH-Produkten heraus, während Sie performen oder praktizieren.
Die einzigartige Begleitband im Hosentaschenformat!
Specification
| | |
| --- | --- |
| Product number | 00045723 |
| Colour | Black |
Reviews
| | | |
| --- | --- | --- |
| 5 Stars | | 5 |
| 4 Stars | | 1 |
| 3 Stars | | 0 |
| 2 Stars | | 0 |
| 1 Star | | 0 |
A verification of the ratings has taken place as follows: Only customers who are registered in our online store and have actually purchased the product from us can submit a rating for the item in the customer account.
Digitech Trio+ Band Creator
Review from
Thorsten
on 29.12.2020
This rating has been translated automatically. Original language
verified purchase
Got this Christmas offer for the unbeatable price of € 189! Initial teething problems were quickly remedied with the help of many Youtube videos. The thing makes a real mood!
KIRSTEIN Digitech TRIO+
Review from
Wolfgang
on 09.12.2020
This rating has been translated automatically. Original language
verified purchase
Servus Kirstein team / Shipping was fast and Unkompliziert
The Trio+ is exactly what I brewed for my ONE-MAN-ROCK-BAND.
For all guitar heroes who want to get the wife and kids right onn Sack - buy
Trio band.
Review from
Eduard-Willem
on 09.06.2020
This rating has been translated automatically. Original language
verified purchase
Simply satisfied.
Further I must first deal with the device.
But so far it promises the paraphrase.
Great part
Review from
Rüdiger
on 02.02.2020
This rating has been translated automatically. Original language
verified purchase
Your request for an evaluation actually comes too soon. The part is so complex that I still see almost nothing through. I still need a while. But the first impression is excellent!
all's well
Review from
Manfred
on 25.11.2019
This rating has been translated automatically. Original language
verified purchase
everything is fine, fast and very reliable,
very competent and friendly!
....... and the prices are great anyway.
Questions about product
No questions have yet been asked about this article.
Your question about the article Digitech TRIO+ Band Creator Set mit FS3X Fußschalter
Your question will be forwarded directly to the department and answered as soon as possible.
Product Video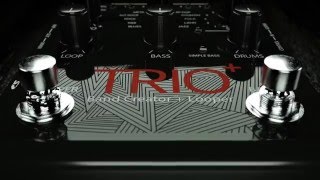 Your contact persons
Our specialists will be happy to advise you.
| | | |
| --- | --- | --- |
| Thursday | 09:30 - 18:00 | |
| Friday | 09:30 - 18:00 | |
| Saturday | 09:30 - 13:30 | |
| Monday | 09:30 - 18:00 | |
| Tuesday | 09:30 - 18:00 | |
| Wednesday | 09:30 - 18:00 | |