Yamaha YDS-150 Digital-Saxophon - das physische Feedback vom Instrument stimuliert Ihre Sinne!
Das Blasen in das Mundstück schwingt durch das gesamte Instrument - eine Schwingung, die Sie in Ihren Lippen, Fingerspitzen und sogar in Ihrem Herzen spüren können. Das Akustiksystem mit integriertem Messing-Schallbecher, die Verschmelzung akustischer und digitaler Technologien, liefert einen unglaublich authentischen, herrlichen Klang, der sich sogar so anfühlt und anspricht, als ob Sie ein akustisches Instrument spielen würden.
Größere Bandbreite bei der Darbietung
Das digitale Saxophon ist eine Fusion zweier Technologien - Akustik und der Digital - und deren Modellierung. Es handelt sich um ein erstaunliches neues Saxophon, das die technologischen Fortschritte der Digitaltechnik aufweist und Ihnen dennoch das nahtlose Gefühl der expressiven Einheit wie bei einem akustischen Instrument vermittelt.
Hochwertige Beschaffenheit, bewährtes Gefühl an den Lippen & auf den Fingerspitzen
Das Mundstück ist wie das Mundstück eines akustischen Saxophons konstruiert, um ein natürliches Spielgefühl zu vermitteln, und die Klappenanordnung gewährleistet eine natürliche Handhabung und zuverlässige Funktion.
Herrlicher Klang & Resonanz, die Sie am ganzen Körper spüren
Das ganze Instrument schwingt mit, wenn Sie spielen, denn es erzeugt auf natürliche Weise das zarte, atmende Windgefühl, das dem Saxophon eigen ist.
Eigenschaften
Mit der Lautstärkeregelung über einen Bereich von fünfzehn Stufen können Sie frei spielen, ohne sich über Ort und Zeit Gedanken machen zu müssen. Das Instrument kann leise in der Nacht gespielt werden, und mit einem Kopfhörer können Sie Hall-Effekte nutzen und sich ganz in Ihre Darbietung vertiefen.
Mit der Lautstärkeregelung über einen Bereich von fünfzehn Stufen können Sie frei spielen, ohne sich über Ort und Zeit Gedanken machen zu müssen. Das Instrument kann leise in der Nacht gespielt werden, und mit einem Kopfhörer können Sie einen Raumhall einsetzen und sich ganz in Ihre Darbietung vertiefen.
Ändern Sie die Grund- und Klangeinstellungen, den Fingersatz und andere Bedienelemente des Instruments mit der Smartphone-App nach Ihren Wünschen - und machen Sie Ihre Spielfreude noch intensiver.
Lautstärkeregelung
Der reiche Klang des Saxophons wird in all seiner Schönheit für Sie zum Spielen eingefangen, und dennoch kann das Instrument so leise sein, wie Sie wollen. Sie können die Lautstärke über einen Bereich von 15 Stufen einstellen und das Spiel genießen, ohne sich über die Lautstärke Gedanken machen zu müssen - Tag und Nacht. Und wenn Sie absolute Stille wünschen und sich ganz auf Ihr Spiel konzentrieren möchten, schließen Sie einfach einen Kopfhörer an.
Authentisches Gefühl eines Blasinstruments - für grenzenlose Expressivität
Akustiksystem mit integriertem Schallbecher
Yamahas einzigartiges Akustiksystem mit integriertem Messing-Schallbecher bietet Ihnen das Beste aus beiden Welten - digitalen Klang in hoher Qualität mit der vollen Ausdruckskraft eines akustischen Blasinstruments. Dieses neue, fortschrittliche System besteht aus der Lautsprechereinheit, dem Gehäuse, einer akustischen Röhre und einem echten Messing-Schallbecher.
Es reagiert auf Ihren Luftstrom in das Mundstück und erzeugt digital einen Klang, der die Lautsprecher antreibt und den Messing-Schallbecher zum Schwingen und Vibrieren bringt. Tatsächlich schwingt das gesamte Instrument mit dem Klang mit, und diese Vibration kommt zu Ihnen zurück - zu Ihrem Mund über das Mundstück und zu Ihren Fingerspitzen von den Klappen.
Das Ergebnis ist ein Instrument, das mit Ihrem Spiel atmet, sich bewegt und mitschwingt und Ihnen das Ausdrucksgefühl eines akustischen Saxophons mit den umfassenden Möglichkeiten eines digitalen Instruments vermittelt.
Mundstück
Um eine möglichst natürliche, ausdrucksvolle und komfortable Spielweise zu ermöglichen, verfügt das YDS-150 über ein Mundstück, das dem eines akustischen Saxophons entspricht. Es kann zum Reinigen leicht abgenommen werden.
Anordnung der Klappen
Die Anordnung der Klappen des Saxophons ist entscheidend für die Spielbarkeit und das Griffgefühl. Und das YDS-150 wurde auf der Grundlage von Yamahas Topmodell der akustischen Saxophone entwickelt, für natürlichste Spielbarkeit und geschmeidiges Griffgefühl. Darüber hinaus können Sie die zugehörige App verwenden, um die Griffweise zu ändern und an Ihre eigenen Bedürfnisse anzupassen.
Messing-Schallbecher
Der hochwertige Messing-Schallbecher ist aus dem gleichen Material gefertigt wie akustische Saxophone von Yamaha. Auf der Grundlage unseres umfangreichen Know-hows und Yamaha's Erfahrung im Bau akustischer Instrumente haben wir diesen Schallbecher entworfen, um den langen Nachhall, der Blasinstrumenten eigen ist, sowie die feinen Klangnuancen beim Pianissimo-Spiel wunderbar zu reproduzieren. Darüber hinaus bringt die authentische Resonanz das gesamte Instrument zum Schwingen und lässt Sie die Musik beim Spielen wirklich spüren.
Verwandeln Sie Ihrem Atem in eine Vielzahl von Klängen
Atem-Sensor
Allein durch Blasen in das Mundstück und Greifen der Klappen mit korrekter Griffweise können Sie einen perfekten akustischen Saxophonklang erzeugen - wie ein professioneller Spieler - ohne einen perfekten Ansatz (Mundstellung) zu haben. Das YDS-150 verfügt über einen Atemsensor, der die Intensität oder den Druck Ihres Luftstrahls erkennt, so dass Sie nicht nur die Lautstärke des Tons sondern auch den Klang genau kontrollieren können.
Einzelton-Sampling durch professionelle Spieler
Das YDS-150 verwendet gesampelte Klänge von Yamahas akustischen Sopran-, Alt-, Tenor- und Baritonsaxophonen, von professionellen Spielern eingespielt und in Einzeltönen akribisch aufgenommen. Sie hören also keine Töne, die interpoliert erzeugt worden sind.
Authentischer Klang der 4 Saxophontypen - 56 Presets die alle musikalischen Richtungen abdecken
Mit dem YDS-150 können Sie die Stimmung, den Tonumfang und die Klangfarbe jedes Saxophontyps - Sopran, Alt, Tenor oder Bariton - im Handumdrehen ändern. Darüber hinaus verfügt jeder dieser Saxophontypen über unterschiedliche Saxophonklänge, die verschiedenen Spieltechniken und Musikrichtungen entsprechen, vom Vibratospiel über Jazz bis hin zur klassischen Musik.
Insgesamt verfügt das YDS-150 über 73 Instrumentenklänge, davon 56 Saxophonklangfarben, und viele andere Instrumentenklänge - darunter elektronische Instrumente und auch akustische Blasinstrumente wie Shakuhachi, irische Pfeife und mehr -, mit denen Sie in praktisch jeder Musikgattung authentisch spielen können.
Sonstige Eigenschaften
Externe Anschlussmöglichkeiten
Ausgestattet mit einem Aux-In-Anschluss zur Verbindung mit anderen Geräten wie Smartphones und Audio-Playern. Sie können mit Musik aus einer externen Quelle* jammen oder mit anderen Musikern zusammen spielen. Nur bei Verwendung von Kopfhörern oder Ausgabe über den Kopfhöreranschluss verfügbar.
Inklusive Tasche
Wird mit einem stabilen Softcase geliefert, mit dem Sie das Instrument leicht über die Schulter tragen können.
Dieses völlig neue digitale Saxophon nutzt akustische Resonanz - es ist eine nahtlose Erweiterung Ihrer musikalischen Inspiration!
Specification
| | |
| --- | --- |
| Stimmlage | - |
| Farbe | Schwarz |
Reviews
Questions about product
No questions have yet been asked about this article.
Your question about the article Yamaha YDS-150 Digital-Saxophon
Your question will be forwarded directly to the department and answered as soon as possible.
Customers also bought
product video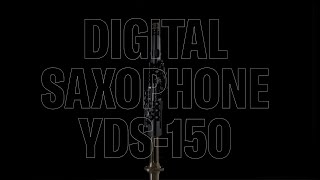 Your contact persons
The hotline is currently not manned. You can reach us again on Tuesday, 24.11.2020 at 09:30.
| | |
| --- | --- |
| Monday - Friday | 09:30 - 18:00 |
| Saturday | 09:30 - 13:30 |
| Sunday | closed |