Get personal advice now!
Our specialists from the guitar department are looking forward to your call.
Your craftsmanship is in demand!
The Classic Canatbile "Do-it-Yourself" ukulele kit allows you to build your own, individual instrument. In this kit you'll find all the ingredients you need to customize your very own piece of jewelry with this unique instrument! Only a little glue, tools and a certain level of craftsmanship is required. All wooden parts are color untreated and therefore your creativity knows no bounds.
The fun instrument - easy to learn - is perfect for traveling
The ukulele has become a real cult instrument with which you can have lots of fun. Within a short time, you can easily learn to play the first chords. through its compact size, the Ukulele can be the perfect instrument for traveling, as they incredibly easy to stow in a backpack or in an optional gig bag.
• "Do-it-Yourself" Ukulele kit
• Body: limewood, Fretboard: Rosewood
• Mechanics: open rotary whirl
• Includes all necessary components
• Manual dexterity is required
Your Ukulele - according to your wishes - as there will be no second version!
Specification
| | |
| --- | --- |
| Colour | Natural |
| Pickup | No |
| Scale | Soprano |
| Gigbag / Case included | No |
Reviews
| | | |
| --- | --- | --- |
| 5 Stars | | 11 |
| 4 Stars | | 4 |
| 3 Stars | | 1 |
| 2 Stars | | 1 |
| 1 Star | | 0 |
A verification of the ratings has taken place as follows: Only customers who are registered in our online store and have actually purchased the product from us can submit a rating for the item in the customer account.
Price performance good Direct comparison Thomann
Review from
Till
on 07.12.2021
This rating has been translated automatically. Original language
verified purchase
In direct comparison to the Thomann Ukulele for 20€.

The Kirstein variant is better processed and the instructions explain more detailed and accurate how to do what.

The Thomann ukulele is but (minimal) foolproof pre-assembled. But that has advantages and disadvantages!

You can build the better instrument from the Kirstein ukulele.
The Thomann ukulele is better as a gift / handicraft.
Nice solid kit
Review from
Dajana
on 25.08.2021
This rating has been translated automatically. Original language
verified purchase
The UC-210 DIY kit is a solid and good kit for all who want to build a ukulele.

I was looking for a nice body, the neck and fingerboard was not so important in this kit, because I have used a concert ukulele neck here.

So I decided to go for this kit, hoping that the body is well made. as it looks quite deep in the pictures.
And yes, it is really well made, has a nice depth and, what I also find great, it even has a slight curve on the back for a better sound. Also, I find these direct pegs nicer than the open or closed tuners.

The wood does not have such a nice grain as on the pictures but the ukulele was stained with Clou stain walnut dark. What unfortunately happened here is that apparently on, or in the wood layer in the body glue "soaked through" or some of the fibers of the wood used are very hard. This means that the stain was not evenly absorbed! It really doesn't look nice at first, BUT, if you take a closer look and varnish it, it gives the ukulele a certain naturalness and the wood doesn't look like cheap lime wood anymore, but more like a more expensive hardwood :)
What I want to say is, if you don't mind these little "blemishes", you can stain the kit. If you want to have an even color, you should use acrylic or real lacquer paint from the beginning.

Unfortunately I can't use the nice direct pegs now, because the holes for the machine heads on the concert neck have a diameter of Ø 10mm.
The holes of this kit are Ø 8 mm and here the tuners fit perfectly. I can use the neck and the tuners for another ukulele :) The tuners work great, tried them on a trial basis when I was figuring out the correct position from the bridge. They have to be pulled really tight, then they hold the tuning as well.
What I also don't like is the finish of the rosewood fingerboard. It is not made of one piece of wood but it looks layered, like many small wooden sticks. This is the case with some cheap Chinese ukuleles and is still 1000 times better than a plastic fingerboard.
But the playing is not affected by this :)

The ukulele is not finished yet but I am very curious how it sounds and how it plays.
The ukulele is stained in dark brown, has a light maple fingerboard with concert scale, an armrest made of several layers of core maple laminate and gets a small pickguard in white permutt effect.
Strings will be Aquila Red Series with a low G string. The Red Series are my personal favorite sides.

Too bad you can't upload pictures here. After all, it would be inspiring to see what others are doing with the kits.
Soprano Ukulele Kit
Review from
Dietmar
on 06.03.2021
This rating has been translated automatically. Original language
verified purchase
This is a great kit that you can assemble with few tools and some craftsmanship. The mechanics I have replaced by Grover mechanics where you can choose the handles in white, black or chrome. For the strings I have also chosen higher quality strings.
Fast perfekt
Review from
Lisa
on 04.03.2021
This rating has been translated automatically. Original language
verified purchase
Overall, I am satisfied, the parts were all very well made and it could be assembled without greater know-how and with few tools.
Only 2 small criticisms:
- Unfortunately, the fingerboard did not fit perfectly on the neck of my set. With a little sanding and tricking it could be fixed halfway, but if you want to build a perfect instrument, you probably wouldn't be satisfied.
- The enclosed pages were not labeled, as a layman it is very difficult to tell which is where.
But all in all I really had fun painting and assembling the ukulele, that's the main thing and also the reason why I ordered this set. I'm already thinking about whether I would not like another...
Good product
Review from
ANTONIO
on 02.05.2020
This rating has been translated automatically. Original language
verified purchase
Quality of material, price-performance ratio, good components
Questions about product
Wo kommt genau die Brücke hin, also wo die Saiten befestigt sind? Irgendwo hab ich mal was von 19 cm gelesen
Question by Joachim Wabbels on 23.05.2021
Answer by Timo Kammerer - Musikhaus Kirstein
Your question about the article Classic Cantabile UC-210 DIY kit Soprano Ukulele
Your question will be forwarded directly to the department and answered as soon as possible.
B-Stock Bargains.
This product is also available as b-stock:
Variants
Customers also bought
Product Video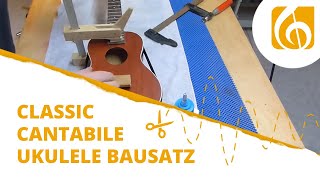 Your contact persons
Our specialists will be happy to advise you.
| | | |
| --- | --- | --- |
| Tuesday | 09:30 - 18:00 | |
| Wednesday | 09:30 - 18:00 | |
| Thursday | 09:30 - 18:00 | |
| Friday | 09:30 - 18:00 | |
| Saturday | 09:30 - 13:30 | |
| Monday | 09:30 - 18:00 | |