Boss DS-1 Distortion - Effect Pedal!
Das DS-1 Distortion ist eine Ikone in der Welt der Gitarreneffekte. 1978 vorgestellt, war es das erste Distortion Pedal von BOSS und bot einen satten, nie gehörten Sound, kantigen Attack und glatten Sustain, der Gitarristen seit Generationen begeistert. Das DS-1 ist das meistverkaufte BOSS Compact Pedal aller Zeiten und sein unverändertes Design inspiriert noch heute dazu großartige Musik zu erschaffen. Der bekannte Klang des DS-1 hat den Sound zahlreicher Rock-Legenden geprägt - und heute ist deiner dran.
Richtungsweisende Distortion
Die meisten Distortion Pedals die es vor dem DS-1 gab, erzeugten einen harten, surrenden Klang und verschwommenen Sound bei aufgedrehten Reglern. 1978 haben die BOSS Ingenieure mit dieser Tradition gebrochen und für das DS-1 einen einzigartigen Schaltkreis entwickelt, der einen klaren, kantigen Gain mit Obertönen erzeugt und dabei die einzigartigen Klangcharakteristiken der jeweiligen Gitarre und der Spieltechnik bewahrt. In den Siebzigern und Achtzigern entwickelten sich neue Musikrichtungen, wie Hard-Rock, Metal und Punk, die stark durch den Klang des DS-1 beeinflusst wurden. Das DS-1 hat Generationen von Musikern geprägt und noch heute schwören Gitarristen auf der ganzen Welt auf seinen klassischen Sound.
Gain von sanft bis heavy
Trotz seines übersichtlichen Interfaces mit nur drei Reglern, lässt sich mit dem DS-1 eine Vielzahl unterschiedlichster Klangfarben erzeugen. Seine wegweisende zweistufige Schaltung enthält sowohl Transistor-, wie auch OP-Amp Verstärkungsstufen. Diese Tatsache ist entscheidend für den charakteristischen vollen Klang des DS-1 auch bei niedrigen Frequenzen, der besonders von Gitarristen härterer Genres geschätzt wird. Der Distortion-Regler bietet die gesamte Bandbreite, von etwas mehr Druck für seicht fließende Amps und Pedals, bis hin zu extremer Verzerrung für mächtige Rock-Riffs.
Mächtige Klangeinstellungen
Im Gegensatz zu herkömmlichen Klangreglern, die einfach nur die Höhen wegschneiden, verfügt die Klang-Schaltung des DS-1 über ein innovatives Design, das deutlich mehr Spielraum bietet. Dreht man den Knopf im Uhrzeigersinn, werden die Höhen verstärkt und die Tiefen abgeschwächt, dreht man in die entgegengesetzte Richtung, passiert das Gegenteil. Dies ermöglicht Einstellungen für scharfe, schneidende Rhythmen, ebenso wie für satte, weiche Lead-Stimmen. Bei herkömmlichen Distortion Pedals werden die tiefen Frequenzen oft dumpf und verschwommen, wenn sie mit Vintage-Style Amps verwendet werden. Das DS-1 bietet die Möglichkeit, diesen ungewünschten Effekt über den Klangregler zu vermeiden und klare Tiefen zu erhalten.
Legendäre Distortion seit 1978, verwendet von Gitarristen auf der ganzen Welt!
Reviews
| | | |
| --- | --- | --- |
| 5 Stars | | 3 |
| 4 Stars | | 0 |
| 3 Stars | | 0 |
| 2 Stars | | 0 |
| 1 Star | | 0 |
Top Service!
Review from
Andreas
on 19.01.2022
This rating has been translated automatically. Original language
verified purchase
Product was delivered quickly as always, was very well
packed and the product is also 1a.
With Proper use a good addition to the pedalboard.
Boss DS 1
Review from
Markus
on 20.06.2019
This rating has been translated automatically. Original language
verified purchase
The pedal is an all-round talent for almost all music styles. From light country to heavy metal distortion - everything is possible and sounds great. The best results are achieved with single coils. Humbuckers with high output should only be played with minimal settings, especially on the tone control, otherwise you get a screechy sound that sounds anything but good.
The pedal is solidly built and the large, noiseless button is much more pleasant than the clicking metal tiller of the competition. The connections are solid and there is nothing wobbly. For the studio or home recording and on stage equally well suited.
From me there's a clear buy recommendation.
Boss DS2 Turbo Distorsion
Review from
Daniele
on 14.12.2019
Variant
Boss DS-2 Turbo Distortion
This rating has been translated automatically. Original language
verified purchase
This is a really good pedal that Frusciante also uses. With an additional button has the ability to be controlled Turbo mode 1 or 2.
Congratulations to all the staff of Kirstein for the fast shipping despite the distance.
Product and service really impeccable, I recommend the purchase.
Questions about product
No questions have yet been asked about this article.
Your question about the article Boss DS-1 Distortion
Your question will be forwarded directly to the department and answered as soon as possible.
Variants
Accessories
Customers also bought
Product Video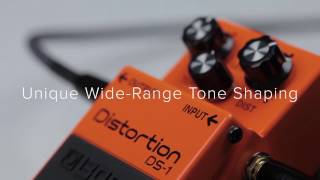 Sound Examples
Your contact persons
The hotline is currently not manned. You can reach us again on Thursday, 27.01.2022 at 09:30.
| | | |
| --- | --- | --- |
| Thursday | 09:30 - 18:00 | |
| Friday | 09:30 - 18:00 | |
| Saturday | 09:30 - 13:30 | |
| Monday | 09:30 - 18:00 | |
| Tuesday | 09:30 - 18:00 | |
| Wednesday | 09:30 - 18:00 | |