Pioneer DJ VM-80 Schwarz - 8" Aktivmonitorlautsprecher!
Der aktive VM-80 erzeugt klares Audio mit schnellem Ansprechverhalten und druckvollem Bass. Der Lautsprecher kann an die Eigenschaften jedes Raums angepasst werden, sodass er sich perfekt zum Erzeugen eines Club-Sounds beim DJ-ing eignet oder einen flachen Frequenzgang bietet, wenn du Musik in einem privaten oder professionellen Studio produzierst.
Hochwertige Komponenten
Jeder Lautsprecher der VM-Serie enthält einen Class-D-Verstärker mit 96-kHz-DSP, um eine Audiowiedergabe mit großer Bandbreite zu ermöglichen. Seine hocheffiziente Leistung führt zu geringer Verzerrung und energiereichem Klang. Der 4 mm dicke vordere Einsatz aus Aluminium unterdrückt außerdem Resonanzen und Vibrationen und liefert einen Klang, der die Originalquelle authentisch reproduziert.
Aramidfaser-Tieftöner und Vortex Bass-Accelerator
Aramidfaser-Tieftöner bieten einen hervorragenden Punch, den du im Bass und bei niedrigen Mittenfrequenzen spüren wirst. Diese neu entwickelten Membranen sind 30 Prozent leichter als herkömmliche mit Papier ausgekleidete Aramidmembranen, wodurch sie bei tieferem Klang kraftvoller werden. Der Vortex Bass-Accelerator sorgt für dichte, vibrationsfreie Tiefbässe, denn die Luft strömt durch Rippen im Bassreflex-Port frei aus dem Lautsprecher liefert so einen reinen Klang.
Constant Directivity-Horn
Mittel- und Hochfrequenztöne werden dank des CD-Horns kraftvoll wiedergegeben, wodurch auch ein breiter, gleichmäßiger Hörraum entsteht. Die Form des Horns und die Tieftönerkante sind speziell so konzipiert, dass die flache Wiedergabefrequenz besonders leicht auf den Hochtöner übergeht, was zu einem natürlichen Klang führt.
DSP-Steuerung - Leicht auf den Raum anzupassender Klang
Alle Lautsprecher der VM-Serie sind flach gestimmt, um sicherzustellen, deine Musik natürlich klingt. Jeder Lautsprecher enthält DSP-Einstellungen, damit du die Ausgabe optimieren und für jeden Raum den perfekten Sound finden kannst. Auf der Rückseite befinden sich 2 Regler: Low EQ und High EQ. Ganz einfach und ohne hinsehen zu müssen, kannst du die Regler in jeweils 4 verschiedene Positionen rasten, wodurch du 16 mögliche EQ-Einstellungen erhältst. Wähle je nach Form, Größe und Konstruktion des Raums diejenige aus, die am besten zum Auflegen oder Produzieren von Musik bei dir zuhause oder im Studio geeignet ist.
Frisches, professionelles Design
Das brandneue Design der sechseckigen Aluminium-Frontblende sorgt für ein frisches Aussehen sowie eine verbesserte Klangqualität und Haltbarkeit. Es reduziert unerwünschte Vibrationen, um Verzerrungen gering zu halten, während der Hochtönerschutz das Risiko einer Beschädigung der Hochfrequenzmembran verringert. Die mit Alumit behandelte gebürstete Textur verleiht den Lautsprechern ein professionelles Finish, sodass sie perfekt zu Pioneer DJ-Equipment passen.
Klares, verzerrungsarmes Audio mit schnellem Bass-Ansprechverhalten für authentischen Club-Sound!
Reviews
Questions about product
No questions have yet been asked about this article.
Your question about the article Pioneer DJ VM-80 Schwarz
Your question will be forwarded directly to the department and answered as soon as possible.
Variants
Accessories
Product Video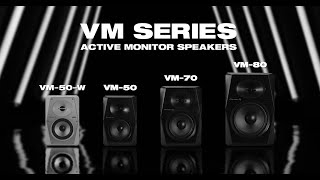 Your contact persons
Our specialists will be happy to advise you.
| | | |
| --- | --- | --- |
| Thursday | 09:30 - 18:00 | |
| Friday | 09:30 - 18:00 | |
| Saturday | 09:30 - 13:30 | |
| Monday | 09:30 - 18:00 | |
| Tuesday | 09:30 - 18:00 | |
| Wednesday | 09:30 - 18:00 | |