Allen & Heath SQ-5 - 48 Kanal/36 Bus Digital Mixer
Der revolutionäre XCVI-96-kHz-FPGA-Engine von Allen & Heath ist für professionelle Anwender in anspruchsvollen Live-Sound-Anwendungen konzipiert. Die SQ-5 liefert erstklassiges hochauflösendes Audio mit einer ultraniedrigen Latenz von <0,7 ms und bietet Ihnen unerreichte Leistung und Audioqualität. Der Mixer verfügt über 16 Onboard-Vorverstärker und 8 Stereo-FX-Engines mit dedizierten Rückkanälen sowie Zugriff auf die von Fachleuten gefeierte RackExtra FX-Library. 12 Stereomischungen (konfigurierbar als Gruppen oder Aux) machen SQ zum perfekten Begleiter für In-Ear-Monitoring-Setups, während Automatic Mic Mixing den Anwender in Multi-Mic-Umgebungen entlastet. Die Allen & Heath SQ-5 bietet Ihnen alle Werkzeuge für alle Anforderungen, von AV- und Firmenveranstaltungen bis hin zu Live-Produktionen und Gottesdiensten.
96 kHz XCVI-Kern
SQ ist eine zukunftssichere Konsole der nächsten Generation, die von Allen & Heaths 96kHz XCVI FPGA-Engine angetrieben wird. XCVI bietet erstklassige Audioqualität in höchster Auflösung, extrem niedrige Latenzzeiten von 0,7 ms, variable Bittiefe für ultimative Präzision und Rauschleistung, vermischen die Kohärenz mit dem Sample und die Power für hohe Kanal- / Mix-Werte und reichlich FX / wird bearbeitet.
DEEP Verarbeitung bereit
Die DEEP-Verarbeitungsarchitektur der SQ ermöglicht dem User, Boutique-Kompressor- und Vorverstärker-Emulationen nach seinem Stil und Bedürfnissen auszuwählen. DEEP-Plugins können direkt in die Eingänge des Mixers eingebettet werden und Kanäle mischen, ohne dass Systemlatenz oder Installationsprobleme auftreten.
Der ultimative IEM-Mixer
Mit nicht weniger als 12 Stereomischungen, extrem niedriger Latenz und sowohl parametrischem als auch grafischem EQ bei jedem Mix ist SQ der perfekte Begleiter für In-Ear-Monitoring-Setups. Die Kompaktheit sowie die robuste Qualität der SQ bieten ausreichend Gründe, nie wieder auf Hausmonitorkonsolen fremder Locations auszuweichen.
Erweiterbar auf bis zu 48 Mikrofone!

Die SQ-5 verfügt über alle Onboard-Ein-/Ausgänge, die Sie für den Standalone-Betrieb benötigen. Dank des intelligenten SLink-Ports kann die SQ-5 auch über eine breite Palette von 96 kHz und 48 kHz Rack- und Stagebox-Expandern (z. B. AB168, AR2412, AR84 und DX168) auf bis zu 48 Mikrofoneingänge erweitert werden. Dies schafft eine Mix 'n 'Match-Lösung für Besitzer anderer digitaler Systeme von Allen & Heath. Sie können Ihre SQ auch direkt mit einer anderen SQ oder sogar mit einem dLive-System verknüpfen.
Dante, Wellen und mehr
Die SQ ist das Herzstück eines wachsenden Systems aus Apps, Expandern, Audio-Netzwerken, persönlichen Mixern und mehr, mit dem Sie sich verbinden, dieses anpassen und es nach Herzenslust erweitern können. Die Konsole ist auch mit führenden Audio-Netzwerkstandards kompatibel - fügen Sie dem I / O-Port der SQ eine Audio-Netzwerkkarte wie Dante oder Waves hinzu und Sie können integrierte Systeme installieren, einen digitalen FoH / Monitor-Split bereitstellen und vieles mehr.
Flexible Mehrspuraufnahme
Mit dem integrierten SQ-Drive können Sie eine 96-kHz-Multitrack- oder Stereo-Aufnahme der Show schnell und einfach direkt auf einen USB-Stick oder ein USB-Laufwerk aufzeichnen. Dabei bedarf es keines Software-Setups, keiner Soundkartentreiber und keines zusätzlichen Laptops. SQ-Drive ist auch eine clevere Art, Pausenmusik oder Einspieler zu verwalten. Außerdem ist eine integrierte 32 × 32 96 kHz-Audioschnittstelle für Mehrspuraufnahmen, Backing-Tracks oder virtuelle Soundcheck-Anwendungen verfügbar. Die Schnittstelle ist Core Audio und ASIO-konform und verfügt über MIDI- und DAW-Steuerungsfunktionen.
Fortgeschrittene AMM
Die fortschrittlichen Funktionen des automatischen Mikrofonmischers (AMM) von SQ machen es zu einer erstklassigen Wahl für das Mischen von Konferenzen, Podiumsgesprächen und Fernsehsendungen. Es ist ohne zusätzliche Latenz vollständig in den Mixer integriert, so dass Sie das Audiomaterial nicht an ein internes DSP-Rack oder ein externes Plug-In-System weiterleiten müssen.
Entworfen für den Profi
Wir wissen, dass die Live-Umgebung schwierig sein kann. Aus diesem Grund haben wir unser bisher strengstes Test- und Testverfahren für SQ entwickelt. Von seinem 3-stufigen, komplett aus Metall bestehenden Chassis bis hin zu seinem stranggepressten Aluminium-Leuchtstab, hat SQ enorme Stärke und Steifigkeit, die seinem guten Aussehen zugrunde liegt.
The Mixing Experience
Mit jedem neuen Design strebt das Allen & Heath-Team danach, dem ultimativen Mixing-Erlebnis näher zu kommen. Das Armaturenbrett von SQ ist um einen hochauflösenden 7 "kapazitiven Touchscreen herum angeordnet, der von einer Reihe von griffigen, leuchtenden Encodern umrahmt wird, um eine intuitive, integrierte Mischung aus klarem visuellem Feedback und direkter, praktischer Steuerung zu schaffen. Channels und Mixes können per Drag-and-Drop auf einen beliebigen Strip gezogen werden, mit benutzerdefinierten Benennungen und Farbkodierungen auf den Farbstreifen-Displays, sodass Sie eine Mischumgebung erstellen können, die Ihren eigenen Workflow widerspiegelt. Jeder Streifen verfügt über unser patentiertes Kanalmesssystem Chromatic, das Ihnen dank LEDs mit variabler Helligkeit und Farbe auf einen Blick anzeigt.
Allen & Heath SQ5 Digital Mischpult - entworfen für die Profis!
Suitable accessories (Not included in the delivery.)
Specification
| | |
| --- | --- |
| WiFi | Yes |
| Colour | Black |
| Expansion Slot | Yes |
| Labelable channel strip | No |
Reviews
Questions about product
No questions have yet been asked about this article.
Your question about the article Allen & Heath SQ-5 Digital Mischpult
Your question will be forwarded directly to the department and answered as soon as possible.
Accessories
Also available as set!
Allen & Heath SQ5 Digital Mischpult DX168/X Set mit Case
| | | |
| --- | --- | --- |
| 1 x | Allen & Heath SQ-5 Digital Mischpult | 2.699,00 € |
| 1 x | Allen & Heath DX168/X | 1.199,00 € |
| 1 x | Gäng Case Allen & Heath SQ5 PerforLine | 389,00 € |
| 1 x | Pronomic Stage ECAT5-50 Ethernet Cable Drum 50 m | 82,70 € |
| 1 x | Cordial CSE 2.5 NN 5 Cat5e Etherconkabel 2,5m | 46,29 € |
instead of individually
4.415,99 €
You save (8,8 %)
386,99 €
Your price

Free shipping (DE) inkl. VAT.

4.029,00 €
Customers also bought
Product Video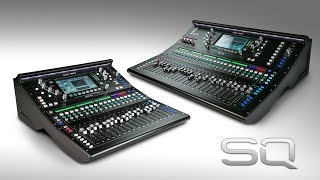 Your contact persons
The hotline is currently not manned. You can reach us again on Tuesday, 28.09.2021 at 09:30.
| | | |
| --- | --- | --- |
| Tuesday | 09:30 - 18:00 | |
| Wednesday | 09:30 - 18:00 | |
| Thursday | 09:30 - 18:00 | |
| Friday | 09:30 - 18:00 | |
| Saturday | 09:30 - 13:30 | |
| Monday | 09:30 - 18:00 | |