Direkter Sound - direkter vom Amp!
Das e 906 fängt Gitarrensound genau so, wie er sein soll: von clean bis verzerrt, von sanft bis aggressiv. Es liefert einen hochauflösenden, natürlichen Klang ohne ungewollte Einfärbungen. Das Impulsverhalten des e 906 überzeugt durch alle Stile hinweg: es überträgt selbst Riffs mit extrem hartem Punch unmittelbar und geradlinig. Am Mikrofon ist zudem die Klangcharakteristik wählbar zwischen: Anhebung des Präsenzbereichs, normalem Präsenzbereich und Absenkung des Präsenzbereichs. Durch seine flache Bauform kann das e 906 einfach an seinem Kabel hängend vor dem Amp positioniert werden - ganz ohne Stativ. Von seiner ausgeprägten Robustheit ganz zu schweigen.
Professionelles XLR-Kabel mit hochwertigen Steckern
Für die Stage Pro-Line Kabel wird nur sauerstofffreies Kupfer verwendet. Dies sorgt für  langlebige, gleichbleibende Qualität und schützt vor Korrosion. Die Stecker sind handverlötet und sind mit einer Spannzangen-Zugentlastung versehen, so dass die Lötstellen frei von Krafteinwirkung sind. Ein hochdichter Kupferschirm schützt das Audiosignal wirksam vor Trittschall und elektromagnetischer Einstrahlung, wie sie etwa von Netzteilen und Stromkabeln erzeugt wird. So ist eine niedrige Leiterkapazität und glasklare Audioübertragung gewährleistet.
Das Stage Pro-Line ist ein professionelles, symmetrisches Audiokabel, welches sich vor allem als Mikrofonkabel oder für andere XLR-Verbindungen empfiehlt. Zudem ist es auch bestens für die Verkabelung von Homestudios geeignet.
Gitarrenmikrofon plus Kabel im Set!
Reviews
Questions about product
No questions have yet been asked about this article.
Your question about the article Sennheiser e 906 Mikrofon Set inkl. 5m Kabel
Your question will be forwarded directly to the department and answered as soon as possible.
Customers also bought
Product Video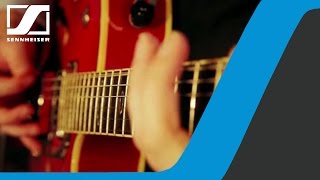 Your contact persons
Our specialists will be happy to advise you.
| | | |
| --- | --- | --- |
| Thursday | 09:30 - 18:00 | |
| Friday | 09:30 - 18:00 | |
| Saturday | 09:30 - 13:30 | |
| Monday | 09:30 - 18:00 | |
| Tuesday | 09:30 - 18:00 | |
| Wednesday | 09:30 - 18:00 | |