PA-Verstärker mit digitalem Signalprozessor!
Die Verstärker der Crown XTi 2 Serie sind ideal für Musiker, Bands und PA-Verleiher. Sie liefern maximale Leistung bei hoher Betriebssicherheit, bester Klangqualität und minimalem Gewicht. Der Crown XTi 1002 hat eine robuste Aluminium Front mit ergonomisch geformten Griffen. Das kontrastreiche LCD-Display samt Funktionstasten und gerasterten Drehreglern ermöglicht eine schnelle und intuitive Bedienung.
Der leistungsfähige digitale Signalprozessor bietet umfangreiche Parameter zur Signalbearbeitung. Dies erspart einen externen Lautsprecher-Controller. Alle wichtigen Funktionen zur Klangoptimierung wie Frequenzweiche, Equalizer und Delay sind vorhanden. Ein Limiter schützt den Lautsprecher vor gefährlichen Pegelspitzen. Somit wird aus jedem Lautsprecher das Maximum an Klang und Pegel herausgeholt.
Der Crown XTi 1002 Verstärker lässt sich über die HiQnet Software Band Manager 2 komfortabel konfigurieren, steuern und überwachen. Zusätzlich bietet das Programm eine Datenbank von fertigen Presets für JBL Lautsprecher. Die Software ist kostenlos als Download verfügbar.
Bester Klangqualität & minimales Gewicht!
Specification
| | |
| --- | --- |
| Colour | Black |
| Height in U | 2 U |
Reviews
| | | |
| --- | --- | --- |
| 5 Stars | | 1 |
| 4 Stars | | 0 |
| 3 Stars | | 0 |
| 2 Stars | | 0 |
| 1 Star | | 0 |
Very solid AMP with premium features at an unbeatable price
Review from
Michael
on 16.12.2021
Variant
Crown XTI 2002
This rating has been translated automatically. Original language
verified purchase
Looking for an affordable power amp with professional features like integrated DSP, I compared this power amp with the QSC GXD4.

Features (pros marked with + and cons with -):
+ Weight and size is OK Processing actually good. The AMP is the 2-3 generation and according to relevant test and product photos of the inside, very solidly built.
- Except the on / off switch this sits very wobbly and crooked.
This gives the impression that this is not very solid.
- Operation on the device
+ Lockout, except volume control, the settings can be locked by long press on UP + Down button. Unlock via software or again long press on UP+Down buttons.
+ Extensive setting of the limiter, which works great and intervenes barely audible but effective. During installation, the max. output can be easily limited. Even if the user turns the volume control to stop.
- Display indication and operation on the device is not intuitive or immediately understandable. As soon as the AMP is connected to the PC, however, this is negligible.
Adjustments of the DSP are intuitively possible in the software.
+++ The best and pro feature is the integrated DSP.
This offers everything the heart desires. According to WWW this is only possible in such a low-priced Crown AMP because the manufacturer uses the Harman Group.
So features like High-/Lowpass with different slopes of 6,12,18 and24db per octave as well as Butterworht and Likwitz-Riley settings, EQ with 8 parametric filters, Delay settings, Subhaminoc Synth and a per channel adjustable very good working Limiter with Threshold Attack and Release settings.
Compared to a speaker management system like DBX DriveRack PA2, the only thing missing is an automatic calibration.
But there are for speakers brand JBL and Co. presets that can be loaded.
+ The power amp is 2 Ohm stable (QSC only 4 Ohm stable according to the manual).
+ Fan is relatively large and 3-fold regulated

The QSC GXD4v amp had the following weaknesses and had to despite a similarly good price better optics / processing and more power back:

- Rel. small fan approx. 40mm which is permanently active. That is, it is regulated depending on the temperature... But he is active and perceptible even without level directly after switching on. He remains quiet but is still always active.
- DSP setting rel. manageable.
For example you can set highpass and lowpass filters but only in frequency and not in slope or type.
- USB connection is only for updating. There is no software to adjust or save the settings. Accordingly, the presets nut remain stored on the AMP.

Conclusion: I have decided for the weaker amplifier with worse optics but better features Crown XTI 1002.
For me decide is
1. the software Bandmanager 2 with which the DSP can be set intuitively on the PC and backups of the settings are very easy and
2. with the Crown is a much larger fan Verbaut approx. 80mm which starts only with load and/or temperature. That is, in the fixed installation where the AMP often only in standby waiting for signals, the cooling remains passive.
Questions about product
No questions have yet been asked about this article.
Your question about the article Crown XTI 1002
Your question will be forwarded directly to the department and answered as soon as possible.
Variants
Alternatives
Accessories
Customers also bought
Product Video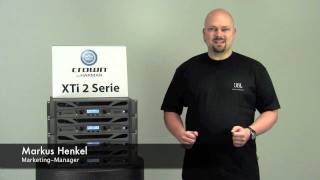 Your contact persons
The hotline is currently not manned. You can reach us again on Tuesday, 25.01.2022 at 09:30.
| | | |
| --- | --- | --- |
| Monday | 09:30 - 18:00 | |
| Tuesday | 09:30 - 18:00 | |
| Wednesday | 09:30 - 18:00 | |
| Thursday | 09:30 - 18:00 | |
| Friday | 09:30 - 18:00 | |
| Saturday | 09:30 - 13:30 | |