Pocket Steel Tongue Drums für Anfänger & Musikliebhaber!
Die Meinl Sonic Energy Pocket Steel Tongue Drum ist für jeden Musikliebhaber, Lehrer oder Klangtherapeuten geeignet. Sie hat eine sehr kompakte Größe und ist damit ideal für unterwegs.
Ob im Studio, im Klassenzimmer, im Büro oder auf dem Couchtisch, diese Trommel mit einem Durchmesser von nur 3 Zoll (7,6 cm) kann von jedem und überall gespielt werden, unabhängig vom jeweiligen Können. Dank der vorgestimmten Töne können keine falschen Noten gespielt werden. Der Klang ist fröhlich und beruhigend.
Unverwechselbare Klangcharakteristik
Die Pocket Steel Tongue Drums verfügen über sechs vorgestimmte Tonfelder, die alle der A-Dur-Tonleiter entstammen. Dadurch wird sich Ihr Spiel immer nach einer harmonischen Melodie anhören, egal in welcher Reihenfolge Du die Stahlzungen anschlägst.
Die gewählte Tonleiter bestimmt das beim Spielen entstehende Ambiente. Dur-Skalen gelten als besonders hell, klar und heiter, was zu mehr Hoffnung und Zuversicht aufruft.
Die Lotusblume - die "Heilige Blume"
Die Lotusblume genießt in zahlreichen Kulturen und Religionen große spirituelle Bedeutung und Symbolik. Weit verbreitet ist ihr Ansehen als Sinnbild für Reinheit, Treue, Schöpferkraft, Erleuchtung und Liebe. Weiter steht die Lotosblume aufgrund ihrer Charakteristik, an jedem Morgen immer wieder in ihrer vollen Schönheit zu erblühen, für die Wiedergeburt, den Beginn eines neuen Lebens oder das Leben nach dem Tod.
Im Yoga geht man davon aus, dass die Lotusblume vor allem das 6. Chakra, das Stirnchakra oder "Dritte Auge" anspricht. Das Stirnchakra sei die Tür zur Intuition und soll Erleuchtung, Weisheit und Erkenntnis begünstigen.
Entspannung, Zufriedenheit, Selbstvertrauen
Der Wunsch nach mehr Entspannung im Alltag, die Suche nach einem Instrument zur musikalischen Früherziehung Deines Kindes, der Vorsatz eines neuen, mitreißenden Hobbys - es gibt viele Gründe, warum man sich für eine Steel Tongue Drum entscheiden sollte.
Von der Stahlzungentrommel geht eine friedliche Energie aus, die es Dir leicht macht, Deine Sorgen zu vergessen und zu neuer Zufriedenheit und innerer Ruhe zurückzukehren. Steel Tongue Drums sind wie geschaffen für jede erdenkliche Situation, von Sound Bath, Yoga über Musiktherapie und Klassenzimmer bis hin zu Percussion-Setups.
Ob live auf der Bühne oder ganz intim für Dich zu Hause - dieses Instrument hat das Potenzial, Deine Meditation zu intensivieren, obendrein verbesserst Du Deine Koordination sowie Dein Vertrauen in die eigenen Fähigkeiten.
Musikalische Erfolge im Handumdrehen
Diese Pocket Steel Tongue Drum ist ein extrem leicht zugängliche Instrument, das sich für jedes Alter und Fähigkeitslevel eignet. Gespielt wird intuitiv mit dem mitgelieferten Schlägel. Durch unterschiedliche Spielreihenfolgen kannst Du Deiner Pocket Steel Tongue Drum immer wieder neue Klänge entlocken. Experimentiere und lass Dich überraschen von dem großen Klangspektrum dieses niedlichen Instruments.
Eine tolle Geschenkidee
Es steht ein besonderer Anlass, wie eine Hochzeit, ein Geburtstag, ein Jubiläum oder das Weihnachtsfest bevor oder Du möchtest jemandem einfach einmal Danke sagen und suchst nach der etwas anderen Geschenkidee? Verschenke doch eine Meinl Sonic Energy Pocket Steel Tongue Drums und beschere dem Beschenkten somit einen schnellen und unkomplizierten Einstieg in die Welt der Klänge und Musik.
Über Meinl Sonic Energy
Meinl Sonic Energy ist eine einzigartige Welt des Klangs und der Entspannung. Tagtäglich sind wir Schwingungen ausgesetzt, die uns aus dem Gleichgewicht bringen. Dadurch kommt es zu innerer Unruhe, Stress, Angstzuständen, Schlaflosigkeit oder gar Depressionen. Meinl Sonic Energy ist Dein Begleiter auf Deiner Reise zu neuer Balance und Harmonie, sei dies während der Meditation, beim Yoga oder einer Gesundheits- bzw. Wellnessbehandlung.
Du wirst schnell feststellen, dass die Sammlung wunderschön gestalteter Instrumente von Meinl Sonic Energy ihre ganz eigene Sprache spricht. Die Qualität und den einzigartigen Klangcharakter dieser Instrumente schätzen auch viele Perkussionisten und Hobby-Musiker, weshalb Meinl Sonic Energy auch in Percussion-Setups vorzufinden ist.
Lass Dich fallen und tauche in den Klang von Meinl Sonic Energy ein!
Specification
Product number

00091231

Scale type

A

Number of tones

6

concert pitch a =

-

Material

Stainless steel

Colour

Purple

Tuning

Major

Bag included

No
Reviews
| | | |
| --- | --- | --- |
| 5 Stars | | 2 |
| 4 Stars | | 0 |
| 3 Stars | | 0 |
| 2 Stars | | 0 |
| 1 Star | | 0 |
A verification of the ratings has taken place as follows: Only customers who are registered in our online store and have actually purchased the product from us can submit a rating for the item in the customer account.
Surprisingly magical sound for the MiniSize
Review from
Weber,
on 22.05.2023
This rating has been translated automatically. Original language
verified purchase
I work as a storyteller and wanted an instrument that would fit in my performance case (which doesn't have much room left) so I wouldn't always have to carry an extra bag of instruments.
Perfect. The sound is surprisingly nice and "loud" for such a small instrument. It also surprises me that the sound body sounds even when I hold it in my hand and some fingers should actually stop the sound. It doesn't. Sounds just as nice in the hand as it does freestanding. Super!
a first acquaintance
Review from
Anna
on 14.08.2023
Variant
Meinl Sonic Energy Pocket Steel Tongue Drum Blau A-Dur
This rating has been translated automatically. Original language
verified purchase
...that eavesdroppers do not become a nuisance
No questions have yet been asked about this article.
Product Video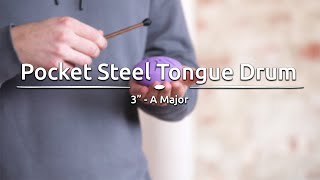 Your contact persons
The hotline is currently not manned. You can reach us again on Thursday, 30.11.2023 at 09:30.
| | | |
| --- | --- | --- |
| Wednesday | 09:30 - 18:00 | |
| Thursday | 09:30 - 18:00 | |
| Friday | 09:30 - 18:00 | |
| Saturday | 09:30 - 16:00 | |
| Monday | 09:30 - 18:00 | |
| Tuesday | 09:30 - 18:00 | |