Get personal advice now!
The hotline is currently not manned. You can reach us again on Monday, 05.06.2023 at 09:30.
Roland AC-33 Stereo Batterie Akustik-Amp!
Roland präsentiert den AC-33 - ein extrem kleiner und leichter (4,7 kg!) Akustikverstärker, der einen fantastischen Stereo-Sound bietet und mit nur 8 kleinen Mignonbatterien 8 Stunden betrieben werden kann!
Dies ist der weltweit erste Akustikverstärker, der statt schwerer Akkus oder großer Batterien mit normalen Mignon-Batterien/Akkus (AA-Size) auskommt, und er glänzt mit vielen weiteren Funktionen: Looper mit Overdubs, 2 Kanäle, Anti-Feedback gegen Rückkopplungen, Digitaleffekte, Klappbügel zum Schrägstellen etc.
Der AC-33 rundet die sehr erfolgreiche Roland Akustikamp-Serie mit AC-60 und AC-90 nach unten hin ab - für Musiker, die einen noch kleineren Verstärker wünschen und ÜBERALL spielen wollen.
Natürlicher Stereo-Sound
Dank Rolands neuester DSP-Technologie, liefert der AC-33 einen klaren, satten Akustik-Sound mit einem Schalldruck, den man anhand seiner Größe nicht erwarten würde. Er ist in Stereo ausgelegt (15 Watt x 2) und bietet einen brillanten Stereo-Multiband-Chorus oder Wide-Modus sowie einen Stereo-Hall und Stereo Ambience-Raumsimulationen, speziell auf akustische Instrumente abgestimmt.
Spielen und Singen
Der AC-33 verfügt über zwei getrennte Kanäle: Gitarre und Mic/Line. Beide Kanäle haben eigene Regler für Lautstärke, Multiband-EQ und Chorus. Der Mic/LIne-Kanal bietet sowohl XLR, als auch Klinkeneingänge. Außerdem besteht die Möglichkeit, MP3- oder CD-Player an die beiden Stereo-Aux-Eingänge anzuschließen, um zur Lieblingsmusik zu spielen oder üben. Master Volume, Reverb, Ambience und Anti-Feedback komplettieren die umfangreiche Ausstattung.
Looper
Mit dem eingebauten Looper des AC-33 können Sie selbst-eingespielte Akkordfolgen oder Gesänge sowie über die Aux-Eingänge eingegebenes Audiomaterial loopen und übereinanderschichten. Loops bis zu 40 Sekunden Länge mit endlos vielen Overdubs sind möglich.
Kompakter Acoustic Chorus Verstärker mit Batteriebetrieb!
Suitable accessories (Not included in the delivery.)
Specification
Product number

00023651

Microphone input

Yes, with phantom power

Power (Watts)

30

Headphone Out

Yes

Battery-powered

Yes

additional FX

Yes

Speakers

2x 12 cm

Colour

Black

Hall/Reverb included

Yes

Foot switch included

No
Reviews
| | | |
| --- | --- | --- |
| 5 Stars | | 2 |
| 4 Stars | | 0 |
| 3 Stars | | 0 |
| 2 Stars | | 0 |
| 1 Star | | 0 |
A verification of the ratings has taken place as follows: Only customers who are registered in our online store and have actually purchased the product from us can submit a rating for the item in the customer account.
Great device!
Review from
Schmoll,
on 10.12.2018
This rating has been translated automatically. Original language
verified purchase
Tried at a wedding, super sound, volume fits (even for larger rooms) Operation very simple and the two effects like very well.
Feels and sounds everything very high quality.
Beautiful, small acoustic amplifier with very good sound
Review from
Rudolf
on 16.03.2020
Variant
Roland AC-33-RW Akustikverstärker, Palisander
This rating has been translated automatically. Original language
verified purchase
The small Roland acoustic amplifier AC-33-RW looks very good and all knobs, switches, jacks etc. are in best quality. The sound is very good. It is a full, harmonic, clear sound and there is no noise at all. The stereo room sound makes the midget a much bigger amp that fills the whole room. Am very satisfied.
Question by Jamil Hajo on 25.11.2021
Good evening,
I could not understand the description correctly, so I asked you this question. Is it possible to use this guitar amplifier with power supply, without battery? I am looking forward to your answer. Best regards
Answer by Musikhaus Kirstein:
Yes, of course you can also operate the amplifier with power supply.
Product Video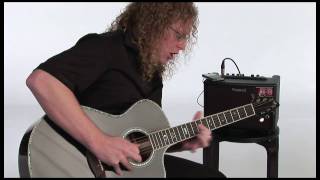 Your contact persons
The hotline is currently not manned. You can reach us again on Monday, 05.06.2023 at 09:30.
| | | |
| --- | --- | --- |
| Monday | 09:30 - 18:00 | |
| Tuesday | 09:30 - 18:00 | |
| Wednesday | 09:30 - 18:00 | |
| Thursday | Closed | |
| Friday | 09:30 - 18:00 | |
| Saturday | 09:30 - 13:30 | |