Get personal advice now!
The hotline is currently not manned. You can reach us again on Wednesday, 31.05.2023 at 09:30.
B&S MS 14 - Meisterliches Instrument mit Icon Valve!
Durch die Verbindung von Rotmessing - vermehrt beim Instrumentenbau in den Vereinigten Staaten verwendet - und dem im deutschsprachigen Raum beliebten Neusilber-Kranz gelang es den Instrumentenbauern mit dem Quartposaunen-Modell "Stolzing" aus der Meistersinger-Serie von B&S, ein außergewöhnlich Instrument zu kreieren.
Alle B&S "Meistersinger"-Posaunen sind von Hand gefertigt. Die Posaunenzüge mit verlängerten Zug-Glocken erhöhen die Laufeigenschaft und die Stabilität in den Positionen 5 bis 7. Der Neusilber-Kranz ist fest mit dem Schallstück verlötet und 2,5 cm breit. Der Schallbecher aus Rotmessing sorgt für einen warmen und gleichzeitig sehr zentrierten Klang.
Die F-Verlängerung ist mit einem Zylinderventil aus deutscher Fertigung und dem bewährten 3B Gelenksystem ausgestattet. Die asymmetrischen Bögen am Hauptstimmzug und am Quartventil sind ausschlaggebend für eine besonders leichte und schnelle Ansprache.
Das revolutionäre Icon Valve
Das Icon Valve ist ein stark verbessertes, neu kon­struier­tes Zylinderventil in Leichtbauweise. Es ist kompakt konzipiert und sein Durchgang von über 98 Prozent stört den Luftstrom kaum.
Das Icon Valve ist sehr reaktionsfreudig und vermittelt ein sehr angenehmes Spielgefühl durch reduzierten, ausge­wogenen Widerstand. Der Posaunist erhält mehr Gestaltungsmöglichkeiten und einen noch volleren Klang bei weniger Blaswiderstand.
Es ist einfach und sehr gut zugänglich verbaut. In Sachen Wartung und Reparaturen ändert sich wenig. Das Ventil ist leicht herausnehmbar, gut zu reinigen und genauso problemlos wieder einzusetzen wie ein Standard-Ventil. Zudem ist kein neues Werkzeug oder anderes Handling erforderlich.
Hintergrund des Modell "Stolzing" aus der Meistersinger-Serie
Der Namensgeber "Stolzing" ist eine der Hauptfiguren aus der Oper "Die Meistersinger von Nürnberg" von Richard Wagner, welche der Posaunist Prof. Carl Lenthe in seiner Zeit an der Staatsoper in München oft aufführte. In der Geschichte der Oper tritt der junge Ritter Walther von Stolzing an, um im Nürnberger Sängerwettstreit die schöne Eva für sich zu gewinnen.
Eva, die Tochter eines Goldschmieds, verliebt sich auf den ersten Blick in den jungen Tenor "Stolzing". Beim Wettstreit überzeugt schließlich seine überragende Sangeskunst, so dass er nicht nur in die Meistersingergilde aufgenommen wird, sondern natürlich auch seine angebetete Eva zur Frau bekommt.
Carl Lenthe ist als Professor of Music (Trombone) an der Indiana University Bloomington (Jacobs School of Music) tätig und führte als Mit-Entwickler Charakteristiken des US-amerikanischen und des europäischen Blechblasinstrumentenbaus im Modell "Stolzing" zusammen.
B&S - Handgefertigt seit über 250 Jahren!
Specification
Product number

00092074

Colour

Gold brass

Type of trombone

Slide trombone

Instrument

Tenor trombone with quart valve

Material

Red brass
Reviews
No questions have yet been asked about this article.
Product Video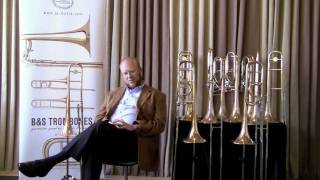 Your contact persons
The hotline is currently not manned. You can reach us again on Wednesday, 31.05.2023 at 09:30.
| | | |
| --- | --- | --- |
| Wednesday | 09:30 - 18:00 | |
| Thursday | 09:30 - 18:00 | |
| Friday | 09:30 - 18:00 | |
| Saturday | 09:30 - 13:30 | |
| Monday | 09:30 - 18:00 | |
| Tuesday | 09:30 - 18:00 | |