Lechgold: "Diesen Luxus leiste ich mir!"
Lechgold legt nicht nur höchsten Wert auf Verlässlichkeit und traditionelle Handwerkskunst, sondern auch darauf, Musikern von Anfang an das bestmögliche Fundament für ungetrübte Freude am Blasinstrument zu bieten. Mit einem Instrument von Lechgold erhältst Du ein hochwertiges, schmuckes, in einem mehrstufigen Herstellungsverfahren angefertigtes Blechblasinstrument mit bester Intonation. Plus: die persönliche Endkontrolle des Instruments durch einen erfahrenen Metallblasinstrumentenmacher vor Ort. Plus: ein hochqualitatives, perfekt auf das Instrument abgestimmtes Markenmundstück der Firma Josef Klier. Plus: wertiges Pflegezubehör, um die Schönheit und Leichtgängigkeit des Instrumentes dauerhaft zu erhalten.
Flügelhorn
Das Lechgold FH-60GR ohne jegliche Oberflächenbehandlung bietet einen leicht rauchigen, facettenreichen Klang. Hochwertige Edelstahl-Ventile sorgen durch ihr geringes Materialgewicht für eine besonders gute Leichtgängigkeit. Ein Triggerzug mit Hebelmechanik am 3. Ventil dient einer guten Intonation. Das Flügelhorn und das Schallstück sind aus hochwertiger Phosphorbronze gefertigt. Der Durchmesser des Schalls beträgt 152 mm, die Bohrung ist 11,2 mm groß.
Das Flügelhorn ist nicht lackiert, was ihr vom Kauf an schon ein einzigartiges Aussehen verleiht. Die mit den Jahren zunehmende Patina verleiht dem Instrument eine individuelle Note und wird Dich sicher an viele schöne Begebenheiten erinnern.
Klier-Mundstück
Erfahrene Bläser wissen, wie wichtig ein wirklich gutes Mundstück ist. In Zusammenarbeit mit dem seit über 100 Jahren bestehenden Familienbetrieb Josef Klier wurde das für das Flügelhorn perfekte Mundstück ausgewählt.
Wertiges Zubehör
Das Flügelhorn wird im stabilen Leichtkoffer mit großzügiger Außentasche, Tragegriffen und Rucksackgurten geliefert. Für die schonende Pflege Deines Instruments befinden sich ein Zugfett von La Tromba, ein JM-Ventilöl sowie eine Metallpolitur im Lieferumfang.
Geprüfte Qualität
Damit Du an Deinem Instrument lange Freude hast, werden alle Blasinstrumente von der Kirstein-Qualitätskontrolle geprüft. Dies geschieht in unserer meistergeführten Bläserwerkstatt durch qualifizierte Instrumentenbauer. Den einwandfreien Zustand garantieren wir auf einem Zertifikat, das dem Instrument beigelegt wird.
Tonqualität
Durch die Verwendung hochwertigster Materialien begeistern Lechgold-Instrumente durch einen herausragenden Klangcharakter in allen Registern. Leichte Ansprache und einwandfreie Intonation bilden den Grundstock für echte Spielfreude.
Philosophie
Die Philosophie von Lechgold ist es, einzigartige Instrumente zu einem erschwinglichen Preis herzustellen. Dabei ist die lange, alpenländische Tradition der Blasmusik das große Vorbild für Lechgold, wobei auf traditionelle Handwerkstechnik ebenso wenig verzichtet wird wie auf modernste Fertigungsprozesse. Ausgesuchte Materialien und die kontinuierlich hohe Qualität machen Lechgold-Instrumente so beliebt bei Blasmusikern aller Genres.
Lechgold: Dein hochwertiges Equipment-Ensemble in Sachen "Blech"!
Reviews
| | | |
| --- | --- | --- |
| 5 Stars | | 2 |
| 4 Stars | | 0 |
| 3 Stars | | 0 |
| 2 Stars | | 0 |
| 1 Star | | 0 |
Lechgold pump
Review from
Matthias
on 13.11.2019
This rating has been translated automatically. Original language
verified purchase
Hello,
I ordered the flugelhorn on Tuesday evening and already on Thursday the goods were there.
About the goods: Flugelhorn makes visually a TipTop impression.warm, fat sound even with the supplied Klier 3c FlgMundstück. (It sounds even darker with a DennisWick FL2) The tuning is fine except for the D2 and Es2. These notes are very low but with auxiliary grip also good. Otherwise it tunes very well! The case is a bit windy but for the money it's fine.
Mitgeliefers equipment on top.
All in all, for the coal a great deal!
am very happy
Review from
Stefan
on 13.12.2020
Variant
Lechgold FH-60G Flügelhorn lackiert Deluxe Set
This rating has been translated automatically. Original language
verified purchase
The purchase of the flugelhorn went smoothly. Only the delivery was quite a few days to wait, but this is probably due to the delivery by DPD.
With the flugelhorn I am very satisfied. The price-performance ratio is absolutely right. The sound is pleasantly soft. The valves run absolutely noiseless.
Considering the low price, I am all in all very pleasantly surprised. The flugelhorn serves me only as a second instrument, since I play mainly trumpet. And when I consider that my trumpet cost about 5 times the price of this flugelhorn, I'm doubly surprised.
So an absolute stroke of luck. I can only recommend the instrument.
Questions about product
No questions have yet been asked about this article.
Your question about the article Lechgold FH-60GR Flügelhorn unbehandelt Deluxe Set
Your question will be forwarded directly to the department and answered as soon as possible.
Variants
Accessories
Product Video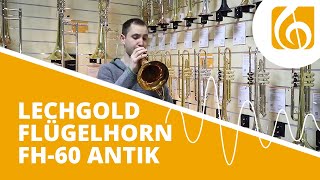 Your contact persons
The hotline is currently not manned. You can reach us again on Saturday, 19.06.2021 at 09:30.
| | | |
| --- | --- | --- |
| Friday | 09:30 - 18:00 | |
| Saturday | 09:30 - 13:30 | |
| Monday | 09:30 - 18:00 | |
| Tuesday | 09:30 - 18:00 | |
| Wednesday | 09:30 - 18:00 | |
| Thursday | 09:30 - 18:00 | |