Get personal advice now!
The hotline is currently not manned. You can reach us again on Monday, 25.09.2023 at 09:30.
Moog One - 16 - 16-stimmiger polyphoner Analog-Synthesizer!
Der Moog One ist der ultimative Moog-Synthesizer - ein tritimbraler, polyphoner, analoger Traumsynthesizer, der die Vorstellungskraft beflügelt, die Kreativität anregt und die Tore zu neuen Klangwelten öffnet.
Der Moog One ist der erste polyphone Analogsynthesizer, der seit mehr als drei Jahrzehnten unter der Marke Moog verkauft wird. Er ist das Ergebnis jahrelanger Forschung und wurde entwickelt, um die wichtigsten Erwartungen an ein polyphones Moog-Instrument zu übertreffen.
Die polyphone Sound-Engine des Moog One ist in einer 8- und einer 16-stimmigen Konfiguration erhältlich und basiert auf der leistungsstärksten Synthesizer-Architektur, die jemals in einem Moog-Instrument verwendet wurde. Pro Stimme bietet der Moog One 3 neu entwickelte analoge VCOs, 2 unabhängige analoge Filter, einen analogen Rauschgenerator mit zwei Quellen, einen analogen Mixer mit externem Audioeingang, 4 LFOs und 3 Hüllkurven. Um eine unendlich inspirierende Performance-Erfahrung zu bieten, kann jede der drei Klangfarben einfach über die ausdrucksstarke 61-Tasten-Tastatur des Moog One gesplittet oder gelayert werden, wobei jede Stimme über einen eigenen Sequenzer, Arpeggiator und eine integrierte Effektbibliothek verfügt - einschließlich einer Reihe professioneller Reverbs von Eventide.
Der Moog One ist in einem handgefertigten Eschenholz- und Aluminiumgehäuse untergebracht und verfügt über 73 Drehregler und 144 Knöpfe, die eine physische Verbindung mit allen Klangformungs- und Performancereglern ermöglichen. Erweiterte Funktionen sind über einen "More"-Knopf pro Modul leicht zugänglich, der zusätzliche Parameter über das LCD in der Mitte des Bedienfelds des Moog One in den Fokus rückt, um eine möglichst transparente und zweckmäßige Klangerzeugung zu ermöglichen.
Der Moog One ist ein beispielloses Werkzeug für den Ausdruck Deiner eigenen kreativen Stimme. Gestalte, forme und transformiere Deinen Sound mit nahezu unbegrenzten Möglichkeiten.
Triangle-Core-Oszillatoren
Jede Stimme des Moog One verwendet drei neu entwickelte analoge VCOs mit Dreieckskern. Der Ausgang jedes Oszillators ist eine benutzerdefinierte Mischung aus einer wählbaren Dreieck-/Sägezahnwelle und einer Pulswelle mit variabler Breite. Die Anstiegs-/Abfallzeit der Dreieckswelle und die Rücksetzphase der Sägezahnwelle lassen sich über die traditionellen Oszillator-Designs hinaus formen und modulieren, um eine breite Palette klassischer analoger Klänge zu erzeugen. Die Kombination von Dreiecks- und Sägezahnwelle mit der Pulswelle eröffnet neue Dimensionen der harmonischen Freiheit und erzeugt komplexe Wellenformen, die in analogen Synthesizern nicht üblich sind. Die Oszillatorsektion des Moog One ist außerdem mit Hard Sync, analoger Ringmodulation und FM ausgestattet, um grenzenlose analoge Klänge zu erzeugen.
Dual Source Noise Generator
Jede Moog One-Stimme verfügt über einen fortschrittlichen analogen Rauschgenerator mit zwei Quellen, mit dem verschiedene Rauschfarben ausgewählt und gemischt werden können, während der zugehörige Rauschhüllkurvengenerator dynamisch artikuliert wird. Dieses einzigartige Modul ist ein leistungsfähiges Werkzeug, um einem Sound perkussive Attacks, einen Hauch oder einen vollen Körpereindruck hinzuzufügen.
Mixer
Der Moog One bietet einen flexiblen analogen Mixer, der Lautstärkeregler und Filterrouting für jeden Oszillator, Rauschgenerator, Ringmodulator und externen Audioeingang bereitstellt - Klangquellen können durch verschiedene Filter unabhängig oder gleichzeitig geformt werden.
Der Moog One ist der ultimative Moog-Synthesizer!
Suitable accessories (Not included in the delivery.)
Specification
Product number

00076156

Sound Engine

Analogue

USB to host

No

Midi interface

No

with keyboard

Yes

Colour

Natural
Reviews
No questions have yet been asked about this article.
Product Video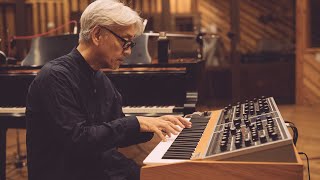 Your contact persons
The hotline is currently not manned. You can reach us again on Monday, 25.09.2023 at 09:30.
| | | |
| --- | --- | --- |
| Monday | 09:30 - 18:00 | |
| Tuesday | 09:30 - 18:00 | |
| Wednesday | 09:30 - 18:00 | |
| Thursday | 09:30 - 18:00 | |
| Friday | 09:30 - 18:00 | |
| Saturday | 09:30 - 13:30 | |