Get personal advice now!
The hotline is currently not manned. You can reach us again on Thursday, 09.02.2023 at 09:30.
Korg Volca Sample 2 - für noch bessere Grooves!
Der volca sample ist ein kompakter, Sample-basierter Drumcomputer, dessen erste Generation sich bereits weltweit größter Beliebtheit erfreuen durfte. Die neue Generation übernimmt selbstverständlich alle Features des Originals, ergänzt diese aber mit einem Micro-USB-Port, einem größeren Sample-Speicher, frischen Sounds und vielen Funktionen für einen effizienteren Workflow.
Ihr mobiles Beat-Studio
Mit dem volca sample lassen sich unzählige musikalische Ideen realisieren, was nicht zuletzt dem Umstand zu verdanken ist, dass man ihn immer bei der Hand haben kann! Diese geniale Sample-Maschine ist nicht nur 8-stimmig polyphon, sondern bietet auch einen digitalen Reverb-Effekt, ein eminent flexibles 2-Pol-Filter und genügend Regler, um sich perfekte Samples zu zaubern.
Hands-On spielt hier die Hauptrolle: Die Samples können intuitiv manipuliert werden - und der volca sample lässt sich mit 6 AA-Batterien betreiben. Trotz des eingebauten Lautsprechers wiegt er nur 372g (ohne Batterien) und heizt bereits im Alleingang die Stimmung an. Mit seinen USB-, SYNC IN-OUT- und MIDI-Anschlüssen lässt sich der volca sample allerdings auch in ein Live-Rig oder ein Produktionsstudio integrieren. Dass er perfekt mit weiteren volca-Modellen harmoniert, dürfte klar sein!
USB für schnellere Sample-Verwaltung und mehr Möglichkeiten
Der hinzugekommene Micro-USB-Port erlaubt die Verbindung des volca sample mit einem Computer zur Steuerung und Sample-Verwaltung. Der volca sample kann entweder direkt von der DAW aus angesteuert werden oder "nur" zu ihr synchron laufen. Den Parts können unterschiedliche MIDI-Kanäle zugeordnet werden, was beispielsweise bei Verwendung eines Sequenzers oder MIDI-Keyboards praktisch ist.
Zügige Sample- und Pattern-Verwaltung am Rechner
Mit der demnächst verfügbaren Librarian-Software für Mac und PC kann der volca sample per USB Samples und Pattern zum Rechner übertragen und von dort empfangen. Natürlich blitzschnell, damit man keine wertvolle Zeit verliert. Mit der "AudioPocket" App für iOS lassen sich zudem neue Samples aufzeichnen und direkt zum volca sample übertragen.
Neue Features
Die neue Generation des volca sample bietet zwei Features für einen noch effektiveren Produktionsablauf:
Pattern Chain-Modus mit 2 unterschiedlichen STEP JUMP-Modi
Start Delay: Diese neue Delay-Funktion ermöglicht eine Verschiebung der Startpunkte einzelner Parts. Hiermit lassen sich neue Grooves und Swing-Rhythmen erzielen
Größerer Speicher, mehr Platz für Pattern und Samples sowie Bonus-Packs!
Der volca sample verdoppelt die Sample-Speicheranzahl des Vorgängers auf satte 200. Ab Werk sind 50 Speicherplätze leer - und warten auf Deine Sounds bzw. auf Material aus vorgefertigten Libraries. Zusätzlich stehen jetzt 16 Pattern-Speicher statt 10 (wie bisher) zur Verfügung. Die neue volca sample-Generation wird mit einer brandneuen Sound-Library mit allen Bausteinen geliefert, mit der man als Produzent und/oder Beat-Lieferant sofort loslegen kann.
Diese 150 Samples bieten bereits genügend Inspiration, um dem Publikum richtig einzuheizen. Das geht natürlich auch in Echtzeit. Die gebotenen Sounds bedienen alle angesagten Genres, darunter Future Bass, Trap, Lo-Fi Hip Hop und viele mehr!
Zusammenarbeit mit Künstlern
Zur Feier der neuen Generation des volca sample haben wir uns mit zwei ebenso innovativen wie einflussreichen Künstlern zusammengetan. Moe Shop und TORIENA sind Pioniere der Kawaii Future Bass- und Chiptune-Genres und weltberühmt für ihre innovative, eklektische und originelle Sample-Verwendung. Beide Sample-Packs sind für volca sample-Anwender kostenlos!
Kostenloses Musik-Softwarebundle
Im Lieferumfang des volca sample sind mehrere Software-Produkte wie "Ozone Elements" von iZotope, mit dem sich Songs mit Hilfe von künstlicher Intelligenz mastern lassen, für die Song-Vorbereitung mit oder ohne künstlicher Intelligenz, "Skoove" für die Perfektionierung des Keyboard-Spiels, die "Reason Lite" DAW-Software sowie Software-Synthesizer von KORG und anderen Marken enthalten. So kann man mit diesem kleinen Riesen unbeschwert und unbegrenzt kreativ sein und ein rapide wachsendes Publikum begeistern.
Die neue Generation des volca sample - mehr Speicher, mehr Features, mehr Spaß!
Specification
| | |
| --- | --- |
| Product number | 00070902 |
| Colour | White |
| Midi interface | Yes |
| with keyboard | No |
| Sound Engine | Digital |
| USB to host | No |
Reviews
| | | |
| --- | --- | --- |
| 5 Stars | | 17 |
| 4 Stars | | 0 |
| 3 Stars | | 0 |
| 2 Stars | | 0 |
| 1 Star | | 0 |
A verification of the ratings has taken place as follows: Only customers who are registered in our online store and have actually purchased the product from us can submit a rating for the item in the customer account.
Questions about product
No questions have yet been asked about this article.
Your question about the article Korg Volca Sample 2
Your question will be forwarded directly to the department and answered as soon as possible.
Variants
Customers also bought
Product Video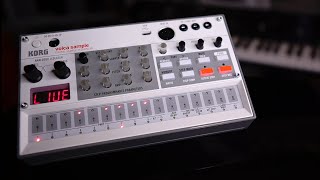 Your contact persons
The hotline is currently not manned. You can reach us again on Thursday, 09.02.2023 at 09:30.
| | | |
| --- | --- | --- |
| Wednesday | 09:30 - 18:00 | |
| Thursday | 09:30 - 18:00 | |
| Friday | 09:30 - 18:00 | |
| Saturday | 09:30 - 13:30 | |
| Monday | 09:30 - 18:00 | |
| Tuesday | 09:30 - 18:00 | |