Korg B2N - Ein ideales Piano für den Anfang!
Das B2 ist die neue Generation von Digitalpianos, die ihren Fokus auf einen erleichterten Zugang zum Instrument und eine einfache Bedienbarkeit legt. Es ist das perfekte Piano für den Einstieg in die Welt der Tasten. Wir haben ein ganz besonderes Augenmerk darauf gelegt, dass das Spielgefühl dem eines echten, akustischen Pianos in Nichts nachsteht. Das B2 bietet eine sorgfältige Auswahl an Sounds der weltweit legendärsten Flügelklänge. Eine leistungsstarke Software sowie eine Vielzahl an Anschlüssen gehören zur Standardausstattung dieses hochwertigen, modernen Pianos.
Das zunächst im Keyboardformat erhältliche B2 kann zusätzlich auf einem passenden und optionalen Ständer montiert werden. Das B2N bietet die gleiche Funktionalität wie das B2, ist aber mit einer leichtgängigeren Tastatur ausgestattet. Es ist ein modernes Digitalpiano für diejenige, die ein reaktives, leichtgängiges Keyboard mit 88 Tasten bevorzugen. Das B2 ist ein Piano, das sowohl Anfängern als auch fortgeschrittenen Pianisten den höchsten Komfort zum Üben bietet.
Neue Piano Sound Engine mit 12 sorgfältig ausgewählten Klängen
Das B2 bietet insgesamt 12 Sounds aus den unterschiedlichsten Genres. Angefangen bei fünf reinen Akustik-Piano Klängen aus der neuen Piano Engine, reicht die Auswahl über diverse E-Piano- und Orgel-Klängen bis hin zu Cembalo- und Streicher-Sounds.
Zusätzlich zum enormen Tonbereich eines Konzertflügels reproduzieren die akribisch gesampelten Sounds des KORG B2 auch mitschwingende Saiten und Dampferresonanzen, die wesentlich zum authentischen Klang eines Konzertflügels beitragen.
German Piano
Das Piano aus deutscher Handwerkskunst ist bei unzähligen Pianisten auf der ganzen Welt für seine tonale Vielfalt und starke Expressivität beliebt. Mit dieser überwältigenden akustischen Dynamik und Vitalität reicht die Palette von brillanten Höhen zu präzise definierten Tiefen. Zu den im B2 enthaltenen Sounds zählen daher das majestätische "German Concert Piano" sowie ein "Classic Piano", das für seinen grazilen und komplexen Ton angesehen ist.
Italian Piano
Ein echtes italienisches Piano zeigt sein besonderes Temperament vor allem in seinem wundervoll hellen Ausdruck und dem beispiellosen Sustain. Pianisten weltweit sind von dieser reichhaltigen Resonanz und der schnellen Ansprache hingerissen. Die Sounds, die das B2 enthält, sind das "Italian Concert Piano", ein brillantes "Jazz Piano", und ein voll klingendes "Ballad Piano".
Electric Piano
Das E-Piano reproduziert die tonalen Facetten, die durch Ihre Anschlagsdynamik zum Leben erwecken, und simuliert sogar das Key-Off-Geräusch, das beim Loslassen der Taste auf dem mechanischen Vorbild entsteht. Lassen Sie sich von elektrischen Piano Sounds aus großartiger Musikgeschichte verzaubern.
Orgel
Sounds, die zu Rock und Jazz passen, sind im B2 ebenso enthalten wie grandiose Klänge real aufgenommener Pfeifenorgeln.
Neu entwickelte Natural-Touch-Tastatur
Das B2N ist mit einer NT (Natural Touch) Tastatur ausgestattet, die von KORG brandneu entwickelt wurde. Sie reproduziert das authentische Spielgefühl eines Akustikpianos, welches härteres Anschlagen in den tieferen Lagen erfordert und ein leichtgängigeres in den höheren vermittelt. Diese charakteristische Anschlagsdynamik bleibt auch während ausgedehnter Übungsstunden konstant. Das B2N ist auch ein ideales Piano für Kinder, um die Welt der Tasten kennenzulernen und sich auszuprobieren.
Ausgestattet mit neuen Ein- und Ausgängen für bestmögliche Konnektivität
Die zahlreichen Anschlüsse erlauben es, das B2 mit einer Vielzahl an Software oder Musikhardware zu verknüpfen. Dies eröffnet neue Möglichkeiten ein Digitalpiano kreativ einzusetzen, zu erleben und großartige Musik zu kreieren.
USB MIDI/AUDIO
Sie können ein USB-Kabel* nutzen, um das Instrument mit Ihrem Smartphone, Tablet oder Computer zu verbinden. So können Sie das B2 als MIDI Keyboard zum Spielen externer Soundmodule einsetzen. Ebenso können Sie Ihre Darbietung auf dem B2 als Musikdatei mit Ihrem Smartphone aufnehmen, und dank der USB-Audio Funktion das Audiosignal Ihres Smartphones über die Lautsprecher des B2 hörbar machen.
*Das USB-Kabel zum Anschließen an Ihren PC sowie ein USB-Kabel + Lightning-USB Kameraadapter für Ihr iPhone oder iPad sind jeweils separat erhältlich.
AUDIO IN
Über die Audio In Buchse am B2 können Sie Ihr Smartphone oder einen anderen Musikplayer anschließen und so Ihre Lieblingsmusik über die Lautsprecher des B2 abspielen und währenddessen dazu spielen. Auch wenn Sie gerade nicht Piano spielen, können Sie das B2 ebenfalls als Home Speaker System nutzen, um Ihre Musik zu genießen.
Reichhaltiges Software Bundle zum Üben und Kreativsein
Das B2 Software Bundle hebt Ihre Musik ins nächste Level. Zum Beispiel enthält es das Programm "Skoove", das Sie dabei unterstützt, an Ihrer Performance zu feilen. Außerdem gibt es das "KORG Module", also die Piano Keyboard Sound Modul App, sowie das "KORG Gadget 2 Le", eine App für DAW Musikproduktionen.
Drei Premiumprobemonate für "Skoove" Online-Pianostunden
Skoove ist die schnellste und am breitesten aufgestellte Plattform zum Erlernen von Pianoperformances. Anhand der drei Schritte "hören, lernen, performen" trainieren Sie schnell und effektiv Ihre Spielfähigkeiten und Ihr musikalisches Gehör.
Das Angebot umfasst über zehn Kurse und mehr als 300 Songs. Und kontinuierlich werden neue hinzugefügt. Skoove bietet Unterrichtsstunden in verschiedenen Schwierigkeitsgraden an, damit sowohl Einsteiger als auch Fortgeschrittene das Passende für Ihre Bedürfnisse sowie ihren individuellen Lernstand finden.
"KORG Module" Piano Sound-Modul App
Diese hochwertige mobile Sound Modul App enthält eine Sounddatenbank in Profiqualität, die sowohl für Performances als auch für Musikproduktionen ideal ist. Sie ist ausschließlich für iOS erhältlich. Die App lässt Sie erstklassige Grand Piano Sounds ebenso wie die Sounds der meistgenutzten Keyboards in Studioqualität genießen.
"KORG Gadget 2 Le" DAW Music Production App mit eingebautem Soundmodul
Dies ist eine iOS-App für Musikproduktionen, die Miniatursynthesizer und Drum Machines - sogenannte "Gadgets" - bietet, und es Ihnen erlaubt, ganz frei heraus zu kombinieren. So können Sie es genießen, Musik mit einem intuitiven Interface zu produzieren.
Komfort und Funktionalität gepaart mit der Simplizität eines echten Pianos
Das Metronom kann mit einer einzigen Berührung an- oder ausgeschaltet werden. Es gibt auch eine Touch Control- Funktion, die Ihnen drei verschiedene Stufen bietet, mit denen Sie entscheiden, wie Ihr Tastenspiel bzw. der Druck den Sound beeinflussen soll (leicht, mittel, schwer). Auf diese Weise können Musiker die Anschlagsdynamik der Tastatur an Ihren eigenen Stil anpassen. Ebenfalls gibt es Einstellungen für zwei Effekte: Reverb und Chorus.
Ein Leichtgewicht mit weniger als 10 kg inklusive Lautsprecher
Das B2N ist nicht nur leicht im Anschlag, sondern auch in seinem Gewicht. Es bringt gerade einmal 9,3 kg auf die Waage und ist damit nahezu 2 kg leichter als die B2 Standardversion. Ebenfalls können Sie das passende SC-B2N Softcase zum Transportieren verwenden. Dieses ist separat erhältlich.
Inklusive Pult für Noten und Mobiltelefone/Tablets
Das abnehmbare Notenpult bietet genügend Platz, um mehrere Liedblätter auszubreiten, wodurch Sie weniger Stress mit dem Umdrehen der Seiten während des Spielens haben. Ebenso ist es möglich, neben den Notenblättern ein iPad oder anderes Tablet zu positionieren.
Vielseitige Keyboardkonfigurationen, die sich Ihren Bedürfnissen anpassen
Das B2 ist das ideale Instrument, um praxisorientierte Übungen und Darbietungen am eigenen Piano einzustudieren. Für einen noch professionelleren Auftritt empfehlen wir das B2SP, in dessen Paket neben dem B2 Piano ein passender Ständer und eine 3er-Pedaleinheit enthalten ist. Ebenfalls gibt es das B2N, das mit der gleichen Funktionalität wie das B2 ausgestattet ist, aber seinen Fokus auf die besonders leichtgewichtete 88er Tastatur legt.
Wählen Sie einfach das Model aus, das am besten zu Ihnen und Ihren Bedürfnissen passt. Die volle Bandbreite an Optionen wie der zugehörige STB1 Ständer für B2/B2N und die PU-2 3er-Pedaleinheit sind ebenfalls separat erhältlich.
Das B2N kommt mit einer leichtgängigen Tastatur mit Grand Piano Feeling!
Suitable accessories (Not included in the delivery.)
Specification
| | |
| --- | --- |
| Lautsprecher integriert | Ja |
| Anzahl Pedale | 1 |
| Tastaturabdeckung | Nein |
| Begleitautomatik | Nein |
| USB to host | Ja |
| Lautsprecher | Ja |
| Oberfläche (glänzend/matt) | Satiniert |
| Kopfhöreranschluss | Ja |
| MIDI-Anschluss | Ja |
| Anzahl Styles | 0 |
| USB to device | Ja |
| Farbe | Schwarz |
| Anzahl Voices | 12 |
| Display | Nein |
| Konsole | Nein |
| Lesson-Funktion | Nein |
| max. Polyphonie | 120 |
| Anzahl Tasten | 88 |
| Set inkl. Zubehör | Nein |
| Verstärkerleistung in Watt (RMS) | 30 |
| Aufnahmefunktion | Nein |
| Holz-/Teilholztastatur | Nein |
Reviews
Questions about product
No questions have yet been asked about this article.
Your question about the article Korg B2N Digitalpiano Schwarz
Your question will be forwarded directly to the department and answered as soon as possible.
Variants
Accessories
Also available as set!
Korg B2N Digitalpiano Set Schwarz
| | | |
| --- | --- | --- |
| 1 x | Korg B2N Digitalpiano Schwarz | 379,00 € |
| 1 x | Classic Cantabile X-Keyboard stand double braced | 36,99 € |
| 1 x | Classic Cantabile KH-238 Headphones | 29,99 € |
| 1 x | Michael Schwager, Getting started is easy, Piano school + DVD and CD | 14,99 € |
| | |
| --- | --- |
| instead of individually | 460,46 € |
| You save (27,2 %) | 125,46 € |
| Your price | 335,00 € |
Customers also bought
product video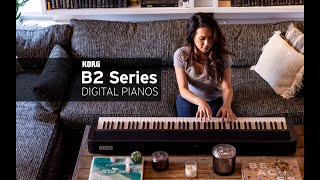 Your contact persons
The hotline is currently not manned. You can reach us again on Tuesday, 24.11.2020 at 09:30.
| | |
| --- | --- |
| Monday - Friday | 09:30 - 18:00 |
| Saturday | 09:30 - 13:30 |
| Sunday | closed |