Nord Piano 4 - preisgerkrönte Keyboard-Technologie & Premium-Tastatur, für ein völlig neues Spielerlebnis!
Die vierte Generation unserer preisgekrönten Piano-Serie kombiniert eine stark erweiterte Stimmen-Polyphonie, eine Premium-Triple-Sensor-Tastatur und unsere gefeierte Virtual Hammer Action-Technologie für ein ultimatives Piano-Erlebnis.
Das Nord Piano 4 enthält außerdem brillante neue Leistungsmerkmale wie Seamless Transitions, spezielle Piano-Filter und Split Point Crossfades, die ein live fokussiertes Keyboard mit außergewöhnlichem Piano-Feeling liefern.
Performance
Das Nord Piano 4 verfügt über spezielle Knöpfe und Tasten für alle wichtigen Funktionen, die für eine Live-Performance erforderlich sind. Das Transponieren, das Einrichten eines Splitpunkts oder das Erstellen eines mehrschichtigen Sounds kann in Sekunden erfolgen.
Nahtlose Übergänge
Das Nord Piano 4 bietet nahtlose Übergänge beim Wechseln von Sounds oder Programmen während des Spielens.
Ebenen und erweiterte Split-Point-Funktionalität
Das Nord Piano 4 verfügt über zwei Klangbereiche, die in einer Ebene kombiniert oder über die Tastatur verteilt werden können. Jeder der Sound-Bereiche kann spezifische Effekte, Volume-Pedal und / oder Sustain-Pedal zugewiesen haben. Das Piano 4 verfügt über 7 Split-Punkte, die mit LED-Lämpchen gekennzeichnet sind, und die neue Split-Point-Crossfade-Funktion, die mit der Stage 3 eingeführt wurde, bietet sanfte Übergänge zwischen zwei Split-Zonen. Wählen Sie aus 3 verschiedenen Crossfade-Breiten (Small, Large oder Off), die durch verschiedene LED-Farben angezeigt werden.
Raffinierter Programmabschnitt
Der erweiterte Organizer-Modus enthält Funktionen zum Kopieren / Einfügen und Verschieben, mit denen Sie Ihre Programme schnell an die gewünschte Reihenfolge anordnen können. Mit einer neuen Seitenansicht können Sie Seiten ganz einfach als Songliste sortieren und organisieren. Alle Programme, Pianos und Synth Samples können einfach mit der neuen einheitlichen Listenansicht navigiert werden, die alphabetische, numerische und kategorische Sortieroptionen bietet.
Ein optionaler neuer Ziffernblock-Modus ermöglicht Ihnen den sofortigen Zugriff auf Programme durch Eingabe der Programmnummer.
Die Klavierabteilung
Die erweiterte Piano-Sektion bietet eine große Auswahl unserer neuesten akustischen, elektrischen und digitalen Klaviere aus der exklusiven Nord Piano Library, eine stark erweiterte Stimmenpolyphonie und kreative neue Piano-Filter.
Fabrikbank
In der N ord Piano 4 Factory Bank finden Sie unsere neuesten Grands, Uprights, Electric Pianos und Digital Pianos aus der exklusiven Nord Piano Library - handverlesen für ihre einzigartigen Charaktere! Die hochmodernen Sampling-Techniken von Nord erfassen die außergewöhnlichen Nuancen und den wahren Charakter der Quelleninstrumente mit atemberaubendem Realismus.
Alle Sounds können einfach mit dem Nord Sound Manager ersetzt werden. Unsere exklusive Nord Piano Library wird ständig mit neuen einzigartigen Weltklasse-Sounds aktualisiert und ist immer kostenlos.
Erweiterte Saitenresonanz
Unsere einzigartige Advanced String Resonance reproduziert das komplizierte Zusammenspiel von Pianosaiten, die bei ihren Grund- oder Obertonfrequenzen resonieren, wenn andere Noten auf unseren Upright- und Grand Piano-Sounds gespielt werden.
Kreative Klavierfilter
Die Piano-Sektion bietet zusätzliche Klangregelung und verfügt nun über spezielle Piano-Filter zur Betonung von Weichheit, Mitten oder Brillanz.
Virtuelle Hammeraktionstechnologie
Die exklusive Virtual Hammer Action-Technologie, die mit Nord Piano 3 eingeführt wurde, simuliert die Hammerbewegungen eines Flügels, die eine herausragende Authentizität und Dynamik bieten. Mit dem Triple Sensor-Tastenbett können Tastenbewegungen mit erstaunlicher Präzision bestimmt werden. Das Ergebnis ist eine Tastaturaktion, die dynamisches Spielen mit erstaunlicher Kontrolle bei jeder Geschwindigkeitsstufe ermöglicht.
Wiederholungen
Mit der Nord Virtual Hammer Action Technology können Sie eine neue Note erzeugen, ohne den Schlüssel vollständig anzuheben. Dies ermöglicht sanftere Wiederholungen, da der Ton zwischen den Strichen nicht vollständig gedämpft wird, ähnlich wie bei fließenden Übergängen auf einem Flügel.
Erweiterter Triggerbereich
Die neue Keyboard-Technologie ermöglicht sowohl das Top- als auch das Bottom-Triggern, was zu einer erstaunlichen Kontrolle beim perkussiven Spielen wie auch beim Pianissimo mit halb gedrückten Tasten führt.
Mehr Gewicht
Das Tastenbett verfügt über ein zusätzliches Gewicht für eine verbesserte dynamische Kontrolle und bietet authentisches Piano-Feeling. Die einzelnen Fatar-Tastaturen werden im Nord-Werk akribisch kalibriert, um eine gleichmäßige Reaktion über den gesamten Bereich zu gewährleisten.
Nord Triple Pedal
Das mitgelieferte Nord Triple Pedal enthält Soft- und Sostenuto-Pedale sowie ein einzigartiges Dynamic Sustain Pedal. Das Triple Pedal ermöglicht außerdem die Pedal Noise-Funktion, die die mechanischen Geräusche beim Anheben und Lösen des Dämpfungsmechanismus dynamisch simuliert.
Soft Release
Ein Soft Release-Modus fügt eine etwas längere Release hinzu, die sich besser für Legato-Spiele eignet und eine lockerere Dämpferspannung in einem akustischen oder elektromechanischen Instrument nachahmt.
Dynamische Kurven
Je nach Spielstil stehen 3 dynamische Kurven zur Auswahl, von weich bis hart.
Die Sample Synth Sektion
Der Sample Synth-Bereich bietet erweiterten Speicher für die Nord Sample Library 3.0 und erweiterte Voice Polyphony.
Die Sample Synth Sektion enthält eine große Auswahl an hochwertigen Sounds aus der Nord Sample Library 3.0 inklusive der exklusiv lizensierten Sounds der legendären Mellotron und Chamberlin. Alle Sounds können schnell mit dem Nord Sound Manager ersetzt werden.
Der Sample Synth ist mit den wichtigsten Einstellungen für Attack, Decay / Release und Dynamik (Filter / Velocity) ausgestattet. Mit der einzigartigen Nord-Funktion können Sie Ihre eigenen Samples mit der kostenlosen Nord Sample Editor- Software für Windows und Mac erstellen.
Der Effektbereich
Die Effekt-Sektion bietet eine große Auswahl an sofort anpassbaren hochwertigen Stereo-Effekten, die nach klassischen Stomp-Boxen gestaltet sind. Alle Effekte können frei zur Piano oder Sample Synth Sektion zugewiesen werden.
Effekt 1: Pan, Tremolo, Wah-wah und Ring Modulator. Alle Effekte können mit einem Steuerpedal gesteuert werden
Effekt 2: Phaser, Flanger, Chorus, ein neuer Vibe-Effekt & zwei wählbare Tiefen für jeden Effekt
Delay: Stereo-Delay-Effekt mit Tap Tempo-Taste
Equalizer: Drei-Band-EQ mit Sweep-Mid
Compressor/Amp: Twin, JC, Small, Kompressor & einem neuen Tube Overdrive-Effekt
Master Effects: Reverb mit drei Modi - Room, Stage, Hall mit jeweils einer Bright-Option
Eingabe überwachen
Schließen Sie Ihren MP3- oder CD-Player an den Monitorausgang auf der Rückseite des Nord Piano 4 an, um mit vorher aufgenommener Musik zu spielen, zu proben oder zu jammen, ohne dass ein externes Mischpult oder Soundsystem erforderlich ist. Das Signal wird über den Kopfhörerausgang überwacht.
Steuerung / Lautstärke Pedale
Die Unterstützung für Control / Volume Pedal wurde verbessert und unterstützt jetzt die folgenden Pedale: Fatar, Yamaha FC7, Roland EV-7, Roland EV-5, Korg EXP2 und Korg XVP10.
Herausragende Klavier Erfahrung mit dem neuen Nord Piano 4!
Suitable accessories (Not included in the delivery.)
Specification
| | |
| --- | --- |
| Lautsprecher integriert | Nein |
| Anzahl Pedale | 3 |
| Begleitautomatik | Nein |
| Anzahl Tasten | 88 |
| Lautsprecher | Nein |
| Verstärkerleistung in Watt (RMS) | 0 |
| Oberfläche (glänzend/matt) | Satiniert |
| Kopfhöreranschluss | Ja |
| MIDI-Anschluss | Ja |
| Tastaturabdeckung | Nein |
| Farbe | Rot |
| USB to host | Ja |
| Display | Ja |
| max. Polyphonie | 120 |
| Konsole | Nein |
| Lesson-Funktion | Nein |
| Anzahl Styles | 6 |
| Set inkl. Zubehör | Nein |
| USB to device | Nein |
| Aufnahmefunktion | Nein |
| Anzahl Voices | 30 |
| Holz-/Teilholztastatur | Nein |
Reviews
Questions about product
No questions have yet been asked about this article.
Your question about the article Clavia Nord Piano 4
Your question will be forwarded directly to the department and answered as soon as possible.
Accessories
Customers also bought
product video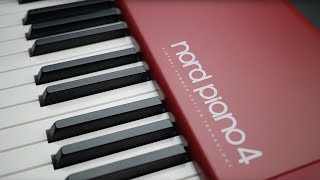 Your contact persons
Our specialists will be happy to advise you.
| | |
| --- | --- |
| Monday - Friday | 09:30 - 18:00 |
| Saturday | 09:30 - 16:00 |
| Sunday | Closed |