Clavia Nord Grand - the Grand Experience!
Das Nord Grand ist ist das neuste digitale Piano von Nord und bietet erstmals eine neue - von Nord modifizierte - Hammermechanik Tastatur von Kawai. Ausgestattet mit einer Dreifachsensorik, die alle Bewegungen der Hammermechaniken selber anstelle nur der Bewegung der Tasten erfasst und versehen mit Ivory Touch bietet diese Tastatur in Kombination mit der vom Piano 4 stammenden Klangerzeugung ein wirklich authentisches Spielgefühl und das Klangerlebnis eines echten Grand Pianos.
Das Nord Grand bietet 2 GB Speicher für die austauschbaren Klänge der Nord Piano Library und integriert zudem alle Performance-Merkmale des Nord Piano 4 wie das nahtlose Umschalten von Programmen, spezielle Piano-Filter sowie Split-Point-Crossfades und präsentiert sich mit seinem neuen Designansatz sowohl für das Wohnzimmer und das Studio als auch den Live-Einsatz.
Das Digitalpiano verfügt über eine hochwertige, gewichtete Klaviatur mit einer fortschrittliche Dreifachsensorik, die alle Bewegungen der Hammermechaniken mit absoluter Präzision einfängt und damit das authentische und natürliche Spielgefühl eines akustischen Flügels erreicht. Dank unserer preisgekrönten Ausstattungsmerkmale und einer benutzerfreundlichen Oberfläche überzeugt das leichte Nord Grand nicht nur durch ein außergewöhnliches Spielerlebnis, sondern präsentiert sich zudem als attraktiver neuer Ansatz für unsere Stage-Piano-Serie.
Anschlagsempfindliche Hammerklaviatur von Kawai mit Ivory Touch
Die perfekt ausgewogene Klaviatur mit ihrer schnell ansprechenden Dreifachsensorik verfügt über eine fortschrittliche Mechanik, die eine außergewöhnliche Kontrolle ermöglicht, sei es für perkussives Spiel oder auch für Pianissimo-Passagen mit fließenden Repetitionen und Noten, die ohne vollständiges Loslassen der Tasten neu angeschlagen werden. Durch die Oberfläche mit Ivory Touch überzeugt die Klaviatur zudem durch ein optimales Spielgefühl und eine hohe Authentizität.
Piano Sektion
Das Nord Grand enthält eine umfangreiche Auswahl an einzigartigen Flügeln, Klavieren sowie E- und Digitalpianos aus der exklusiven Nord Piano Library. Die Hauptmerkmale der Piano-Sektion:
2 GB Speicher für die Nord Piano Library
120-stimmige Polyphonie
Advanced String Resonance
Nord Triple Pedal mit Dynamic Pedal Noise
Kreative Piano-Filter
Drei Dynamik-Kurven von Light bis Heavy
Soft Release
Alle Sounds können ersetzt werden
Werksbank
Die Werksbank des Nord Grand enthält 10 Flügel, 9 Klaviere, 10 Enhanced Electric Pianos, Clavinets, Digitalpianos und vieles mehr aus unserer exklusiven Nord Piano Library: Diese Modelle wurden aufgrund ihres einzigartigen Charakters ausgewählt! Dank der modernen Sampling-Technologien von Nord werden alle spezifischen Nuancen und Charaktereigenschaften des Quellinstruments mit atemberaubender Authentizität abgebildet.
Alle Sounds können über den Nord Sound Manager problemlos ausgetauscht werden. Die exklusive und für unsere Kunden stets kostenfreie Nord Piano Library wird permanent mit neuen Sounds aktualisiert, die ebenso einzigartig wie erstklassig klingen.
Advanced String Resonance
Nords einzigartige Advanced String Resonance reproduziert das komplexe Zusammenspiel der Piano-Saiten, die durch andere mit unseren Grand- und Upright-Piano-Sounds gespielte Noten angeregt werden und auf dem Grund- oder einem Oberton mitschwingen. Zudem verleiht sie dem Klang das typisch intensive Resonanzverhalten eines echten Pianos, wenn es mit gehaltenem Pedal gespielt wird.
Nord Triple Pedal mit Dynamic Pedal Noise
Das im Lieferumfang enthaltene Nord Triple Pedal verfügt über Soft- und Sostenuto-Pedale sowie ein einzigartiges Dynamic Sustain Pedal. Das Triple Pedal aktiviert zudem unsere Pedal-Noise-Funktion, die für eine dynamische Simulation der charakteristischen Geräusche beim Anheben und Absenken der Dämpfer-Mechanik sorgt.
Sample-Synth-Sektion
Die Sample-Synth-Sektion enthält eine große Auswahl an Strings, Brass, Synths, Choirs und viele andere hochwertige Sounds aus der Nord Sample Library 3.0. Die umfangreiche Sound-Auswahl aus der Nord Sample Library 3.0 beinhaltet die exklusiv lizensierten Sounds der legendären Mellotron- und Chamberlin-Instrumente. Alle Sounds können über den Nord Sound Manager schnell ausgetauscht werden.
Der Sample-Synth bietet Bedienelemente für alle wichtigen Funktionen wie Attack, Decay/Release und Dynamics (Filter/Velocity) sowie separate Category-Tasten zur schnellen Navigation und Auswahl von Sample-Sounds. Mit dem kostenfreien Nord Sample Editor für Windows und Mac haben Sie die Möglichkeit, eigene Samples zu erzeugen.
Hauptmerkmale der Sample-Sektion:
512 MB Speicher für die Nord Sample Library 3.0
Grundlegende Bedienelemente für Attack, Decay/Release und Dynamics
Alle Sounds können ersetzt werden
Effekt-Sektion
Die Effect-Sektion bietet eine große Auswahl an hochwertigen, direkt steuerbaren Stereo-Effekten, die auf Basis klassischer Bodeneffekte emuliert wurden. Alle Effekte können den Sektionen Piano oder Sample-Synth nach Bedarf zugewiesen werden. Die Effect-Sektion des Nord Grand enthält die Module Tremolo, Phaser, Chorus, Pan, Wah, RM, Flanger, Vibe, EQ, Delay und Reverb. Für den Reverb-Effekt stehen die drei unterschiedlichen Typen Hall, Stage und Room zur Auswahl, für die jeweils ein Bright-Modus aktiviert werden kann.
Effekt 1 - Pan, Tremolo, Wah-Wah und Ring Modulator. Alle Effekte können mit einem Control Pedal gesteuert werden
Effekte 2 - Phaser-, Flanger-, Chorus-, Vibe-Effekt und zwei wählbare Tiefen für jeden Effekt
Delay - Stereo-Delay-Effekt mit Tap-Tempo-Taste
Equalizer - Drei-Band-EQ mit schwenkbarem Mid
Compressor/Amp - Twin, JC, Small, Compressor und einem Tube-Overdrive-Effekt
Master Effects - Reverb mit drei Modi: Room, Stage und Hall mit jeweils einer Bright-Option
Kompatibel mit den Nord Piano Monitoren
Die Nord Piano Monitorlautsprecher können (mit Hilfe der optional erhältlichen Monitor-Halterungen) direkt am Nord Grand angebracht werden und sorgen dann für das ultimative Hörerlebnis im Nahfeld.
Leistungsstark & stylisch - die perfekte Kombination, fürs Wohnzimmer, Studio und den Live-Einsatz!
Suitable accessories (Not included in the delivery.)
Specification
| | |
| --- | --- |
| Tastaturabdeckung | Nein |
| USB to host | Nein |
| Set inkl. Zubehör | Nein |
| Aufnahmefunktion | Ja |
| Begleitautomatik | Nein |
| Kopfhöreranschluss | Ja |
| MIDI-Anschluss | Ja |
| Anzahl Styles | 0 |
| USB to device | Ja |
| Farbe | Rot |
| Holz-/Teilholztastatur | Nein |
| Konsole | Ja |
| Verstärkerleistung in Watt (RMS) | 0 |
| Lesson-Funktion | Nein |
| max. Polyphonie | 120 |
| Anzahl Tasten | 88 |
| Anzahl Voices | 166 |
| Oberfläche (glänzend/matt) | Satiniert |
| Display | Ja |
| Lautsprecher | Nein |
| Lautsprecher integriert | Ja |
| Anzahl Pedale | 3 |
Reviews
Questions about product
No questions have yet been asked about this article.
Your question about the article Clavia Nord Grand
Your question will be forwarded directly to the department and answered as soon as possible.
Accessories
product video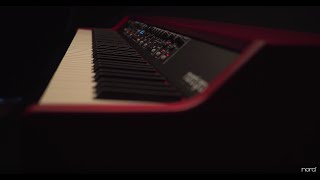 Your contact persons
The hotline is currently not manned. You can reach us again on Tuesday, 24.11.2020 at 09:30.
| | |
| --- | --- |
| Monday - Friday | 09:30 - 18:00 |
| Saturday | 09:30 - 13:30 |
| Sunday | closed |