Get personal advice now!
The hotline is currently not manned. You can reach us again on Saturday, 03.06.2023 at 09:30.
USB/MIDI Controller mit 49 Tasten & umfangreichem Softwarepaket!
Keystation 49 MK3 von M-Audio ist ein einfacher, leistungsfähiger MIDI Controller zur Steuerung von DAWs und zum Spielen von virtuellen Instrumenten auf dem Mac oder PC. 49 anschlagdynamische Tasten und zahlreiche nützliche Bedienelemente erweitern die musikalischen Ausdrucksmöglichkeiten und verbessern den Workflow bei der Aufnahme. Dank Oktavwahltasten, Pitch-Bend- und Modulationsrad, sowie Transporttaster können Sie Ihre Musiksoftware nutzen, ohne zur Maus greifen zu müssen.
Natürliches Spielgefühl
Keystation 49 MK3 ist trotz seiner robusten Ausführung ein Leichtgewicht. Daher eignet es sich perfekt für tourende Musiker oder Produzenten, die einen intuitiven MIDI Controller mit natürlichem Spielgefühl für ihr Studio benötigen. Keystation 49 MK3 ist Class-Compliant, unterstützt USB-MIDI Verbindungen und wird einfach über USB mit Strom versorgt. Über das Apple iPad Camera Connection Kit (separat erhältlich) ist Keystation 49 MK3 iOS-kompatibel und kann z.B. zusammen mit Audio-Apps auf dem iPad oder einem anderen iOS Gerät genutzt werden.
Umfangreiches Softwarepaket inklusive
Im Lieferumfang der Keystation 49 MK3 ist ein umfangreiches Softwarepaket enthalten. Wählen Sie zwischen den zwei Audio Workstations Ableton Live Lite und MPC Beats. Mit Mini Grand und Velvet erhalten Sie hochwertige virtuelle Pianos und mit Xpand!2 eine multitimbrale All-In-One Workstation.
AIR Music Technology Mini Grand
Mini Grand ist ein unkomplizierter und dennoch leistungsstarker virtueller Piano-Sampler mit sieben unterschiedlichen akustischen Klavieren. Die integrierte Raumsimulation, Re-Pedaling Technologie zur Steuerung des Resonanzverhaltens der Saiten, Dynamikeinstellung und einstellbares Tuning sorgen für ein super realistisches Spielgefühl.
AIR Music Technology Velvet
AIR Music's Velvet ist ein virtuelles E-Piano welches fünf Legendäre E-Pianos der 60er und 70er kombiniert. Diese basieren auf einem Fender Rhodes Suitcase, Fender Rhodes MK I und MK II, Wurlitzer 200A und Hohner Pianet-T. Velvet ist die akkurate Emulation dieser klassischen und populären Pianos.
Ableton Live Lite
Ebenfalls im Softwarepaket von Keystation 49 MK3 enthalten ist die beliebte Performance- und Produktionssoftware Ableton Live Lite. Diese leistungsstarke Software zur Musikerstellung ermöglicht spontanes Komponieren, Aufnehmen, Remixen und Bearbeiten von musikalischen Ideen in einer nahtlosen Audio- / MIDI- Umgebung - sowohl im Studio als auch auf der Bühne. Die Ergebnisse können abgespeichert und abgemischt werden.
AIR Music Technology Xpand!2
Xpand!2 ist eine multitimbrale All-In-One Workstation mit vier vollständig unabhängig steuerbaren Kanälen. Es ist die ideale, intuitive Plattform zum Entwickeln neuer Klänge. Xpand!2 spielt Samples ab, verfügt aber auch über Subtractive Synthesis, FM Synthesis und Tonewheels. Im Lieferumfang sind bereits über 2500 Presets des AIR Music Technology Teams aus allen Kategorien enthalten. Zwei digitale Effektprozessoren mit 50 editierbaren Effekttypen runden dieses fortschrittliche Instrument ab.
Skoove
Mit Skoove lernen Sie interaktiv das Klavierspiel mit hunderten, interaktiven und hochwertigen Online-Klavierstunden für Anfänger und Fortgeschrittene. Skooves einzigartige Methode führt Sie mit Echtzeit-Feedback während Sie spielen, wodurch Sie schneller Fortschritte machen und alles lernen was Sie benötigen um ein Pianist zu werden.
Melodics
Melodics vereint eine benutzerfreundliche, intuitive und inspirierende Benutzeroberfläche, die durch einzigartiges adaptives Lernen, motivierende Mechanik und individuelle Herausforderungen unterstützt wird und die Benutzer dazu anregt, verschiedene Techniken, Konzepte und Genres zu erlernen - mit jeder Sitzung bauen Sie Ihr Muskelgedächtnis auf, verbessern Ihre Technik und, was am wichtigsten ist, die Beherrschung Ihres Controllers.
2 GB Sound Library von Touch Loops
Mit Sitz in Los Angeles und London stattet Touch Loops seine Kunden mit den modernsten Klangelementen, Instrumenten, Hardware- und Software-Aufnahmen aus, die von einem Team professioneller Musikproduzenten und Sounddesignern professionell erstellt werden. Die bei Keystation 49 II enthaltene 2 GB Samplelibrary enthält mehr als 500 Sounds mit allem, was Sie brauchen von One-Shot Drum-Hits über melodische Loops bis hin zu tiefen, treibenden Bässen.
Der intuitive MIDI-Controller für tourende Musiker & Produzenten!
Specification
Product number

00056992

Number of Keys

49

Colour

Black
Reviews
| | | |
| --- | --- | --- |
| 5 Stars | | 4 |
| 4 Stars | | 0 |
| 3 Stars | | 0 |
| 2 Stars | | 0 |
| 1 Star | | 0 |
A verification of the ratings has taken place as follows: Only customers who are registered in our online store and have actually purchased the product from us can submit a rating for the item in the customer account.
No questions have yet been asked about this article.
Product Video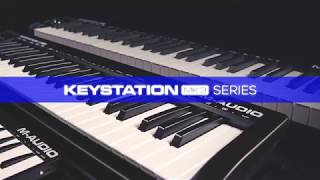 Your contact persons
The hotline is currently not manned. You can reach us again on Saturday, 03.06.2023 at 09:30.
| | | |
| --- | --- | --- |
| Friday | 09:30 - 18:00 | |
| Saturday | 09:30 - 13:30 | |
| Monday | 09:30 - 18:00 | |
| Tuesday | 09:30 - 18:00 | |
| Wednesday | 09:30 - 18:00 | |
| Thursday | Closed | |