Get personal advice now!
The hotline is currently not manned. You can reach us again on Wednesday, 22.03.2023 at 09:30.
Akai MPK Mini MK3 Black - das Beste jetzt noch besser!
Dein Einstieg in die Welt der professionellen Produktion beginnt hier. Akai Professional präsentiert das MPK mini MK3, die dritte Version des weltweit meistverkauften 25-Minitasten Plug & Play USB-MIDI Keyboard Controllers, der neu definiert hat, wie eine Generation von Kreativen Musik macht.
Alles, was sich der moderne Musikproduzent wünscht, ist hier enthalten: Universelle Kompatibilität für die sofortige Integration mit deiner bevorzugten Host-App für die Musikproduktion; das kompakte Format macht es zu einem idealen Reisebegleiter; dank seinem Arsenal an Beat Pads, einem Arpeggiator, MPC Note Repeat & Full Level, einem 4-Wege Joystick und MIDI-zuweisbaren Bedienelementen übernimmst du die volle Kontrolle über jeden Aspekt deiner Produktion; die neue, dynamische Gen 2 Klaviatur sorgt dafür, dass deine Performance mit jeder subtilen Nuance wiedergegeben wird.
Für Einsteiger ist MPK mini ein Komplettpaket mit allem, was man braucht, um den nächsten Hit von Anfang bis Ende zu erschaffen. Für professionelle Produzenten ist MPK mini wie ein Schweizer Messer, geeignet für jede musikalische Aufgabe. Lass deine alten Hindernisse hinter dir und beginne deinen nächsten Song mit MPK mini.
Ultimativer Performer
Neu beim MPK mini ist die überarbeitete, dynamische Gen 2 Klaviatur, die auch anspruchsvolle Keyboardspieler zufriedenstellen wird. Vom Konzertflügel bis zu schneidenden Synth-Melodien, diese Klaviatur holt das Beste aus jedem Spielstil heraus.
MPC Pad Power
Verleihe deinen Drum Tracks eine menschliche Note mit den 8 Pads, die identisch mit den Pads der Flaggschiff-MPCs sind. Diese bankfähigen, anschlagsdynamischen und hintergrundbeleuchteten MPC-Pads bieten eine perfekte Ansprache für präzises Drumming und Sample-Playback.
Taktile Kontrolle über deine Produktion
Die MPK mini Drehregler bieten dir die unmittelbare Kontrolle über jeden zuweisbaren Parameter deiner Musik-App. Passe den EQ an, ändere jederzeit deine Synth-Sounds, mache den Reverb "nasser" und mische bis zur Perfektion ab. Ganz gleich, was du steuern möchtest, hier ist es zur Zuweisung bereit.
Immer das wichtigste Feedback im Blick
MPK mini besitzt ein OLED Display, das wichtiges visuelles Feedback über die Auswahl des DAW-Modus, die Geschwindigkeit, CC und mehr liefert. Mit MPK mini kannst du dich ganz auf die Musik konzentrieren und weniger auf den Computermonitor.
Alle Tools, die du dir wünschst
Note Repeat, Arpeggiator und der 4-Wege Joystick sind inzwischen klassische MPK mini Features, und natürlich auch im MPK mini mk3 vorhanden. So hast du die volle Flexibilität, damit jede Performance einzigartig wird.
Überlegenes Design, robuste Verarbeitung
Die vollständige Überarbeitung des MPK mini hat zu einem echten Premium-Produkt geführt. Mit einer soliden Verarbeitung, dem mobilen Design, der Plug-and-Play Verbindung und einem Workflow-orientierten Layout entfernt MPK mini alle Hindernisse, die deiner Kreativität im Weg stehen könnten.
Complete Music Production Starter Kit
Deine Reise zum Hit-Song beginnt mit MPK mini und das Complete Music Production Starter Kit weist dir dabei den Weg. Starte mit einer DAW, die auf dem legendären MPC-Workflow basiert, füge die Drum- und Sample Expansion Packs hinzu, die auch Branchenveteranen nutzen, und verleihe den letzten Feinschliff mit den vielseitigsten virtuellen Instrumenten auf dem Markt - die Möglichkeiten sind endlos.
Erschaffe den Sommerhit des Jahres, lasse weltweit die Herzen mit deiner nächsten Ballade höherschlagen, oder entwickle den Soundtrack einer Generation. MPK mini gibt dir alle nötigen Tools an die Hand, um dein Ziel zu erreichen. Im Softwarepaket enthalten sind u.a. MPC Beats, AIR Hybrid, Mini Grand, Velvet und ausgewählte MPC Expansion Packs.
MPC Beats Software
Ganz gleich, welches musikalische Ziel du dir setzt, mit MPC Beats findest du den perfekten Einstieg. Mit den besten Teilen des legendären MPC-Workflows bietet MPC Beats alle essenziellen Tools für eine professionelle Produktion. Bearbeite Samples, mische Tracks mit Effekten von Weltklasse ab, finde jeden Sound mit der gleichen Synth-Engine wie in Akai's legendären MPCs, nimm Audio auf und noch viel mehr.
MPC Beats hostet deine AU/VST Plugins - während du dein musikalisches Arsenal erweiterst, hast du volle Kompatibilität mit branchenüblichen, virtuellen Studiotechnologien. Du willst mit einem Freund zusammenarbeiten? MPC Beats öffnet sich als Plugin in jeder DAW. Starte deinen nächsten Track mit MPC Beats und bringe deine Musik genau dorthin, wo du sie hinführen möchtest.
Sounds
Hebe deine Produktion auf ein professionelles Niveau mit einer Sample-Kollektion von führenden Sounddesignern der Branche, u.a. F9 Instruments, Decap, Sample Tools by Cr2, MSX Sound Design und viel mehr. Alles, was du dafür brauchst, ist hier enthalten: Erstklassige und vielseitige Kickdrums, Snares, 808s, melodische Loops und begehrte Keygroup-Instrumente, um jede auch nur vorstellbare Melodielinie realisieren zu können.
Der weltweit meistverkaufte Keyboard Controller kehrt zurück, mit einem kompletten Einsteigerpaket für die Musikproduktion!
Specification
| | |
| --- | --- |
| Product number | 00070331 |
| Number of Keys | 25 |
| Colour | Black |
Reviews
| | | |
| --- | --- | --- |
| 5 Stars | | 3 |
| 4 Stars | | 1 |
| 3 Stars | | 0 |
| 2 Stars | | 0 |
| 1 Star | | 0 |
A verification of the ratings has taken place as follows: Only customers who are registered in our online store and have actually purchased the product from us can submit a rating for the item in the customer account.
Questions about product
Kann das Gerät auch unterwegs Geräusche aufnehmen? Wenn dieses nicht, welches können sie mir empfehlen.Es sollte aber auch soweit es geht das gleiche können wie AKAI Professional MPK Mini Play.
Vielen Dank für die Mühe
Question by Anne on 05.10.2020
Answer by Timo Kammerer - Musikhaus Kirstein
Mit der MPC Beats Software lassen sich Signale auch unterwegs aufnehmen. Dazu brauchst Du lediglich einen Laptop oder Ähnliches.
Your question about the article Akai Professional MPK Mini MK3 Black
Your question will be forwarded directly to the department and answered as soon as possible.
Product Video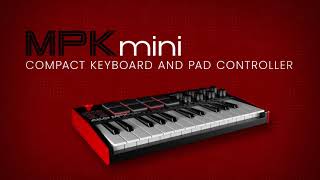 Your contact persons
The hotline is currently not manned. You can reach us again on Wednesday, 22.03.2023 at 09:30.
| | | |
| --- | --- | --- |
| Wednesday | 09:30 - 18:00 | |
| Thursday | 09:30 - 18:00 | |
| Friday | 09:30 - 18:00 | |
| Saturday | 09:30 - 13:30 | |
| Monday | 09:30 - 18:00 | |
| Tuesday | 09:30 - 18:00 | |