Akai's All-In-One Performance Keyboard Controller mit 25 Tasten!
Als Performance Pad und Keyboard Controller vereint Akai Professional MPK225 tiefgreifende Software Integration, einen verbesserten Workflow und die Technologie der legendären MPC Workstations in einem Gerät. Jedes Modell der MPK Serie bietet umfassende Möglichkeiten zur Steuerung von virtuellen Instrumenten, Effekt PlugIns und DAWs.
25 semigewichtete Tasten mit Aftertouch, 8 zuweisbare Regler, 4 hintergrundbeleuchtete Tasten, 8 Pads im MPC-Stil mit RGB Feedback und integrierte Transporttaster zählen zu den herausragenden Features des MPK225. Drei Bänke erweitern die Anzahl der Regler auf bis zu 24 und Schalter auf bis zu 12, während die vier Pad Bänke die Anzahl der Pads auf insgesamt 32 erhöhen. Dank Plug-and-Play und USB-Spannungsversorgung kann MPK225 schnell und einfach mit dem PC oder Mac verbunden werden. Ein Stromsparmodus für den iOS Betrieb über das Camera Connection Kit wird ebenfalls geboten.
Klassisches Spielgefühl
Die hochwertige Tastatur bietet 25 semigewichtete Tasten in Standardgröße, eine exzellente Ansprache und ein natürliches Spielgefühl. Anschlagdynamik und Aftertouch sorgen für ein ausdrucksvolles Spiel. Integrierte Oktavwahlschalter erlauben den Zugriff auf den vollen Notenumfang.
Echte MPC Funktionalität
MPC Note Repeat und MPC Full Level erweitern die kreativen Gestaltungsmöglichkeiten. Mit dem MPK225 können Musiker und Komponisten echten MPC Workflow in ihre Produktionen einbringen und professionelle Funktionen nutzen. Ein Arpeggiator mit anpassbarer Auflösung, Reichweite und Patterns ermöglicht die mühelose Realisierung komplexer Melodien.
Software zur Musikproduktion
MPK225 ist mit einem leistungsfähigen Softwarepaket zur Musikproduktion ausgestattet - inklusive Ableton Live Lite und MPC Essentials. Mit Ableton Live können Musiker und Produzenten spontan komponieren, aufnehmen, remixen und musikalische Ideen in einer nahtlosen Audio/MIDI Umgebung bearbeiten.
MPC Essentials ist eine Software für Sample Triggering und zur Groove-/Beat-Produktion. Sie lässt sich direkt in jede DAW integrieren, wie zum Beispiel Ableton Live Lite, und ist ebenso Standalone lauffähig. Zusätzlich vergrößert MPC Essentials den Umfang der Pad Bänke um weitere 8 und bietet 4 Samples und Insert Effekte pro Pad.
Virtuelle Instrumente
MPK225 enthält zwei virtuelle Synthesizer. Hybrid 3 von AIR Music Tech ist ein vielseitiger virtueller Synthesizer, der die warmen Klangeigenschaften legendärer Analog-Synths mit den Möglichkeiten der digitalen Ära verbindet. Mit SONiVOX Twist, dem Spectral Morphing Synthesizer, können Sounds schnell über eine übersichtliche Benutzeroberfläche erschaffen werden.
Willkommen in der Welt der VIP Music Software
VIP 3.1 revolutioniert die Art und Weise, wie du Musik produzierst. VIP bietet dir einen beispiellosen Zugriff auf deine virtuelle Instrumenten- und Effektsammlung und eine nahtlose Integration in die Hardware-Umgebung in einem benutzerfreundlichen intuitiven Format. Die Kombination von VIP 3.1 und einem kompatiblen Controller maximiert den Workflow und sichert ein natürliches, kreatives Spielerlebnis, welches das taktische Gefühl von Hardware mit der unerreichten Rechenpower von virtuellen Instrumenten verschmilzt.
Die Neuheiten auf einen Blick:
Macros - Jetzt kann jeder Regler oder Taster in der Multi-Ansicht der Control View bis zu acht einzelne Parameter steuern
MIDI Filter - Jeder Part in einem Multi kann jetzt eingehende MIDI-Daten filtern - zum Beispiel können Benutzer mit dem MIDI-Filter jetzt die Pitch-Bend- und Modulations-Meldungen aus dem Piano-Part und die Sustain-Pedal-Nachricht vom Lead-Part herausfiltern
Erweiterte Routing Möglichkeiten - Jetzt können Benutzer die virtuellen Audio-Ausgänge von VIP Global auf die physischen Ausgänge routen
Verbesserungen der Setlist Funktion - Songs in einer Setlist können jetzt einen vorher festgelegten BPM Wert haben
Velocity Ranges - Benutzer können jetzt Parts in einem Multi so konfigurieren das diese unterschiedliche Velocity-Bereiche haben
Replace Patch - Benutzer können nun Änderungen mit der Funktion "Replace Patch" speichern die an einem Patch vorgenommen wurden
Mackie Control Support - Die Standalone VIP Applikation unterstützt jetzt die Steuerung der Level-, Pan-, Mute-, Solo und Part-Auswahl über das Mackie Control-Protokoll.
Einfache Integration, verbesserter Workflow
Ändere nicht deine Arbeitsweise, verbessere sie mit VIP. Der revolutionäre Virtual Instrument Player lässt dich deine VST-Instrumente direkt über dein Keyboard spielen und deine VST Effekte steuern. VIP funktioniert als VST, AU oder AAX Plugin für praktisch jede digitale Produktionsumgebung oder als ultra-stabile Standalone Anwendung, ideal für Live Performances. Die Software integriert sich nahtlos in dein aktuelles Setup, maximiert deinen Workflow und öffnet eine neue Welt von unentdeckten kreativen Möglichkeiten.
Uneingeschränkter Zugang
Durchforste deine VST Patches und erstelle deine eigenen Presets. VIP leitet die wichtigsten Parameter direkt an dein VIP-kompatibles Keyboard weiter und liefert einen sofortigen Direktzugriff des Instruments oder Effekts. Spiele deine virtuellen Instrumente ab sofort wie "echte" Instrumente - ohne jegliche händische Controller-Zuweisungen.
Intelligenter Patch Browser
Der Kern von VIP ist ein intelligenter Patch-Browser, welcher alle Sound Patches der vorhandenen VST-Instrumente und Effekte zentralisiert katalogisiert. Patches können Plugin-übergreifend direkt vom Keyboard ausgewählt, gespielt und gelayert werden. Durch Benutzung des internen Patch Browsers findest du schnell den richtigen Sound anhand von Filter- und Suchoptionen. Wähle einfach das passende Preset nach Instrument Typ, Klangfarbe, Style oder Artikulation aus.
Die Power eines Multis
Eine integrierte Multi-Patch Funktion ermöglicht das Kreieren von neuen Sounds durch die Kombination von acht verschiedenen Patches. Individuelle Keyboard-Splits, individuelle Transpositionen sowie direkter Zugriff auf diese Einstellungen im Performance Mode über die Bedienelemente eines VIP-kompatiblen Keyboards runden die Funktion ab.
Effekt Stacks
Erweitere die klanglichen Möglichkeiten deiner VST Sammlung mit VIP's ultra-intuitiven Effekt Stacks. Lade bis zu 4 Send- und Insert Effekt pro Instrumenten-Kanal in VIP, um den perfekten Sound zu formen - alles direkt von deinem Keyboard.
Stage Ready - integrierte Set-List Funktion
Über die Set-List-Funktion können Patch-Playlisten für deinen Auftritt erstellt werden. So lassen sich etwa bei Live Performances für jeden Song unterschiedliche Settings per Knopfdruck laden, ohne dafür auf den Computer zuzugreifen.
Der VIP Store
Vermisst du einen bestimmten Sound, der deine Produktion auf das nächste Level bringt? Finde ihn im VIP Store, welcher VSTs, Erweiterungen und Sound Packs von einigen der größten Namen in der Musikindustrie enthält. Entfessele dein kreatives Potential und erweitere deine Klangpalette! Der integrierte VIP Store bietet dir Zugriff auf unzählige Premium VST-Instrumente von führenden Software-Herstellern zum Vorhören, Testen und Kaufen. Inklusive Spitfire Audio, FXpansion, Sample Logic, AIR Music Technology, Reveal Sound, Fab-Filter, Loop-Masters, Plugin Boutique und vielen weiteren.
VIP Ready Controller
VIP Ready Controller bieten dir alle Vorteile eines VIP Controllers, verfügen jedoch nicht über ein hochauflösendes Farbdisplay, welches dir jederzeit die aktuellen Werte und Plugins anzeigt.
Performance Keyboard Controller mit virtuellem Instrumenten-Player für VST-Instrumente & Effekte!
Reviews
| | | |
| --- | --- | --- |
| 5 Stars | | 4 |
| 4 Stars | | 0 |
| 3 Stars | | 0 |
| 2 Stars | | 0 |
| 1 Star | | 0 |
Questions about product
No questions have yet been asked about this article.
Your question about the article Akai Professional MPK 249
Your question will be forwarded directly to the department and answered as soon as possible.
B-Stock Bargains.
This product is also available as b-stock:
Variants
Accessories
Product Video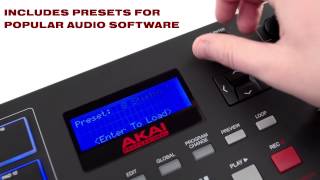 Your contact persons
The hotline is currently not manned. You can reach us again on Thursday, 02.12.2021 at 09:30.
| | | |
| --- | --- | --- |
| Wednesday | 09:30 - 18:00 | |
| Thursday | 09:30 - 18:00 | |
| Friday | 09:30 - 18:00 | |
| Saturday | 09:30 - 13:30 | |
| Monday | 09:30 - 18:00 | |
| Tuesday | 09:30 - 18:00 | |