Get personal advice now!
The hotline is currently not manned. You can reach us again on Saturday, 02.12.2023 at 09:30.
Shure SLX-D - Überzeugende Performance, immer und überall!
Ihrer Performance sollte nichts im Wege stehen. Ob Präsentation, Vortrag oder Entertainment - Ihre Beziehung zu Ihrem Publikum ist einzigartig. Die digitalen SLX-D Drahtlossysteme überzeugen durch Ihre Zuverlässigkeit und können flexibel an verschiedene Anforderungen angepasst werden, von der ganztägigen Konferenz bis zur Vorstellung am Abend.
SLX-D ist ein skalierbares System mit vielen Konfigurationsmöglichkeiten, das transparente, digitale 24-Bit-Klangqualität, absolut zuverlässige HF-Performance und eine einfache Einrichtung und Bedienung bietet. Das System ermöglicht die Nutzung von bis zu 32 kompatiblen Kanälen pro Frequenzband bei 44 MHz Schaltbandbreite(regionsabhängig). Das Ladezubehör für den optionalen Akkubetrieb ist separat erhältlich.
Die Serie umfasst 1-Kanal-Empfänger im Halb-19-Zoll-Format und 2-Kanal-Empfänger im 19-Zoll-Format, Hand- und Taschensender sowie eine große Auswahl an Mikrofonen für Gesangs- und Sprachanwendungen oder für Instrumente einschließlich Lavaliermikrofone und Headsets. SLX-D ist kompatibel mit umfangreichem Shure UHF-Zubehör wie Antennen und Antennensplittern. Weitere Frequenzbänder sind auf Anfrage möglich.
SLXD14/153T - Drahtlossystem mit SLXD1 Taschensender & MX153T Ohrbügelmikrofon (beige)
Das Drahtlossystem SLXD14/153T mit dem WL153T Lavaliermikrofon mit Kugelcharakteristik und SLXD1 Taschensender liefert transparente digitale Klangqualität und eine absolut zuverlässige HF-Performance für Bildungseinrichtungen und Live-Auftritte.
Klar und deutlich
Präsenter und transparenter Klang ist bei jedem Auftritt essentiell. SLX-D bietet kristallklare digitale Klangqualität mit einem Dynamikbereich von 120 dB.
Anschalten, synchronisieren, fertig
Spielend leichte Systemeinrichtung. Mit HF-Scan und IR-Sync im Handumdrehen den besten verfügbaren Kanal nutzen. Für eine noch einfachere Einrichtung bietet jeder SLX-D Empfänger die Guided Frequency Setup Funktion.
Für den großen Auftritt
Mit einer großen Auswahl an Handsender-, Lavalier-und Headset-Mikrofonenfür Sprache, Gesang und Instrumente sowie bis zu 32 kompatiblen Kanälen pro 44 MHz Frequenzband* eignet sich SLX-D auch für besonders anspruchsvolle Anwendungen.
*abhängig von Länderbestimmungen oder Umgebung
Keine Dropouts mehr
Die SLX-D Systeme ermöglichen eine stabile, effiziente Signalübertragung und absolut zuverlässige Performance.
Von der ersten bis zur letzten Sekunde
Bereit für ganztägige Konferenzen sowie die Vorstellung am Abend - bis zu 8 Stunden Laufzeit mit zwei AA-Batterien (enthalten) oder den separat erhältlichen Shure SB903 Lithium-Ionen-Akkus und Ladezubehör.
Sofort Einsatzbereit
Geradliniges Design und einfache Installation - Zubehör für Rackmontage ist im Lieferumfang enthalten. Zentrale Verwaltung mehrerer Systeme über Ethernet inklusive Group-Scan, Firmware-Updates und IP-basierter Fernsteuerungsschnittstelle (z.B. Crestron/AMX).
Ideal für Präsentationen, Live-Events & Festinstallationen mittlerer Größe!
Specification
Product number

00070527

Wireless transmitter

mit Bodypack, mit Headset

Frequencies

823 - 832 MHz

Colour

Black
Reviews
No questions have yet been asked about this article.
Product Video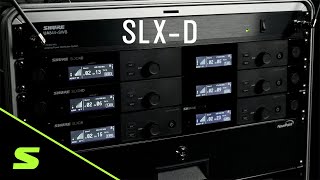 Your contact persons
The hotline is currently not manned. You can reach us again on Saturday, 02.12.2023 at 09:30.
| | | |
| --- | --- | --- |
| Friday | 09:30 - 18:00 | |
| Saturday | 09:30 - 16:00 | |
| Monday | 09:30 - 18:00 | |
| Tuesday | 09:30 - 18:00 | |
| Wednesday | 09:30 - 18:00 | |
| Thursday | 09:30 - 18:00 | |