Sennheiser evolution wireless G4 - Evolving with you!
Die vierte Generation von evolution wireless macht Profi-Drahtlos-Technik noch flexibler, noch einfacher, noch sicherer. Für Musiker, Filmemacher, Sprecher auf Kongressen und im Hörsaal: G4 ist ein System, das einfach mitwächst.
Das ultimative Drahtlos-System, das mit Ihnen wächst. Die vierte Generation der weltweit erfolgreichsten Sennheiser-Serie lässt in Sachen Flexibilität, einfachste Bedienung und Sicherheit keine Wünsche mehr offen. Ganz gleich, ob auf Tour, beim Außendreh, im Konferenz- oder Hörsaal - G4 macht alles mit.
Wächst mit: evolution wireless G4 ist für alle Bühnen gemacht, klein und groß, drinnen und draußen. Deshalb sind Musiker und professionelle Sound-Designer gleichermaßen begeistert von Sennheisers flexibelstem Live-System.
G4 ist überall, wo es ein bisschen Magie braucht
Auf der Live-Bühne im Club oder auf den großen Festivals, in Kirchen oder im Theater: Sound-Designer lieben die Flexibilität und Vielseitigkeit, Hobby-Musiker feiern die einfachste Bedienung und die intuitive Menüführung: G4 gibt dir die Freiheit, dich ganz auf das zu konzentrieren, wofür du auf die Bühne gehst: für den direkten Draht zu deinem Publikum.
Für den täglichen Einsatz auf jeder Bühne - evolution wireless G4 - 100 Series
Jetzt noch flexibler, sicherer, einfacher: Dass die 100er Serie sowohl bei Sound-Designern als auch bei gelegentlichen Nutzern die Nummer 1 geworden ist, liegt vor allem am einfachen Bedien-Konzept - und daran, dass das System in Sachen Live Sound keine Kompromisse macht.
Die Vorteile der 100 Serie auf einen Blick
True-Diversity-Empfänger in halber Rackbreite in einem Vollmetallgehäuse mit intuitivem LCD-Display
Leichte und flexible drahtlose Synchronisation zwischen Sender und Empfänger über Infrarot
Schnelle Frequenzzuweisung für bis zu 12 Empfänger über neue Link-Funktion
Bis zu 20 kompatible Kanäle
Bis zu 42 MHz Bandbreite mit 1680 wählbaren Frequenzen, voll abstimmbar im UHF-Bereich
Reichweite: bis zu 100 Meter
Hohe Sendeleistung (bis zu 30 mW), abhängig von länderspezifischen Vorschriften
Alle Sets jetzt mit GA 3 Rackmount Kit
Was kann das EW 100 G4-Ci Instrument Funkset?
Vielseitiges drahtloses System für Sänger, Redner oder zum Spielen von Instrumenten mit bis zu 42 MHz Schaltbandbreite in einem stabilen UHF Bereich und schneller, zeitgleicher Aufbau von bis zu 12 verbundenen Systemen.
Entwickelt für professionellen Live-Sound: Robustes, drahtloses All-in-One-System für Gitarre und Bass. Robuster Taschensender und robustes Ci 1 Instrumentenkabel für den täglichen Gebrauch auf der Bühne.
Passend dazu das ultraleichte, komfortable Pronomic Miniatur-Ansteck-Mikrofon für Sprachanwendungen!
Die neuen Mikrofone der EA-Serie (Exchangeable Adaptor) bieten nicht nur absoluten Tragekomfort und hervorragenden Klang, sondern sind zudem kompatibel zu den meisten gängigen Funksystemen auf dem Markt. Mit den vier beiliegenden Wechsel-Adaptern können die Mikrofone problemlos mit Taschensendern von Pronomic, Sennheiser, AKG, Shure und JTS und mit dem optionalen L7 Adapter auch mit Audio Technica. Flexibler geht's kaum.
Das LA-30 ist ein ultraleichtes Lavaliermikrofon und eignet sich auf Grund seiner Unauffälligkeit bestens für Sprachanwendungen im Präsentations- und Moderationsbereich. Das Mikrofon kann mittels eines Ansteck-Clips an der Kleidung befestigt werden. Dabei bietet die Mikrofonkapsel eine sehr gute Körperschallentkoppelung und ist somit sehr umempfindlich gegen Bewegungs- und Reibungsgeräuschen. Die optimalen Audioeigenschaften und eine hohe Rückkopplungssicherheit sprechen für sich und machen das LA-30 zur ersten Wahl für professionelle Anwendungen.
Die neue Einfachheit im komplexen Setup, entwickelt für professionellen Live-Sound!
Specification
Product number

00056562

Wireless transmitter

mit Bodypack, mit Lavaliermikrofon

Frequencies

1785 - 1805 MHz

Colour

White
Reviews
No questions have yet been asked about this article.
Product Video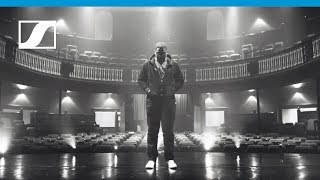 Your contact persons
The hotline is currently not manned. You can reach us again on Wednesday, 31.05.2023 at 09:30.
| | | |
| --- | --- | --- |
| Wednesday | 09:30 - 18:00 | |
| Thursday | 09:30 - 18:00 | |
| Friday | 09:30 - 18:00 | |
| Saturday | 09:30 - 13:30 | |
| Monday | 09:30 - 18:00 | |
| Tuesday | 09:30 - 18:00 | |