Yamaha HS5 Studio Monitor - Willkommen in der Realität!
Schon seit den 1970er-Jahren sind Yamahas Kult-Referenzmonitore mit dem weißen Konus wegen ihrer akkuraten, authentischen Wiedergabe für die gesamte Audiobranche der Maßstab schlechthin. Zwar mögen andere Studiomonitore mit starker Bass- und Höhenwiedergabe beim ersten Hinhören den Ohren schmeicheln - doch sie können auch dafür sorgen, dass man bei der Beurteilung einer Mischung stark daneben liegt. Die HS-Modelle von Yamaha hingegen liefern Referenzsound, das heißt, Sie können sich während des gesamten Mischvorgangs auf seine Ehrlichkeit und Genauigkeit verlassen.
Yamahas Lautsprecher-Ingenieure haben bei der Entwicklung über viele Jahre gesammeltes Fachwissen mit großem Sachverstand verbunden. Darüber hinaus wurde modernste Technik verwendet und zum Ende des Prozesses das Produkt solange optimiert, bis Monitore entstanden sind, die zu den zuverlässigsten Referenzabhören in der Audioszene zählen. Die nun zweite Generation der HS-Serie wurde nicht nur weiter verbessert, sondern auch um ein neues 6,5'-Modell erweitert, sodass Sie nun noch mehr Auswahl für Ihr Studio haben.
Neu entwickelter Schallwandler
Die HS-Serie verfügt über neu entwickelte Schallwandler, die eine erstaunlich ausgewogene Wiedergabe über einen weiten Frequenzbereich ermöglichen. Das Ansprechverhalten der Lautsprechermagneten und das von ihnen erzeugte Magnetfeld wurden perfektioniert und haben einen großen Anteil an einer makellosen, natürlich klingenden Schallwandlung. Alle Baugruppen, inklusive ihrer Ausgangsmaterialien und des Schaltungsdesigns, wurden sorgsam geprüft und nachoptimiert, um am Ende eine absolut akkurate Signal-Reproduktion im gesamten hörbaren Audiospektrum zu erzielen.
Hochleistungs-Endstufen
Die Endstufen der HS-Serie wurden perfekt mit den Schallwandlern des jeweiligen Modells abgestimmt. Dank der "Bi-Amplified"-Bauweise verfügen Hoch- und Tieftöner jeweils über eine eigene Endstufe. Auch die Amps sind von herausragender Qualität und leisten einen wichtigen Beitrag zum hoch auflösenden Sound und zum linearen Frequenzgang der Studiomonitore.
Resonanzarm durch Gehäuse-Bauweise
Eine besondere Gehäuse-Bauweise verhindert bei der HS-Serie unerwünschte Resonanzen. Dadurch kann die Präzision der Wiedergabe bis an die Grenze des Machbaren geführt werden. Gefertigt wurden die Gehäuse aus widerstandsfähigem MDF mit optimalen Dämpfungseigenschaften, das sich hervorragend für Studiomonitore eignet. Da Yamaha mehr als 100 Jahre Erfahrung beim Bau von Klavieren hat, konnten sich die HS-Ingenieure der traditionellen Drei-Wege-Gehrung bedienen. Diese Konstruktionsweise verankert die Gehäuseplatten an den Ecken fest miteinander, was die Geräte nicht nur sehr haltbar macht, sondern auch unerwünschte Resonanzen im Zaum hält, die den Sound insgesamt negativ beeinträchtigen könnten.
Innovative Verfahren für die Minimierung von Störgeräuschen
Bassreflex-Öffnungen mögen für mehr Druck sorgen, aber sie können den Sound durchaus auch negativ beeinflussen. Verantwortlich für die Beeinträchtigung sind Verwirbelungen an beiden Enden der Kanal-Öffnung, wodurch Luftvibrationen entstehen, die selbst wiederum unerwünschte Geräusche verursachen. Infolge sorgsam durchgeführter Analyseverfahren konnten die Yamaha-Ingenieure den Bassreflexkanal optimieren und die Neigung zu Verwirbelungen minimieren, was letztendlich zu einer Geräuschreduktion von bis zu 6 dB führte. So können die Studiomonitore der HS-Serie auch bei den strengsten und anspruchsvollsten Produktionsvorgaben bestehen.
Bedienelemente und Anschlüsse
Die Fullrange-Modelle der HS-Serie verfügen über zwei Klangregelungen, mit denen die Lautsprecher an die akustische Oberbeschaffenheit und Form der Raumbegrenzungsflächen angepasst werden können. Über ROOM CONTROL können Sie den überbetonten Bass absenken, der zwangsläufig entsteht, wenn die Lautsprecher in der Nähe von Wänden stehen. Mit HIGH TRIM können Sie die Höhenwiedergabe abstimmen. Eingansseitig sind die Fullrange-Lautsprecher mit Klinken- und XLR-Buchsen ausgestattet, die sich für den symmetrischen und unsymmetrischen Anschluss aller möglichen Geräte von Keyboards über Mixer bis hin zu Audiointerfaces eignen.
Beim HS8S-Subwoofer kann die Cutoff-Frequenz des zuschaltbaren Tiefpassfilters (HIGH CUT, Beschnitt hoher Frequenzen), zwischen 80 und 120 Hz eingestellt werden. Das Hochpassfilter am Ausgang (LOW CUT, Beschnitt tiefer Frequenzen) lässt sich ebenfalls zwischen 80 und 120 Hz positionieren. Mit PHASE kann die Phasenlage am Subwoofer-Ausgang invertiert werden. Der HS8S-Subwoofer ist ausgangsseitig (L, R und EXT SUB) mit XLR-Buchsen ausgestattet. Eingänge gibt es sowohl im Klinken- als auch im XLR-Format.
Absolut präzises Klangbild, eine sehr hohe Auflösung & einen ebenen Frequenzgang!
Specification
| | |
| --- | --- |
| Powered / Passive | Powered |
| Colour | Black |
| Woofer size | 5 Zoll |
| System | two-way |
Reviews
| | | |
| --- | --- | --- |
| 5 Stars | | 1 |
| 4 Stars | | 0 |
| 3 Stars | | 0 |
| 2 Stars | | 0 |
| 1 Star | | 0 |
Super product at a super price
Review from
Denis
on 09.08.2017
Variant
Yamaha HS7
This rating has been translated automatically. Original language
verified purchase
With the two studio monitors I am very satisfied. About the Qualitat I do not need to lose anything because there are enough tests and reviews.
Everything TOP!
Questions about product
No questions have yet been asked about this article.
Your question about the article Yamaha HS5
Your question will be forwarded directly to the department and answered as soon as possible.
Variants
Alternatives
Accessories
Also available as set!
Yamaha HS5 Stativ Set
| | | |
| --- | --- | --- |
| 2 x | Yamaha HS5 | 208,00 € |
| 2 x | Pronomic SLS-10 stand for studio monitors | 36,20 € |
instead of individually
488,40 €
You save (29,2 %)
142,40 €
Your price

Free shipping (DE) inkl. VAT.

346,00 €
| | |
| --- | --- |
| In stock - immediately available | |
Customers also bought
Product Video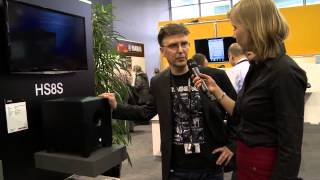 Your contact persons
The hotline is currently not manned. You can reach us again on Friday, 06.08.2021 at 09:30.
| | | |
| --- | --- | --- |
| Friday | 09:30 - 18:00 | |
| Saturday | 09:30 - 13:30 | |
| Monday | 09:30 - 18:00 | |
| Tuesday | 09:30 - 18:00 | |
| Wednesday | 09:30 - 18:00 | |
| Thursday | 09:30 - 18:00 | |