Eris E3.5 BT - Auf diesen Klang können Sie sich verlassen!
Die PreSonus Monitore der Eris-Serie werden weltweit von Toningenieuren eingesetzt, die auf eine detaillierte Klangwiedergabe angewiesen sind. Die Eris E3.5 bieten dieselbe Technologie wie die größeren Eris-Modelle und liefern einen hochwertigen Studiosound mit einem gleichmäßigen und präzisen Frequenzgang und eigenen sich für Gaming ebenso wie für die Videoproduktion zuhause. Dabei sind sie dank ihrer kompakten Abmessungen universell einsetzbar.
Tieftöner mit einem transparenteren Grundsound
In allen Monitoren der Eris-Serie kommen Tieftöner mit Kompositmembran zum Einsatz. Dank der speziellen Webung und der Materialeigenschaften der 3,5" Woofer bieten die Eris 3.5 ein homogeneres Abstrahlverhalten im gesamten Frequenzspektrum, wodurch Laufzeitfehler in der Audiowiedergabe vermieden werden und ein klarer Gesamtsound entsteht.
Samtige Höhen und ein erweiterter "Sweet Spot"
Der Eris 3.5 ist mit einem Hochtöner mit Seidenkalotte bestückt, der für einen samtigen und akkuraten Klang sowie eine exakte Transienten- und Höhenwiedergabe sorgt. Die Konstruktion des Tweeters sorgt für ein breites Abstrahlverhalten und erweitert damit den optimalen Hörbereich ("Sweet Spot"), sodass Sie sich im Hörfeld bewegen können, ohne dass Details verlorengehen.
Intuitive Bedienelemente
Der Klang eines Lautsprechers hängt vom Aufstellungsort und den akustischen Gegebenheiten ab. Aus diesem Grund bieten die Eris E3.5 Aktive Medien- und Referenzlautsprecher einfach zu bedienende Klangregler für den oberen und unteren Frequenzbereich. Über den praktischen Lautstärkeregler auf der Vorderseite stellen Sie die Lautstärke des Lautsprechers und des integrierten Kopfhörerverstärkers ein.
Allerdings sollten Sie diesen Regler vorsichtig bedienen: Der integrierte Verstärker liefert satte 25 Watt pro Seite und kann überraschend laut werden, wobei der Klang zu jeder Zeit transparent und präzise bleibt.
Anschlussoptionen für beliebige Line-Quellen & Bluetooth 5.0
Mit drei verschiedenen Audio-Eingängen können Sie Ihre Eris-Monitore problemlos über ein Mischpult, ein Audio-Interface, einen Media Player oder fast jede andere Line-Quelle ansteuern. Zudem bieten die E3.5 BT eine Bluetooth 5.0 Verbindung.
Zum Anschluss von Line-Quellen bietet Eris E3.5 auf der Rückseite jeweils 6,35 mm TRS- und Cinch-Eingänge sowie einen unsymmetrischen Stereo-Line-Eingang für mobile Audiogeräte auf der Vorderseite. Damit sollten Sie fast jede Line-Quelle inklusive Ihrem Smartphone oder Tablet mit Ihren Eris-Lautsprechern verbinden können.
Der pegelstarke und transparente Kopfhöreranschluss auf der Vorderseite ermöglicht das unauffällige Arbeiten, ohne dass die Nachbarn etwas mitbekommen.
Präzision - neu definiert
Wie alle PreSonus Monitorlautsprecher bietet der Eris E3.5 ein konsistentes und präzises Abhörsignal mit dem besonders gleichmäßigen Frequenzgang, der die Eris Monitore weltweit so populär gemacht hat. Dank des kompakten und leistungsfähigen Designs empfehlen sie sich als ideale Lösung für Arbeitsplätze mit begrenztem Platzangebot.
Wie wäre es mit ein paar extra tiefen Bässen? Kombinieren Sie die kompakten Eris E3.5 Monitore mit dem leistungsstarken PreSonus Temblor T8 Aktiv-Subwoofer zu einem echten Fullrange-Soundsystem, das fast überall Platz findet.
Sicherer Stand für Studiomonitore mit dem stabilen Pronomic SLS-15 Lautsprecher-Stativen
Die beiden Pronomic Lautsprecherständer lassen sich stufenlos zwischen 19 cm und 27,5 cm in der Höhe verstellen. Gegen ungewolltes Abrutschen des Oberteils verfügen die Stative über einen Sicherungssplint, welcher das Stativ in 4 verschiedenen Höhen sichert. Die Gummifüße der Ständer sorgen für optimalen Stand und Entkoppelung vom Untergrund. Die Ablagen für die Lautsprecherboxen sind mit zwei Moosgummi-Streifen gummiert. Dadurch werden die Lautsprecher vor Kratzern bewahrt und noch besser vom Stativ isoliert. Die Abmessungen der Lautsprecherplatten betragen 22,5 cm x 22,5 cm.
Absolut ehrlich - die Eris E3.5 BT Aktive Medien- & Referenzlautsprecher!
Specification
| | |
| --- | --- |
| Powered / Passive | Powered |
| Colour | Black |
| System | two-way |
| Woofer size | 3,5 Zoll |
Reviews
| | | |
| --- | --- | --- |
| 5 Stars | | 2 |
| 4 Stars | | 0 |
| 3 Stars | | 1 |
| 2 Stars | | 0 |
| 1 Star | | 0 |
Top
Review from
Stefan
on 06.12.2020
This rating has been translated automatically. Original language
verified purchase
Fast delivery, brutal sound for this price, am satisfied! Price-performance is top!????????
A lot of sound for the money
Review from
Ralf
on 13.11.2020
This rating has been translated automatically. Original language
verified purchase
Am absolutely satisfied with the price / performance ratio and the sound of the monitors. I used them on the desk for amateur Logic recording and just listening to music up close. I chose the speakers because of the good reviews and because they are so compact in size. I had imagined the stands to be more fitting: The footprint is not adapted to the monitors, but much too large. This does not look optimal, but also does not really bother. For a desk positioning, the tripods could have been adjusted even 5 cm higher. So maybe look for more suitable stands...
Tripods are not as pictured!!!
Review from
Alexander
on 09.03.2020
Variant
PreSonus Eris E4.5 BT Aktives Studiomonitor Set inkl. Boxenstativen
This rating has been translated automatically. Original language
verified purchase
The speakers are good. Clean rich sound.
The supplied tripods unfortunately do not correspond to the picture. There are table tripods supplied. In the picture they are floor stands.
Too bad.
I have kept the delivery because of the convincing boxes anyway.
Annoying I find it anyway, because the table tripods also look different than pictured here!
Questions about product
No questions have yet been asked about this article.
Your question about the article PreSonus Eris E3.5 BT Aktives Studiomonitor Set inkl. Boxenstativen
Your question will be forwarded directly to the department and answered as soon as possible.
Variants
Alternatives
Customers also bought
Product Video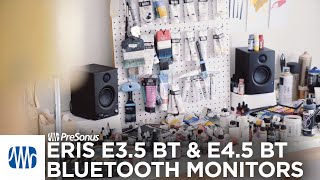 Your contact persons
The hotline is currently not manned. You can reach us again on Monday, 06.12.2021 at 09:30.
| | | |
| --- | --- | --- |
| Monday | 09:30 - 18:00 | |
| Tuesday | 09:30 - 18:00 | |
| Wednesday | 09:30 - 18:00 | |
| Thursday | 09:30 - 18:00 | |
| Friday | 09:30 - 18:00 | |
| Saturday | 09:30 - 13:30 | |