Get personal advice now!
The hotline is currently not manned. You can reach us again on Saturday, 02.12.2023 at 09:30.
Vielseitigen Monitorcontroller im Desktopformat mit zahlreichen Ein- und Ausgängen!
Durch seine innovativen und vielfach preisgekrönten Produkte im Bereich Recording und Produktion hat sich der britische Hersteller im Laufe der vergangenen Jahre eine große, weltweite Fangemeinde geschaffen. Das 1997 gegründete Unternehmen aus Hampshire gilt heute als eine der Top Referenzen für professionelle Studiotechnik. Mit NERO stellt Audient seinen ersten Monitorcontroller im Desktopformat vor. Mit seinen zahlreichen Ein- & Ausgängen, den flexiblen Routing-Optionen sowie dem gewohnt hohen Qualitätsstandard bildet NERO das Zentrum für jedes anspruchsvolle Home- & Projektstudio.
Eingangsseitig bietet NERO eine Vielzahl verschiedener Anschlussmöglichkeiten, darunter zwei Stereo-Line-Eingänge (6,3 mm Klinke), einen Aux-Eingang (3,5 mm Stereoklinke / Stereo-Cinch) zum schnellen Anschließen von beispielsweise Smartphones oder CD-Playern sowie einen dedizierten Cue-Mix-Eingang. Für Anweisungen aus dem Regieraum und der Kommunikation mit den Mitmusikern spendierte man NERO ein eingebautes Talkback-Mikrofon, welches alternativ auch via XLR-Eingang durch ein kabelgebundenes Mikrofon ersetzt werden kann.
3 Eingangsquellen
Kommuniziereschnell mit Dem Künstler, indem Du das spezielle Nero Talkback-Mikrofon oder ein Mikrofon Deiner Wahl verwenden.
Dedicated Gain Control
Schnelles Einstellen des Talkback-Mikrofons mit mehr als ausreichender Lautstärke, damit sich Ihre Künstler bei der Aufnahme wohl fühlen
Zuweisbar Auswahl Kopfhörer
Leite Dein Talkback-Mikrofon auf beliebige oder bestimmte Kopfhörermischungen und behalte immer die Kontrolle über Deine Sitzung
Tasten mit Verriegelung
Aktivier Dim, Mono oder Talkback entweder durch Antippen (einrasten) oder durch Antippen und Halten.
Cue Mix Monitoring
Referenzieren Sie, was Dein Künstler hört, nehme Anpassungen vor und behebe Probleme schnell.
Intelligenter Mono-Modus
Dauerhafte Zuweisung eines Mono-Lautsprechers, ohne die Mono-Funktionalität für andere Quellen zu verhindern.

Benutzerdefiniertes Dim
Anpassen und Einstellen der Dämpfung der Dimmfunktion mit dem Lautstärkeregler
Taktiles Lautsprecherset
Höre sich Deine Mischungen an, indem Du schnell zwischen mehreren Lautsprechersets wechselst.
Sum and Difference
Verwende diesen klassischen Trick, um Deine Stereoinformationen schnell zu hören und die Seiten Deiner Mischung zu überprüfen
Für die volle Kontrolle
Das Kontrollzentrum für anspruchsvolle Mixing-Sessions bieten Stereo-Ausgänge für bis zu drei Lautsprecherpaare sowie einen unabhängigen, zuschaltbaren Subwoofer-Ausgang. Dank Audients einzigartiger "Precision Matched Attenuation"-Technologie ist im Gegensatz zu den meisten Monitor-Controllern am Markt eine exakt gleiche Lautstärke des linken und rechten Lautsprechers und somit ein unverfälschtes Stereobild garantiert. Zusätzlich bietet NERO vier hochwertige Headphone-Outputs, die selbst bei lautesten Live-Recordings ein klares, verzerrungsfreies Signal liefern.
Mit "Smart Touchpoints" bieten die Briten ein äußerst durchdachtes Layout. Es gewährleistet trotz unzähliger Möglichkeiten beim Routing einzelner Ein- und Ausgangssignale einen bequemen und intuitiven Workflow, der es erlaubt, während der Session "on the fly" komplexe Routings mit wenigen Tastendrücken nach eigenen Vorlieben zu erstellen und anschließend als Preset zu speichern. Die Bedienung des Monitor-Controllers wird somit in kürzester Zeit zur Gewohnheit, so dass man sich voll und ganz auf den Mix konzentrieren kann.
Audient Nero - "The Art of Control"!
Specification
Product number

00093840

Colour

Black
Reviews
No questions have yet been asked about this article.
Product Video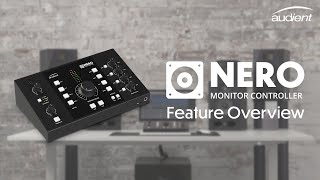 Your contact persons
The hotline is currently not manned. You can reach us again on Saturday, 02.12.2023 at 09:30.
| | | |
| --- | --- | --- |
| Friday | 09:30 - 18:00 | |
| Saturday | 09:30 - 16:00 | |
| Monday | 09:30 - 18:00 | |
| Tuesday | 09:30 - 18:00 | |
| Wednesday | 09:30 - 18:00 | |
| Thursday | 09:30 - 18:00 | |