Image Line FL Studio 21 - Producer Edition!
FL Studio ist eine vollständige Software-Musikproduktionsumgebung oder Digital Audio Workstation (DAW). Es steht für mehr als 20 Jahre innovative Entwicklung und bietet alles, was Sie brauchen, um Musik in professioneller Qualität zu komponieren, arrangieren, aufnehmen, bearbeiten, mischen und zu beherrschen.FL Studio ist heute eine der beliebtesten DAWs der Welt und wird von den kreativsten Künstlern verwendet.
FL Studio ist in zwei Editionen erhältlich: Fruity und Producer Edition. Beide Editionen verfügen über gemeinsame Funktionen, wobei Producer die meisten Kernfunktionen des Programms enthält. Das Signature und All Plugins Bundle fügen den Features der Producer Edition zusätzliche Plugins hinzu.
Der Mixer
Mischen und beherrschen Sie Musik nach höchsten professionellen Standards. Mit allen Funktionen die Sie benötigen, um die komplexesten Produktionen von heute zu erstellen, einschließlich Effektketten, Audio-Sends, Sidechain-Steuerung, fortschrittliche Automatisierung, Plugin-Verzögerungskompensation und vieles mehr ...
Browser und Playlist
Keine andere DAW ist so flexibel wie die Wiedergabeliste von FL Studio. Sequenzieren Sie alle Elemente des Projekts, um den endgültigen Song zu erstellen. Tracks können Notizen, Audio und Automation enthalten. Platzieren Sie einen beliebigen Datentyp an beliebiger Stelle und legen Sie ihn sogar über. Verwenden Sie den Browser, um alle Daten in Ihrem Projekt zu organisieren. Befreien Sie Ihren Workflow und Ihren Verstand!
Piano Roll
FL Studios Piano Roll hat den wohlverdienten Ruf als beste Piano Roll der Branche. Die Pianorolle wird verwendet, um Noten- und Automationsdaten an Plugin-Instrumente zu senden (Sequenzierung). Es enthält eine Vielzahl von Tools, die die Bearbeitung und Bearbeitung komplexer Noten erleichtern.
Über 80 Plugins enthalten
Die FL Studio Producer Edition umfasst über 80 Instrumenten- und Effekt-Plugins für die Bereiche Automation, Sample-Wiedergabe / -Manipulation, Synthese, Komprimierung, Verzögerung, Entzerrungsfilter, Flanging, Phasing, Chorus, Reverb, Verzerrung, Bit-Crushing und mehr. Mit FL Studio können Sie nahezu jeden Stil erstellen.
Instrumente und FX
Wenn Ihnen die große Auswahl an nativen Instrumenten und Effekten nicht ausreicht, unterstützt FL Studio alle VST-Standards 1, 2 und 3. Mit VST erhalten Sie Zugriff auf die klügste Auswahl an derzeit verfügbaren Plug-Ins von Drittanbietern. Sie können FL Studio selbst als VST-Plugin in einem anderen VST-Host verwenden.
Einschließlich lebenslange kostenlose Updates!
NEIN zu Abonnements und Aktualisierungsgebühren! Unser Versprechen: Egal welche Version Sie kaufen, Sie erhalten alle zukünftigen Updates kostenlos. Nichts mehr zu zahlen. Keine andere DAW kann unser Versprechen von mehr als 20 Jahren halten.
FL Studio 20.5 ist da!
Nach erfolgreicher Beta-Testphase wurde jetzt das neue FL Studio 20.5 veröffentlicht. Die neue Version steht ab sofort kostenfrei für alle registrierten Kunden (Lifetime-Free-Update) zum Download bereit. Aber, was ist neu?
FLEX Synthesizer Plug In
Ein brandneuer Advanced-Synthesizer mit mächtiger Preset Library und vier verschiedenen Klangerzeugungen (Subtraktiv, Wavetable, FM & AM, Multisample). FLEX bietet eine große Auswahl an hervorragenden Instrumenten für Pop- Rock und Electro-Musikprodukten und ist die lang erwartete Ergänzung zu den vorhandenen FL Studio Synthesizern.
MacOS VST/AU & FL Studio Browser
Die FL Studio Mac Version kann nun als VST- oder AU-Plugin auf allen MacOS-Hosts verwendet werden, die VST- oder AU-Plugins unterstützen.
Der FL Studio Browser bietet nun eine verbesserte Vorschau/Vorhöroption für alle Samples.
Plug In Verbesserung
Edison Denoise Tool - ab sofort für MacOSX verfügbar
Fruity Bloom Overdrive - ab sofort für MacOSX und als vektorisiertes Native Plug In verfügbar
Harmless - 120 neue Presets stehen für alle registrierten User kostenfrei zur Verfügung
Sytrus - 151 neue Presets stehen für alle registrierten User kostenfrei zur Verfügung
WaveShaper - verbesserte Qualitätseinstellungen für Live-Audio (HQ)
Waver Traveller - ab sofort für MacOSX und mit vektorisierter Oberfläche verfügbar
ZGame Editor - neue Effekte und Farbeinstellungen, URL online-stream Funktionalität
Verbesserte Funktionen für...
... Browser, File Settings, Playlist, Piano Roll, Plug In Manager, FL Studio Performance Monitor, Patcher, MIDI Optionen u.v.m.
Professionelle Musikproduktionssoftware für Künstler & Produzenten!
Specification
Product number

00058200

Colour

-
Reviews
| | | |
| --- | --- | --- |
| 5 Stars | | 4 |
| 4 Stars | | 0 |
| 3 Stars | | 0 |
| 2 Stars | | 0 |
| 1 Star | | 0 |
A verification of the ratings has taken place as follows: Only customers who are registered in our online store and have actually purchased the product from us can submit a rating for the item in the customer account.
No questions have yet been asked about this article.
Product Video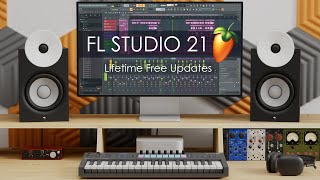 Your contact persons
The hotline is currently not manned. You can reach us again on Monday, 25.09.2023 at 09:30.
| | | |
| --- | --- | --- |
| Monday | 09:30 - 18:00 | |
| Tuesday | 09:30 - 18:00 | |
| Wednesday | 09:30 - 18:00 | |
| Thursday | 09:30 - 18:00 | |
| Friday | 09:30 - 18:00 | |
| Saturday | 09:30 - 13:30 | |