Roland Rubix24 USB Audio Interface - High-Resolution Interface im kompakten Format!
Das RUBIX24 bietet die perfekte Kombination aus Hi-Fi Sound, robuster Verarbeitung, kompakten Abmessungen, bezahlbarem Preis und wichtigen Features für aktuelle Musiker und Producer. Es unterstützt hochauflösendes Audiomaterial bis 24-bit/192 kHz, verfügt über einen klaren und wohldefinierten Klang und wurde optimiert, um die Störgeräusche zwischen Ein- und Ausgang extrem gering zu halten. Es verfügt über universelle USB-Unterstützung, was heißt, dass es sich nahtlos in PC- und Mac-Arbeitsumgebungen integriert und sogar mit dem iPad funktioniert - perfekt für Musikproduktion und Performances unterwegs.
Sound in Studioqualität zum Mitnehmen
Wenn es um Audio Interfaces geht, ist nichts so wichtig wie guter Klang - deshalb solltest du bei der Sound-Qualität keine Kompromisse eingehen, nur um ein bezahlbares und portables Interface zu erhalten. Das RUBIX24 bietet einen klaren, wohldefinierten Klang, verfügt über transparente, geräuscharme Mikrofonvorverstärker und unterstützt Audioauflösungen bis 24-bit/192kHz. Das kompakte, geräuscharme Gehäuse ist aus robustem Metall gefertigt und die hohe Abschirmung gemeinsam mit der Masse-Erdung sichert guten, klaren Klang, egal wo du das RUBIX24 verwendest.
Zwei qualitativ hochwertige Mikrofonvorverstärker und vier separate Ausgänge
Die Dual-Mikrofonverstärker des RUBIX24 bieten geringe Störgeräusche und neutralen Klang. Ihr Sound ist clean und transparent und bietet viel Freiraum, um den Impact und die Details der Aufnahme einzufangen. Und dank der flexiblen Combo-Buchsen lässt sich eine Vielzahl unterschiedlicher Quellen anschließen, ohne dass Adapter oder spezielle Kabel benötigt werden. Vier unabhängige Ausgänge ermöglichen anspruchsvolle Routing und Monitoring-Setups. Diese eignen sich zum Beispiel, um einen Click-Track an einen Künstler zu senden, einen Bühnenmonitor einzurichten oder Tonsignale an externe Geräte zu schicken.
Hardware-Kompressor/Limiter
Hochdynamische Quellen, wie Sänger und Percussion-Instrumente, müssen häufig gezähmt werden, insbesondere, wenn sie in einer Live-Situation aufgenommen werden. Dynamikprozessoren sichern ein stabiles Signal ohne Stocken und ungewünschte Verzerrung. Der integrierte Kompressor/Limiter des RUBIX24 ermöglicht es dir, dich während der Aufnahmesession auf andere Dinge zu konzentrieren.
Große, gut sichtbare Anzeigen
Studios und Bühnen sind häufig schlecht beleuchtet und ordentliche Levels zu erhalten, kann schwierig sein. Dabei willst du dich auf die Performance konzentrieren, nicht auf kleine, schlecht lesbare Anzeigen, die Clip- und Level-Werte wiedergeben. Das RUBIX24 verfügt über gut sichtbare Anzeigen, die einen essenziellen Teil seines Designs darstellen. Sie zeigen dir deutlich an, ob auf einem Kanal ein Eingangssignal liegt oder ob eine Überspannung vorliegt.
Gemacht für Mac, PC und iPad
Das RUBIX24 ist ultra-portabel und ultra-flexibel. Es verfügt über Class Compliant-Treiber mit geringer Latenz für Mac und PC, so dass es schnell eingerichtet ist und zuverlässig arbeitet. Weiterhin ist es iPad-kompatibel und bietet so ein extrem kompaktes System für Vor-Ort-Aufnahmen, Produktionen unterwegs und Live Performances. Zum Lieferumfang gehört auch ein kostenloser Zugang zur Roland Cloud, die perfekt mit dem RUBIX24 funktioniert und harmoniert. In der Roland Cloud wartet ein virtuelles Studio voller Sounds auf Dich: Mehr als 50 virtuelle Roland Instrumente mit der DNA der modernen Musik stehen Dir hier zur Verfügung.
Perfekt für Musikproduktion und Performances unterwegs!
Specification
Product number

00047964

Microphone input

Yes, with phantom power

Inputs

6.3mm Klinke, MIDI, USB, XLR

Colour

Black

max. sampling rate

24 bit / 192 kHz

Outputs

6.3mm Klinke, MIDI, USB
Reviews
| | | |
| --- | --- | --- |
| 5 Stars | | 2 |
| 4 Stars | | 0 |
| 3 Stars | | 0 |
| 2 Stars | | 0 |
| 1 Star | | 0 |
A verification of the ratings has taken place as follows: Only customers who are registered in our online store and have actually purchased the product from us can submit a rating for the item in the customer account.
Super MIDI audio interface for accordion
Review from
Klaus
on 17.07.2020
Variant
Roland Rubix22 USB Audio Interface
This rating has been translated automatically. Original language
verified purchase
Handles both MIDI to the Soundexpander app on the iPad and Akk-Micro to the audio output equally well. Clean mixed sound with no hum at the output to the amp. Been using various Roland products for over 30 years. Has never been disappointed.
Easy installation and quick start up
Review from
Jens
on 27.11.2017
Variant
Roland Rubix22 USB Audio Interface
This rating has been translated automatically. Original language
verified purchase
The product does exactly what it should. Audio is output in good quality. It was directly integrated into my Windows 10 after installing the drivers.
Am satisfied. It would have been nice if the drivers or software would still have been in CD form.
No questions have yet been asked about this article.
Also available as set!
Roland Rubix24 USB Audio Interface Podcast Set
| | | |
| --- | --- | --- |
| 1 x | Roland Rubix24 USB Audio Interface | 227,00 € |
| 1 x | Pronomic CM-22 Large Diaphragm Microphone + Spider + Wind Shield | 86,60 € |
| 1 x | Classic Cantabile KH-238 Headphones | 31,50 € |
| 1 x | McGrey MA-20 microphone boom stand with table clamp | 18,55 € |
| 1 x | Pronomic stage XFXM-5 microphone cable XLR 5 m black | 7,90 € |
instead of individually
364,55 €
You save (18,5 %)
67,55 €
Your price

Free shipping (DE) inkl. VAT.

297,00 €
| | |
| --- | --- |
| In stock - immediately available | |
Product Video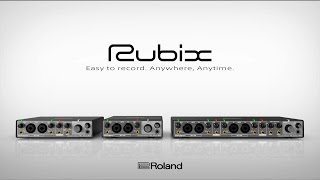 Your contact persons
The hotline is currently not manned. You can reach us again on Monday, 25.09.2023 at 09:30.
| | | |
| --- | --- | --- |
| Monday | 09:30 - 18:00 | |
| Tuesday | 09:30 - 18:00 | |
| Wednesday | 09:30 - 18:00 | |
| Thursday | 09:30 - 18:00 | |
| Friday | 09:30 - 18:00 | |
| Saturday | 09:30 - 13:30 | |