The professional choice for acoustic or recording musicians!
The AirTurn DUO 200 began over a decade ago as a simple page turner for sheet music readers. Today, it has become the best page turner on the market due to its high-quality and long-lasting design. Featuring tactile, silent switches, the DUO 200 is nearly indestructible. The DUO 200 has a longer battery life, greater range, and faster connectivity than its competitors. Plus, it is completely customizable for keystrokes, shortcuts, switching types, MIDI, and so much more!
Depending on what app or software you choose, you can do more than turn pages. You can scroll lyrics and tabs, start and stop back tracks, metronomes, and much more. The DUO 200 is the professional choice for taking control of your tablet or computer.
Remote Control for Teleprompters and Presentations
Using a teleprompter has become a popular solution due to easy and affordable access to apps and tablets. However, controlling the scroll of the script remains a challenge. Using the AirTurn DUO 200 with your teleprompter application, you can start and stop the script, even speed it up or slow it down!
Hands-Free Wireless Bluetooth® Remote Control Pedal
The AirTurn DUO 200 is a hands-free wireless app control solution for iOS, Android, Windows, and Mac devices with Bluetooth® 4. It works with software and apps that can receive keystrokes or MIDI commands. Turn pages, scroll lyrics or tabs, start and stop back tracks, cue lighting, effects, MIDI, video, photos, and more!
AirTurn has optimized the design of the DUO 200 for long distance performance and low energy consumption. Using the wireless Bluetooth® 4 low energy technology, users can also update their DUO 200 with the latest firmware or modify the commands that it sends.
Suitable for both standing or seated performers!
Reviews
Questions about product
Hallo,
Kann man mit diesem Gerät auch Video-tutorials abspielen, anhalten, vor-und zurückspulen. Falls ja, welche App ist da empfehlenswert?
Schönen Dank für Ihre Antwort.
Freundliche Grüße
Bernd Semmelroth
Question by Bernd Semmelroth on 07.07.2021
Answer by Timo Kammerer - Musikhaus Kirstein
Nein, leider ist dies hiermit nicht möglich.
Your question about the article AirTurn DUO 200
Your question will be forwarded directly to the department and answered as soon as possible.
Variants
Alternatives
Customers also bought
Product Video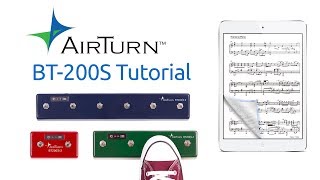 Your contact persons
The hotline is currently not manned. You can reach us again on Monday, 27.09.2021 at 09:30.
| | | |
| --- | --- | --- |
| Saturday | 09:30 - 13:30 | |
| Monday | 09:30 - 18:00 | |
| Tuesday | 09:30 - 18:00 | |
| Wednesday | 09:30 - 18:00 | |
| Thursday | 09:30 - 18:00 | |
| Friday | 09:30 - 18:00 | |