Das Perfekte Audio-Interface für Singer-Songwriter - im Set mit passendem Profi-Kopfhörer!
Als einfachstes Modell in der Serie ermöglicht Scarlett Solo der dritten Generation Singer-Songwritern einen beruhigend einfachen Aufnahmeprozess. Ausgestattet mit leistungsstarken AD-DA-Wandlern mit bis zu 24 Bit/192 kHz garantiert Scarlett dieselbe Profi-Klangqualität für die gesamte Serie der dritten Generation.
Es verfügt über einen überarbeiteten Scarlett Mikrofon-Vorverstärker: mit optionalem Air-Modus zur Reproduktion des Air-Effekts des Original-ISA-Mikrofon-Vorverstärkers von Focusrite, wodurch deine Gesangsaufnahmen einen helleren und offeneren Sound bekommen.
Der Instrumenteneingang mit jeder Menge Widerstand und Headroom ermöglicht dir das Aufnehmen von Gitarren und Bässen ohne Übersteuern oder unerwünschte Verzerrung, während du an den Gain Halos ganz leicht den Eingangspegel ablesen kannst.
Die symmetrierten Ausgänge des Scarlett Solo sind beim Anschluss an symmetrierte Studiomonitor-Eingänge brummfrei, so dass du immer auf eine perfekte Audiowiedergabe zählen kannst.
Das Scarlett Solo ist auf das raue Tourleben vorbereitet und lässt sich über ein USB-Kabel direkt mit deinem Mac oder PC verbinden; ein externes Netzteil brauchst du nicht. Das Interface bringt alle benötigten Softwaretools für den Einstieg mit, darunter auch zwei reich bestückte DAWs: Ableton Live Lite und Pro Tools First Focusrite Creative Pack. Intuitiv genug für Anfänger und doch so umfangreich, dass auch Fortgeschrittene von den Effekten mit großartigem Klang inspiriert werden.
Focusrite bietet in Partnerschaft mit Splice den Besitzern von Interfaces der 3. Generation 3 Monate lang ein Gratis-Abo für Splice Sounds beim Anlegen eines neuen Splice-Kontos. Splice Sounds bietet Millionen hochwertiger und lizenzfreier Einzelsounds, Loops und Presets – mit täglich neuen Veröffentlichungen deiner Lieblingsproduzenten, Sounddesigner und Künstler. Künstler können mit Splice sämtliche Musikstile bedienen, darunter Chartstürmer-Pop, Grammy-verdächtige Alben, Underground-Mixtapes und Filmmusik.
Wie bei allen Focusrite-Produkten profitierst du zudem von einer 2-Jahres-Garantie, preisgekröntem Kundenservice und der Mitgliedschaft im Plug-in Collective, wodurch du Zugang zu Gratis-Softwaredownloads und großzügigen Rabatten bekommst.
Ab dem 18. November 21 enthält jeder neue Erwerb eines Scarlett-Produkts die neue Hitmaker Expansion!
Eine unschlagbare Auswahl praxiserprobter Studiowerkzeuge von einigen der wichtigsten Branchenherstellern! Kostenlos mit jedem neu registrierten Scarlett finden sich hier sämtliche Werkzeuge, um Musik in Studioqualität zu komponieren, zu produzieren, zu mischen und zu mastern. Hierdurch ergibt sich riesiger Mehrwert für die Scarlett-Produktreihe:

Antares Auto-Tune Access
Relab LX480 Essentials
Softube Marshall Silver Jubilee 2555
XLN Audio Addictive Keys
XLN Audio Addictive Drums 2: Studio Rock Kit
Brainworx bx_oberhausen
Brainworx bx_console Focusrite SC
Brainworx bx_masterdesk
Focusrite Red 2 & 3 Plug-in Suite
Ableton Live Lite
Avid Pro Tools - First mit Focusrite Creative Pack
und ein dreimonatiges Abonnement von Splice Sounds!
Der Sound von Focusrite: Jetzt auf dem iPad Pro
Scarlett Solo 3rd Gen wird offiziell bei der Verwendung mit USB-C iPad Pro unterstützt. Einrichtung und Bedienung sind einfach: Schließe einfach alles an, starten deine Lieblings-Musik-App und genieße den Focusrite-Sound, wo immer Du bist.
Geht ins Ohr, bleibt auf dem Kopf - für alle die es bequem & professionell mögen!
Der KH-238 liefert einen vollen, ausgewogenen Klang mit satter Basswiedergabe und klaren Höhen. Er bietet richtig viel Volumen und dennoch eine saubere und deutliche Ortung im Stereofeld.Natürlich lässt sich das weich gepolsterte, breite Bügelband in der Länge verstellen. Der Auszug bietet auf jeder Seite 12 Stufen und kann so optimal angepasst werden. Für noch mehr Tragekomfort sind die Ohrmuscheln in zwei Achsen drehbar gelagert. Die dicke, weiche Polsterung der ohrumschließenden Muscheln sorgt zusätzlich für eine gute Außenschallisolierung.
Die im Kabel integrierte Lautstärkeregelung ist jederzeit zur Hand und vereinfacht so die Verwendung am PC oder mp3-Player. Der 3,5 mm Stereoklinken-Stecker liefert beste Übertragungseigenschaften und ein Adapter auf 6,3 mm Klinke (stereo) ist ebenfalls bereits im Lieferumfang enthalten.
Das Interface, nach dem wir alle gesucht haben!
Specification
| | |
| --- | --- |
| Colour | Red |
| Microphone input | Yes, with phantom power |
| max. sampling rate | 24 bit / 192 kHz |
Reviews
| | | |
| --- | --- | --- |
| 5 Stars | | 1 |
| 4 Stars | | 0 |
| 3 Stars | | 0 |
| 2 Stars | | 0 |
| 1 Star | | 0 |
Very satisfied, fast delivery
Review from
Shanne-Elisa
on 25.10.2020
This rating has been translated automatically. Original language
verified purchase
I am very happy with the product. Just the right thing for my home studio start.
Find it also super good that you can run the headphones directly. These also work really well. For the beginning super. The design and quality of the interface I also find very convincing.
Delivery was also super fast. So I'm super satisfied! ;)
Questions about product
Sehr geehrte Damen und Herren,

kann ich an das Gerät auch mein Korg Pa4X anschließen?
An das Gitarren Anschluss vorne ?

Mit freundlichen Grüßen
Gomes
Question by Patrick Gomes on 07.04.2020
Answer by Patrik-Olivér Molnár - Musikhaus Kirstein
Das können Sie natürlich machen, allerdings können Sie dann nur Audio-Spuren aufnehmen und kein MIDI.
Your question about the article Focusrite Scarlett Solo USB Audio-Interface Set
Your question will be forwarded directly to the department and answered as soon as possible.
Variants
Customers also bought
Product Video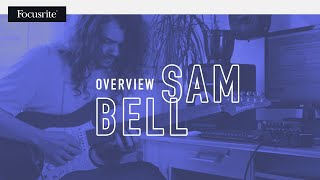 Your contact persons
Our specialists will be happy to advise you.
| | | |
| --- | --- | --- |
| Saturday | 09:30 - 13:30 | |
| Monday | 09:30 - 18:00 | |
| Tuesday | 09:30 - 18:00 | |
| Wednesday | 09:30 - 18:00 | |
| Thursday | 09:30 - 18:00 | |
| Friday | 09:30 - 18:00 | |