Get personal advice now!
The hotline is currently not manned. You can reach us again on Saturday, 02.12.2023 at 09:30.
Zoom LiveTrak L-20R - der tragbare Mixer, der alles kann!
Der Zoom LiveTrak L-20R ist ein rackfähiger Digitalmixer, mit dem Musiker ihre Live-Mischung direkt von der Bühne aus steuern können. Mit Möglichkeiten zur drahtlosen Steuerung, 20 diskreten Kanälen, 22 Aufnahmekanälen und sechs individuell regelbaren Monitormischungen empfiehlt sich der L-20R als vollwertige Lösung für jeden Auftrittsort.
Portabel und leistungsstark
Dank der 16 monophonen Mic-/Line-Eingänge sowie zwei Stereoeingängen ist der L-20R selbst anspruchsvollsten Live-Aufgaben gewachsen. Der L20R bietet zwei EFX-Busse und jeder Kanal verfügt über einen 3-Band-EQ, einen Pan-Regler sowie einen Kompressor.
22 Aufnahmespuren
Bei Bedarf können Sie 20 Kanäle sowie eine Stereosumme Ihrer Live-Darbietung direkt auf einer SD-Karte aufnehmen und Ihre Spuren anschließend für die finale Editierung auf Ihre DAW übertragen.
Es ist Ihr Monitorweg - und damit auch Ihre Mischung
Mit sechs unabhängigen Monitorausgängen bietet der LiveTrak L-20R Musikern die Möglichkeit, Ihre persönliche Mischung über Funk anzupassen.
Über einen separaten Ausgang kann der FoH-Toningenieur problemlos zwischen dem Monitoring der Summe und der Submischungen umschalten.
Drahtlose Steuerung
Der FoH-Toningenieur und bis zu sechs Musiker können ihre persönliche Mischung inklusive der Fader- und EQ-Einstellungen sowie der Kanaleffekte mit Hilfe von iPads von jeder Position am Veranstaltungsort fernsteuern.
Laden von Szenen
Über die Recall-Funktion für die Szenen des LiveTrak L-20R können Sie eine von neun unterschiedlichen Szenen inklusive der Monitormischungen, der EQ-Einstellungen, der Effekte uvm. auf Knopfdruck laden.
Zuverlässiges Audio-Interface
Der LiveTrak L-20R kann als USB-Audio-Interface mit 22 Ein- und 4 Ausgängen genutzt werden. Routen Sie seine Eingänge auf jede beliebige DAW, Streaming-Software oder ein iOS-Gerät - bei Bedarf auch parallel zur Aufnahme auf SD-Karte.
Professioneller Kopfhörer inklusive
Der KH-238 liefert einen vollen, ausgewogenen Klang mit satter Basswiedergabe und klaren Höhen. Er bietet richtig viel Volumen und dennoch eine saubere und deutliche Ortung im Stereofeld.
Natürlich lässt sich das weich gepolsterte, breite Bügelband in der Länge verstellen. Der Auszug bietet auf jeder Seite 12 Stufen und kann so optimal angepasst werden. Für noch mehr Tragekomfort sind die Ohrmuscheln in zwei Achsen drehbar gelagert. Die dicke, weiche Polsterung der ohrumschließenden Muscheln sorgt zusätzlich für eine gute Außenschallisolierung.
Die im Kabel integrierte Lautstärkeregelung ist jederzeit zur Hand und vereinfacht so die Verwendung am PC oder mp3-Player. Der 3,5 mm Stereoklinken-Stecker liefert beste Übertragungseigenschaften und ein Adapter auf 6,3 mm Klinke (stereo) ist ebenfalls bereits im Lieferumfang enthalten.
The Freedom To Control Your Mix!
Specification
Product number

00063139

Microphone input

Yes, with phantom power

Inputs

6.3mm Klinke, Cinch / RCA, USB, XLR

Labelable channel strip

No

Colour

Black

WiFi

Yes

Number of microphone inputs

16

max. sampling rate

24 bit / 96 kHz

Outputs

6.3mm Klinke, USB, XLR

Expansion Slot

No
Reviews
No questions have yet been asked about this article.
Product Video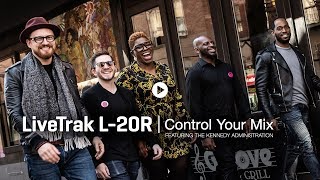 Your contact persons
The hotline is currently not manned. You can reach us again on Saturday, 02.12.2023 at 09:30.
| | | |
| --- | --- | --- |
| Friday | 09:30 - 18:00 | |
| Saturday | 09:30 - 16:00 | |
| Monday | 09:30 - 18:00 | |
| Tuesday | 09:30 - 18:00 | |
| Wednesday | 09:30 - 18:00 | |
| Thursday | 09:30 - 18:00 | |