Schütteln Sie die Wände, nicht Ihren Kopf!
Verbessern Sie Ihr nächstes Set mit dem Thump212XT, der nächsten Evolutionsstufe an voll ausgestatteten Aktivlautsprecher der Thump-Serie. Mit mehr zeitsparenden Funktionen als je zuvor, jeder Menge Leistung und einem völlig neuen Gehäuse ist der Thump212XT der ultimative Lautsprecher für DJs, Bands und Clubs, die Profi-Sound brauchen, ohne den wahnsinnigen Preis zu zahlen.
Sind Sie es leid, dass Ihr PA-System nicht funktioniert? Thump212XT macht Ihnen das Leben leichter. Mit der kabellosen Steuerung über Ihr Handy ist es unglaublich einfach, den Sound genau richtig einzustellen. Anwendungsspezifische Voice-Modi, Indoor-/Outdoor-Modi und vieles mehr machen es einfach, den Lautsprecher an den jeweiligen Einsatzort anzupassen. Wie sieht es mit der Leistung aus? Mit einer Leistung von 1400 W sorgt der Thump212XT dafür, dass die Musik die ganze Nacht durchläuft, ohne zu schwitzen. Von DJs über Bands bis hin zu Clubs und Übungsräumen - der leichte Thump212XT ist bereit, Ihre Performance zu verbessern.
Sofortige Optimierung
Anwendungsspezifische Voicing-Modi
Unter der Haube von ThumpXT verbirgt sich eine leistungsstarke Verarbeitung, die Sie nutzen können, um Ihre Klangqualität zu verbessern. Mit 4 verschiedenen anwendungsspezifischen Voicing-Modi können Sie Ihre Lautsprecher mit einem einzigen Tastendruck sofort für die jeweilige Anwendung optimieren. Music ist für die Verstärkung von aufgezeichneter Musik gedacht, Live eignet sich perfekt für die allgemeine Beschallung, Club sorgt für einen schönen Tiefbass, und Monitor optimiert den Lautsprecher für die Verwendung als Bodenmonitor, um Rückkopplungen in Schach zu halten.
Indoor-/Outdoor-Modi
Haben Sie Ihre Lautsprecher schon einmal von einem Raum in die freie Natur gebracht und sich gewundert, warum sie so anders klingen? Damit sind Sie nicht allein, und zum Glück haben wir an alles gedacht. Wenn Sie Ihr System im Freien, drücken Sie einfach die Taste für den Outdoor-Modus, und Ihr schöner, voller Klang ist wieder da.
Positives Feedback
Music Ducking
Die Musik spielt schön laut, aber es ist Zeit für eine neue Ansage. Sicher, Sie könnten jedes Mal an den Lautstärken herumspielen, aber wer hat schon Zeit dafür. Drücken Sie einfach die Taste Music Ducking, und Kanal 2 wird automatisch leiser, wenn Sie in das Mikrofon von Kanal 1 sprechen.
Feedback-Eliminator
Sind Sie schon einmal zu nah an das Mikrofon herangegangen und haben dann ein lautes, ohrenbetäubendes Quietschen gehört? Das ist allgemein als Rückkopplung bekannt. Und das ist ein unglücklicher Umstand, den die Physik nicht ändern wird. Doch halt! Drücken Sie die Taste Feedback Eliminator und lachen Sie den dummen akustischen Gesetzen ins Gesicht.
Die Macht liegt in Ihren Händen
Kabellose Steuerung
Was eignet sich besser zur Steuerung Ihres ThumpXT als das Gerät, das Sie ohnehin überall dabei haben? Streamen Sie einfach Musik direkt auf den Lautsprecher und genießen Sie die kabellose Freiheit, während Sie DJ spielen. Und wenn Sie schon dabei sind, können Sie in die Thump Connect 2 App eintauchen und alles einstellen, von System-EQ und Voicing-Modi bis hin zu Kanalpegeln und anwendungsspezifischen Voreinstellungen.
Speaker Linking
Sie wollen ein unglaublich leistungsstarkes, einfach zu bedienendes, kabelloses Musiksystem? Verbinden Sie ein Paar ThumpXT-Lautsprecher über Bluetooth®, um Musik entweder im Stereo- oder im Dual-Modus zu übertragen und beide über die Thump Connect 2-App zu steuern.
Kein Mixer? Kein Problem
Schließen Sie eine beliebige Kombination von Audioquellen an, einschließlich Gitarre, Mikrofon, Keyboard oder DJ-Mixer. Der integrierte 2-Kanal-Mixer auf der Rückseite verfügt über zwei Combo-Eingänge für einfaches Plug-and-Play sowie einen 1/8"-Stereo-Line-Eingang für den Anschluss des Audioausgangs von einem Smartphone oder Media-Player.
Suitable accessories (Not included in the delivery.)
Specification
Product number

00089531

Speakers mid range

-

Power RMS (Watts)

700

Subwoofers

12 Zoll

Colour

Black

Weight in kg

12,5

Multifunctional chassis

Yes

Microphone input

Yes, without phantom power

Outputs

XLR

Tweeters

1 Zoll

Speakers full range

-

Inputs

3.5mm Stereo-Klinke, 6.3mm Klinke, Bluetooth, XLR
Reviews
No questions have yet been asked about this article.
Product Video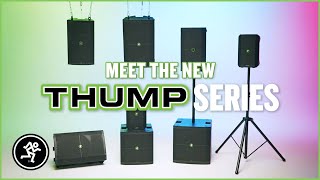 Your contact persons
The hotline is currently not manned. You can reach us again on Saturday, 30.09.2023 at 09:30.
| | | |
| --- | --- | --- |
| Saturday | 09:30 - 13:30 | |
| Monday | 09:30 - 18:00 | |
| Tuesday | Closed | |
| Wednesday | 09:30 - 18:00 | |
| Thursday | 09:30 - 18:00 | |
| Friday | 09:30 - 18:00 | |